Kansas City Chiefs Not out of AFC West Race Yet
October 20, 2011
John Sommers II/Getty Images
I am not an offseason football guy.  I leave that to those of you who love college football and the draft.  Second, I often deal with health issues.  I never, however, lose track of what the Chiefs and the NFL as a whole are doing.  Hopefully the kind people at Bleacher Report will welcome me back. 
I will never abandon the Chiefs because of their record.  When they started the year 0-3, being outscored 984-2, I still watched every game, every play, no matter how painful.  Then, they managed to beat the woeful Vikings and Colts. Though in fairness, they got blasted by very good teams.
We are now in Coach Haley's "second quarter", at 1-0.  I'm sure I don't need to tell any of you what comes next, though I'm going to anyway: the Raiders and their new old quarterback.  Personally, I would be more concerned if Jason Campbell were playing.  The Raiders are a good football team. That's the problem, not Carson Palmer.
Following that is the Monday night game with the San Diego Chargers.  My children are extremely grateful that we live on the East Coast so they don't get cheated out of Halloween, entirely (hey, Monday is a stupid night for Halloween anyway).
I believe, through my rose colored glasses the Chiefs have a chance to win both of these games.  I don't think they have a great chance, but they do have a chance.  It all begins in Oakland, and not just because that comes first.  If Kansas City can beat the Raiders, in Oakland, Arrowhead Stadium will be a tough place for the Chargers to visit on the night of tricks, forget the treats.
Following those two games the Chiefs host Miami and Denver. Both are winnable games, especially after what I witnessed last Monday.  If the above scenario happens, the Chiefs would be 6-3.  A stretch?  Absolutely.  Realistically I do think they can win one of the games between Oakland and San Diego and they should win both the Miami and Denver games.  That's puts them at a more realistic 5-4.
Do I believe the Chiefs are going to win the Super Bowl?  No.  Do I think they will even be a playoff team?  Very, very unlikely.  I do, however, think they will be more competitive than people give them credit for at this point.
I am one of about 12 people (the other 11 being in his family) that still thinks Matt Cassel is going to be a great NFL quarterback.  That's right, I said it: great.  Also, I believe that Jonathan Baldwin is going to play this weekend.  I think Todd Haley is playing typical head coach games. 
If Carson Palmer, a quarterback, can sit out 10 months then practice for three days and be ready to play, why can't a supposedly healthy wide receiver who's been working with the team for three weeks play?  I believe that Cassel, with Bowe, Breaston and Baldwin will open the offense up a little and score some points.
Romeo Crennel and his unit must do their job against a very good team, and I think they can.
If you're reading this, I'm back and very glad.  This is still the best sports site for the NFL that I know.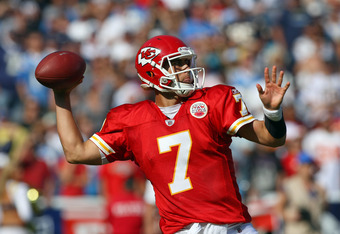 Donald Miralle/Getty Images