World Series 2011: Cardinals Best Rangers in Every Aspect of Game 1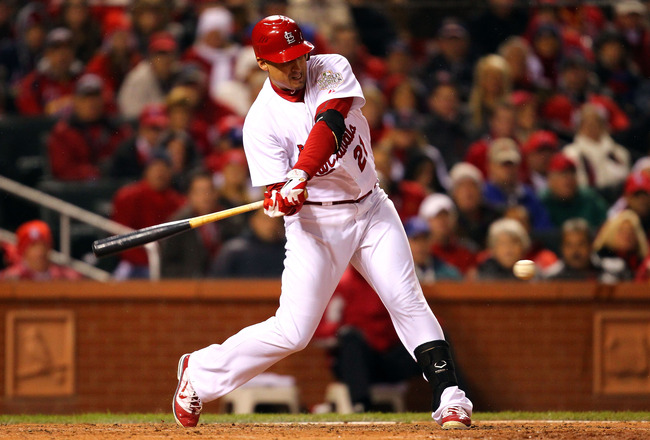 Dilip Vishwanat/Getty Images
So that sure wasn't what everyone expected it to be.
The underdog Cardinals began the 2011 World Series with a tense 3-2 victory over the favored Rangers at Busch Stadium in St. Louis.
The upstart birds on the bats continued to prove the doubters wrong by taking an early lead and then putting it away against the tough Rangers bullpen.
What was supposed to be an all-out slugfest between baseball's best lineups turned out to be a surprisingly solid pitching matchup between one ace and another wanna-be.
Chris Carpenter showed his elbow is just fine, thank you, by tossing six solid innings, only making one real mistake.
C.J. Wilson also showed toughness by pitching into the sixth inning and holding the Cardinals' potent lineup mostly in check.
So what made the difference in the Cards' opening-game win? Click on to find out.
What Was That About My Elbow?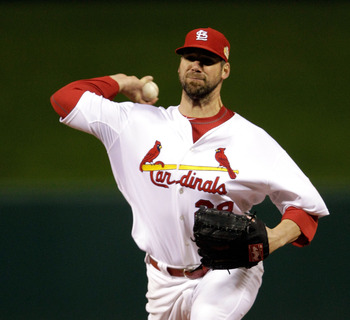 Pool/Getty Images
All the talk over the last two days in the media was about how Carpenter was dealing with a sore pitching elbow and that he might not be able to start Game 1.
All worthless babble.
Carpenter was not quite dominant, not locating early on, but he was good enough to keep the most dangerous lineup in baseball in check over six innings.
Carpenter struck out four and allowed only six baserunners. His one mistake came in the fifth inning when he allowed a mammoth long ball to catcher Mike Napoli.
He earned his third win of the postseason and did so in just 87 pitches which should leave him in great shape for the rest of the series.
C.J. Still Can't Get over the Hump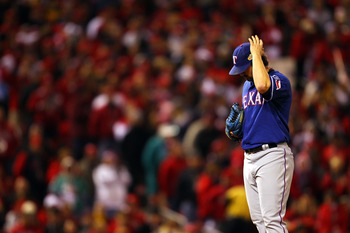 Dilip Vishwanat/Getty Images
Wilson never allowed a big inning, but the Cards got to him just enough to force him to the dugout with two outs in the sixth.
He was far from dominant, walking six hitters and allowing four hits. However, he thwarted several Cards' scoring opportunities in the first five innings.
He still hasn't made a big statement in the postseason to warrant a big contract this offseason. But he was certainly better than his previous three starts.
Early Disaster Averted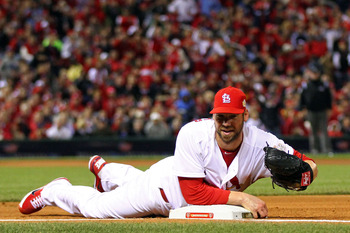 Dilip Vishwanat/Getty Images
After giving up a leadoff hit to Ian Kinsler in the first, Carpenter induced a groundout from Elvis Andrus to Pujols who was playing significantly off of first base in the gap. Pujols led Carpenter way too much on his toss to first and Carpenter had to lay out to catch it and tag the first base bag with his glove.
He also placed his pitching hand in the middle of the bag, but by the grace of a higher being, Andrus narrowly missed cleating Carp's hand and ending his postseason. Classy move by Andrus as well who clearly tried to avert Carp's hand and arm.
With all of the talk of Carp's elbow problems, seeing him there so vulnerable was heart-stoppingly terrifying for Cards fans.
Cards Get the Breaks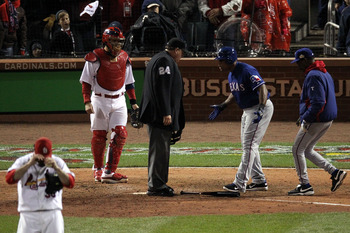 Jamie Squire/Getty Images
The Cards got a break in the ninth when Adrian Beltre grounded out to third baseman. But upon further video review, it looked like the ball nicked Beltre's foot on the first bounce and should have been ruled a foul ball.
It was nearly impossible to tell so you really can't blame the umpiring crew. But with Fox's new infer-red (is that what it was?) technology, it look like the ball made a mark on the tip of Beltre's foot. Beltre certainly sold it as such, but unfortunately for him he's not Derek Jeter and he didn't get the call.
Mike Napoli Comes Through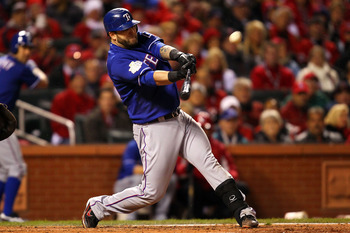 Dilip Vishwanat/Getty Images
Napoli provided all of the Rangers' offense when he destroyed a mistake pitch from Carpenter deep into the right field stands.
It was Napoli's second home run of the postseason and first since the ALDS against the Rays.
Napoli continues to be one of the biggest offseason acquisitions in all of baseball. The Angels have to still be kicking themselves for that bonehead move.
Berkman, Holliday and Freese Produce, Pujols in Slumber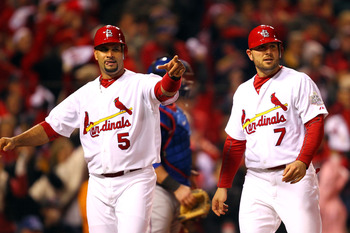 Dilip Vishwanat/Getty Images
Berkman came through with a two-RBI single in the fourth to give the Cards their first lead and helped get Carpenter into a comfort zone on the mound.
Fat Elvis, Holliday and Freese combined for four hits and a pair of RBI. Freese's stroke looked solid on his double, though his fielding left something to be desired.
Pujols was intentionally walked, hit by a pitch and scored a run, but finished 0-for-2. The Rangers were understandably careful around the game's best hitter.
Rangers Momentum Point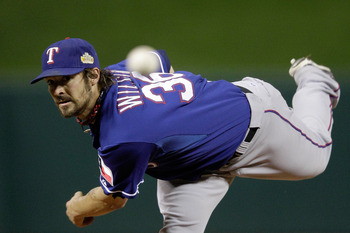 Pool/Getty Images
After Mike Napoli erased the Cards' 2-0 lead with a two-run shot in the top half of the fifth, the Cards threatened to take back the advantage in the bottom half. Rafael Furcal led off with a walk and moved to second on Jon Jay's sacrifice bunt.
Albert Pujols was intentionally walked, but Wilson got Holliday to ground into the 5-4-3 double play to end the threat. Seems like the 5,000th time this year the Cards have grounded into a rally-killing DP.
Save of the Night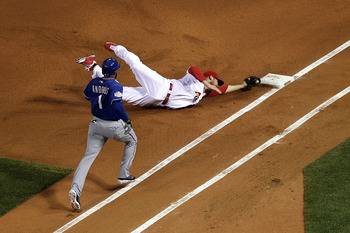 Ezra Shaw/Getty Images
The Rangers led off yet another inning in the sixth with a single by Ian Kinsler and moved him to third through a few sacrifices. With their most experienced hitter at the plate, Michael Young smacked a hot shot to Pujols who dove towards the baseline and then hit Carp with a much more accurate toss than the first inning to end the threat of a 3-2 lead.
Turning Point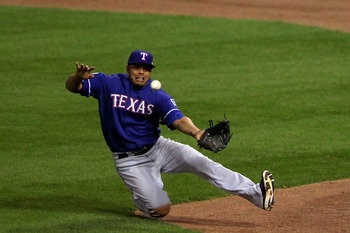 Doug Pensinger/Getty Images
TLR made the move of the night by inserting Allen Craig in the sixth with runners on first and third and two down, ending Carpenter's evening.
That set up power right-hander vs. power right-hander as Ron Washington called on fire-throwing Alexi Ogando, who had been unhittable in the ALCS.
Craig responded by lining one down the right field line just out of the grasp of Nelson Cruz, but not out of the reach of his feet. The hit drove in a run and proved to be the game-winner.
Questionable Managerial Decision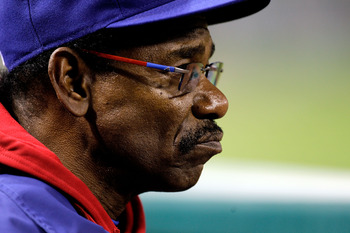 Rob Carr/Getty Images
With two on and two out in the top of the seventh inning, Ron Washington chose to pinch hit for Alexi Ogando with Esteban German. It was the first at-bat of the postseason for German, not exactly the best time to be trotting out a completely inexperienced hitter.
Lefty specialist Mark Rzepczynski made quick work of the Rangers neophyte. German looked lost and dizzy after seeing a few mid-80s breaking pitches and went down with a fairly weak whiff.
Cards Goats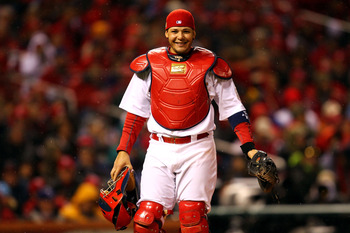 Dilip Vishwanat/Getty Images
Jon Jay killed an auspicious Cards start in the first by grounding into a double play. He was impatient at the plate all night and his only real contribution was a sac bunt.
Molina struggled with men on base and especially with runners in scoring position. He missed a spot to tack on a run in the fourth with a runner on second and then again in the sixth when he struck out with runners on second and third.
He did make up for it by gunning out Ian Kinsler in the first inning. That made a statement to the Rangers: Might not want to try running on Yadi often.
Rangers Goats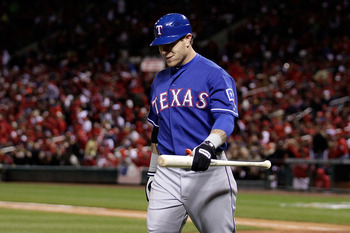 Rob Carr/Getty Images
While Kinsler, Beltre and Napoli combined for five hits and both RBI, Young and Hamilton went a combined 0-for-8 with a K on the night from the No. 3 and 4 spots. Young killed the last Ranger rally in the sixth when he couldn't get a runner home from third with two out.
The Rangers have been getting most of their production from the 5-6-7 part of their lineup anyway, but they'll need their veteran leaders to step up and do some work at the plate if they want to knock off this magical Red Bird team.
So What's It Mean?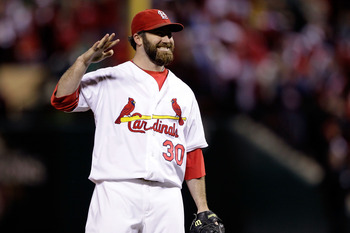 Rob Carr/Getty Images
The winner of Game 1 has captured seven of the last eight titles, 12 of the last 14 and 19 of the last 23. In addition, the team hosting Game 1 has won 20 of the last 25 World Series. That's all per ESPN's stat crew, so take it with a grain of salt.
To me that doesn't mean a lot. The Rays won Game 1 of the ALDS, but where are they right now? The Brew Crew won Game 1 of the NLCS. Guess what they're playing?
The Cardinals beat the Rangers in every aspect of the game: with the glove, with their bats, their bullpen was a little better and TLR made the right moves while Ron Washington made a bonehead move in the clutch.
But it takes four wins to claim a title.
It's all about how both teams respond Thursday night.
Even if the Cards sweep the first two, the Rangers will return home for three. That lineup is dangerous enough in a normal stadium, let alone that phone booth they call the Ballpark in Arlington.
This is a long way from being over.
Keep Reading

St Louis Cardinals: Like this team?