2011 World Series Roster Updates: Rangers and Cardinals Make Interesting Moves
October 19, 2011
Kevork Djansezian/Getty Images
The St. Louis Cardinals and the Texas Rangers each made two roster moves today that might induce a bit of head scratching.
Both teams had until 10:00 a.m. this morning to submit their final 2011 World Series rosters.
The Texas Rangers decided to go with 11 pitchers, as they did in the Divisional Series (rather than 12) and to no surprise, dropped the laughably ineffective Koji Uehara, and his 33.75 ERA off of the roster. Uehara is replaced by right-handed flame thrower and Arlington, TX native, Mark Lowe.  
Lowe was receiving strong attention to make the postseason roster initially but a hamstring injury retroactive to September 27 kept him off until now.  For the Rangers, the odd move is that Yoshinora Tateyama, the side-winding bullpen mate of Uehara, was dropped off of the roster in favor of Matt Treanor, the team's third-string catcher.
Matt Treanor was on the 2011 ALDS roster, but did not make it into a game.
Tateyama, who played High School baseball in Japan with Uehara, was only used in one game during the ALCS, and pitched just two-thirds of an inning, surrendering no runs.  
The fact that he was dropped off of the roster is not surprising, but the fact that he was replaced by a catcher, certainly is.  
With Treanor on the Rangers roster, the team now has three catchers.  I understand this adds versatility, but it seems that having two catchers and eight relievers worked just fine in the ALCS, so why tinker?
It seems to reason that with the Rangers (as well as the Cardinals) extreme use of the bullpen, they'd want to keep as many relievers on their respective World Series rosters as possible.  
However, it's hard to second-guess manager Ron Washington's decisions when he has, after all, led his club back to the World Series for the second consecutive season.
As for Tony LaRussa's Cardinals, they also made one no-doubter decision and another that may raise a few eye brows.
Kyle McClellan was taken off of the roster for the same reason Uehara was removed from the Rangers—ineffectiveness.  McClellan, a right-hander, was used just once in the NLCS and surrendered two hits and an earned run while getting just one out, good for a 27.00 ERA.  
McClellan was replaced by veteran right-hander Jake Westbrook.  Westbrook was on the LDS roster, but did not make an appearance.  Westbrook can be a long reliever for the Cards, but perhaps most importantly, he can spot start.
The Westbrook move leaves me to wonder just how bad Chris Carpenter's right elbow soreness really is.  Granted, Carpenter has been there before, as he has had surgeries on both his shoulder and elbow in year's past.  In other words, he knows how to pitch around the pain and if it's too much to deal with, he won't.
More likely, Westbrook is around to spell Kyle Lohse (0-2, 7.45 ERA) or Edwin Jackson; with either a spot start or a Scott Feldman/Alexi Ogando-like extended relief appearance, should either of those two get into trouble early.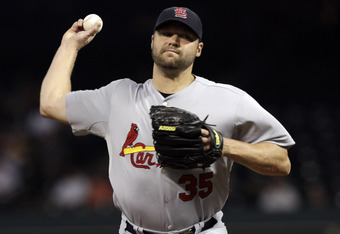 Bob Levey/Getty Images
The Texas Rangers are batting .328 with four home runs and 14 RBI against Jackson, lifetime, and .288 with three home runs and 12 RBI against Westbrook over his career.
LaRussa's other move was a  no-brainer, especially considering that the Cardinals will have to use a designated hitter at least twice, once the series moves down to Arlington, TX.  
Skip Schumaker was having a David Freese-like NLDS before he strained his right oblique in Game 5 of the LDS versus the Phillies.  Schumaker was batting .600 with three RBI.  He replaces backup outfielder Adron Chambers on the Cardinals roster.
Follow Timothy on Twitter @TMurrayHowell—he follows back, but not in a creepy way. Or hit him up on Facebook—you know you have an account.