2012 MLB Offseason: Arizona Diamondbacks Fielding Breakdown
October 19, 2011
Jared Wickerham/Getty Images
Before anyone continues reading this series, I invite you to read the original piece entitled "Team Fielding Series." In that piece, I gave an overview of the team's rankings and an explanation of the statistics used and how they compared to defensive efficiency rating. After reading that article, these subsequent articles will make a lot more sense.
DER: .701 (seventh)
RA: 662 (11th)
FLD%: .985 (ninth)
Baseball Reference: +30 runs (fifth)
FanGraphs: +55.8 runs (first)
Fielding Bible: +34 runs (sixth)
Baseball Prospectus: +0.2 runs (16th)
Composite Runs: +30 runs
When looking at any statistical category, it is always a good idea to look at it from as many angles as possible. In essence, statistical analysis is about getting as much information as you possibly can and then sifting through it to discover the truth. The truth here is that the Diamondbacks were as successful as they were in large part because of solid defense behind the pitching staff.
Jettisoning Mark Reynolds was probably the first step in that line. Sometimes you can have addition by subtraction. While Ryan Roberts is clearly not a brilliant defensive third baseman, he is better than Reynolds. The rest of the team was good enough to pick up the slack. Essentially, you are looking at a league-average pitching staff with excellent fielding behind them.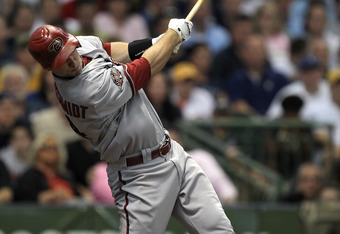 Jonathan Daniel/Getty Images
Best Defender: This one is a cross between Gerardo Parra and Aaron Hill. Parra's overall numbers were superior, but Hill was brilliant for the final two months of the season. Replacing Kelly Johnson with Hill helped bump this defense from good to very good. If he returns, they should be in good shape.
Worst Defender: Paul Goldschmidt lost six runs in the Fielding Bible category in less than two months on the job. That put him on pace to be one of the worst defensive first basemen in baseball. Now, he was a rookie, so it is always conceivable that the sample size was too small or that he could improve.
Possible Changes: Second base is really the only position on the diamond in a state of flux this offseason. Kevin Towers must choose between picking up all three of Aaron Hill's option years and possibly negotiating a new contract with him. Both sides would like to see a reunion, so it is just a matter of how it is going to get done.
2012 Outlook: The Diamondbacks have several plus defenders (their entire outfield for instance) and few subpar defenders. Goldschmidt's development will likely mean the difference between being good again and potentially being great. If he can elevate himself to mediocre, the Diamondbacks will be a top-five defense next season.