B/R Exclusive Interview: New York Mets Prospect Josh Satin Says Sky Is the Limit
October 19, 2011
Dilip Vishwanat/Getty Images
New York Mets infield prospect Josh Satin has the world at his feet. Named as the organization's Player of the Year, the 26-year-old spoke to Bleacher Report about his transition from the Minors, the work ethic that led to his September callup, and the talent that surrounded him at every step of his journey.
"Yeah, I got the ball," Satin said with a proud smile on his face as he leaned against his bat. "They were cool about it and they threw it back to me right away. I gave it to my parents, they were there that day, so I'll have it at home. It will definitely be a memory I'll have forever."
Satin was, of course, referring to the ball that he laced into left field in the third inning of the Mets' 6-3 win over the Washington Nationals in DC on Sept. 4. It was the prospect's first base hit as a Major Leaguer, a title he had owned for just 48 hours, but that didn't feel real until he stepped onto the field for the first time.
The ball, identical in almost every respect to thousands of others used across the country, represented more than the leadoff single it actually was. It marked the fulfillment of a dream; a token to show he had made it.
"Definitely getting my first hit and my first at-bat was definitely a great feeling. It's something you always dream about," he explained. "To do that was an incredible feeling. That was my best moment so far."
"Just being out in the field and playing with the best players in the world and seeing what it takes to be a Major Leaguer and staying at this level is something I'll think about using to improve my game."
But that's where the sentiment stops. Satin knows that making it to the Majors is one thing. Keeping his job for the last two weeks of the season and, more importantly, holding on to it at the start of the next, is an entirely different proposition.
Drafted as a second baseman, Satin is equally as comfortable at third where he made almost one-third of his starts this season. Add in his ability to man first base, and his appeal increases. A multi-position defender with a solid swing and occasional pop making virtually the league minimum is a nice proposition.
Whether that gives him a leg up on his competition in spring training remains to be seen. Ruben Tejada is the odds-on favorite to play second base next year, and Ike Davis and David Wright are the obvious incumbents on the corners. A Jose Reyes departure in the offseason improves Satin's chances since Tejada will slide across to the other side of the infield, but even that doesn't make his inclusion on the 25-man a sure bet.
Justin Turner and Daniel Murphy would have realistic shots at one of the five bench spots. Considering the need to carry a backup catcher and at least one outfielder, a third utility man might be too much to ask.
"Obviously the goal this year was to put myself in a position to get to the big leagues and I was able to do that," Satin said. "There are still a lot of things I want to work on and improve on, but I definitely have to consider this season a success getting to the big league level."
"Offensively, I need to get more consistent and know how to hit at the big league level and know what the pitchers want to do. I need to maintain my approach, even when big-time big leaguers are throwing. I think that's a big key. Defensively, it's just being versatile and being able to fill in where ever they need me...Being able to play almost every different position so that when they need me to fill in somewhere I'll be able to do so.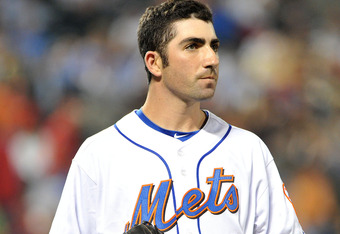 Christopher Pasatieri/Getty Images
"I've learned more from watching the guys on the team than really from playing. It's been great to watch these guys play. David and Jose and all the guys that are in the lineup every day and have been doing it for years. Just seeing how they go about their business and seeing what it takes to be a Major League baseball player on an everyday basis has been incredible. They know themselves and they know how to succeed. So I'm just trying to be a sponge and soak in everything they tell me and that they do and try to put it in my game."
Satin hit .325 with 11 homers and 60 RBI in 94 Eastern League games with Double-A Binghamton this season. He batted .317 with 16 RBI in 38 games with the Triple-A Buffalo Bisons following his promotion to the International League in the third week of July.
The 6'2" native of Los Angeles, Calif., isn't the only prospect who stood out this year. The likes of Fernando Martinez, Jordany Valdespin and Zach Lutz each provided glimpses into their future. Satin knows the Mets have depth coming through the system, even if it is still several years away.
"Fernando [Martinez] and [Zach] Lutz are very similar. They both have incredible power and there is lightning in their bats. When they're able to stay on the field and play they make things happen with the bat. Some of the balls Fernando hit this year that I saw were pretty incredible. I've seen Zach play a lot over the last couple years, and offensively he's got it all. He just needs to stay healthy and get some more at-bats and stay consistent with himself. He's an incredible hitter.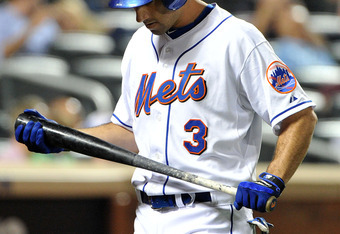 Christopher Pasatieri/Getty Images
"Valdespin is ultra talented, too. He can do a little bit of everything. He had a great season and I was witness to most of it. He really turned a corner, I thought. He'd always been talented—he can run and do a bunch of things—but this year he really kicked in the power with his bat and he was able to figure out how to hit in the upper minors, and it was good to see. The future's bright for all those guys.
"I didn't get to play with [Kirk Nieuwenhuis] this year at all because by the time I got to Triple-A he was hurt, but I've played with him a lot over the years. I think he's a very talented guy and he has an all-around game. He can do a little bit of everything and I think when he gets up here eventually people will see that he can play defense, he squares everything, he has a little pop and he can run. He's a really exciting player and I'm a big fan of his."
But it's not just at the plate where the Mets have players coming up through the organization. With the acquisition of Zach Wheeler, New York has a potentially lethal 1-2 combination with Matt Harvey, the team's first-round draft pick this summer.
"Matt Harvey and [Jeurys] Familia, both have excellent arms. I look for them in the next year or two to be very good at this level. They both throw mid- to upper-90s with a couple other pitches that they throw for strikes. Once they get a little more consistent with their location and once they get a better idea of how to pitch they are going to be incredible assets to this organization.
"There's other guys too, that can definitely help out, like Chris Schwinden, guys who know how to pitch and can come in here and throw strikes and compete. The future is bright for this organization, we just have to put all of the pieces together."
Putting everything together is something the Mets have struggled with for a few years now, whether it's timely hitting, September collapses or simply a lack of depth to cope with inevitable injuries.
Now in his fourth season of pro ball, 26-year-old Satin has displayed talent at every level in the organization, and he hopes that he can help the club develop some continuity over the coming years.
He hit .303 between rookie-level Kingsport and short season Brooklyn in 2008, and he followed it up by hitting .288 with 65 RBI across 132 appearances in Class A Savannah and Class A Advanced St. Lucie in '09 in his first full season. Last year, Satin improved further. He hit .311 with 12 homers and 74 RBI—all career highs at the time—between St. Lucie and Double-A Binghamton, making him an obvious choice to start 2011 in the Eastern League.
Now he's seen life in the Majors, he's keen to stay there.
"There's still a lot of work to be done personally to achieve my ultimate goal of being a big leaguer who can contribute to the New York Mets," he said. "There's so much talent to begin with here at the big level. From an outsider it's just health. There have been so may injuries every year. Since I've been in the organization from 2008 it seems like every year one or two or even three of the top guys of the team have been injured.
"You look at the lineup and it's a great lineup. Everyone up and down can play, has played and has played well. If we can just stay healthy at some point over the next year or two, I think the sky is the limit."