NFL Trade Deadline: Jason Campbell and the 4 Biggest Losers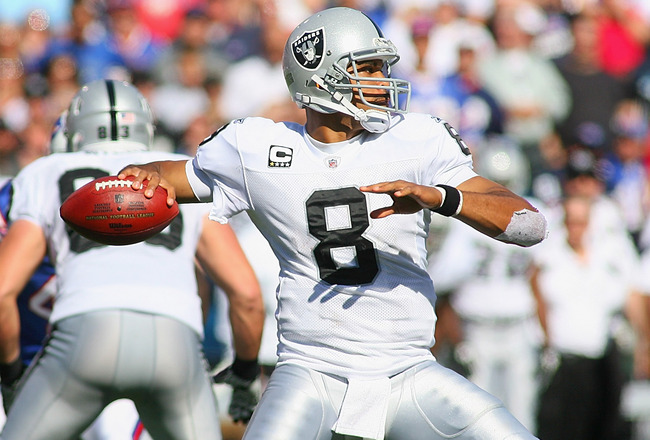 Rick Stewart/Getty Images
In the midst of all the action taking place before the NFL trade deadline, some underlying factors have gone rather unnoticed.
Such as those players who are directly or indirectly affected by the trades themselves.
Obviously, how everything plays out remains to be seen, but nonetheless, it doesn't look good for some.
With that in mind, here are four players who "lost" after the NFL trade deadline.
QB Jason Campbell: Oakland Raiders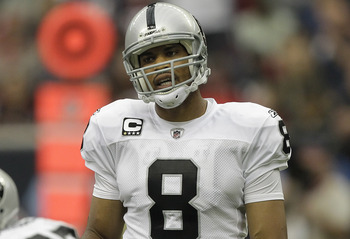 Bob Levey/Getty Images
The injury to Jason Campbell was a big blow to the Raiders, because Campbell was playing at a solid game-managing level. However, the injury may have been a blessing in disguise.
Although Carson Palmer is older, he's a much more established NFL quarterback than Campbell.
That said, if Palmer plays well in Oakland, it could become a tricky situation in the Bay Area come 2012.
What does play in Campbell's favor is the fact there is quite a bit of pressure on Palmer. The Raiders gave up potentially two high draft picks to get him, so he will be expected to step up quickly.
QB Tim Tebow: Denver Broncos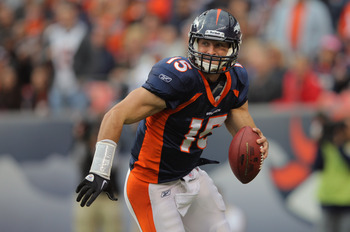 Doug Pensinger/Getty Images
Congratulations, Tim Tebow, you've earned the starting job in the Mile High City.
Unfortunately, we're going to trade away our best player in All-Pro WR Brandon Lloyd for a potential fifth-round pick.
Tebow may not exactly feel this way, but you can't help but think that somewhere in the back of his mind, he's wincing.
It will be exciting watching one of the greatest college quarterbacks ever suit up in the NFL. But Tebow doesn't have much help around him, so it'll be interesting to see how he responds to that adversity.
Watching Tebow in the NFL may make up for not seeing former Nebraska Cornhusker Tommy Frazier in the pros, but I doubt it.
Then again, if Tebow plays well, he'll only continue to build an already impressive resume.
But let's not get ahead of ourselves just yet.
QB Sam Bradford: St. Louis Rams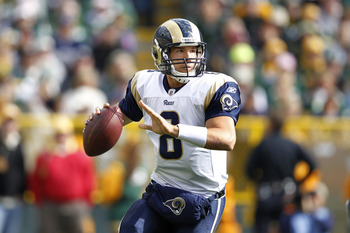 Joe Robbins/Getty Images
Sure he has Brandon Lloyd now, but getting rid of Mike Sims-Walker to make room? Bad idea.
Sims-Walker has been underachieving this season, but everyone on the Rams have been also.
In addition, Walker is not good enough to be a No. 1 receiver, but he is a solid No. 2 if given the opportunity.
And that opportunity was in front of St. Louis, because Lloyd is a No. 1 receiver, and the two would have complemented each other very well.
It's almost back to the drawing board for Bradford and company.
Although the Rams didn't give up much for Lloyd and he is an upgrade from Sims-Walker, having both would be the ideal situation.
WR Mike Sims-Walker: Jacksonville Jaguars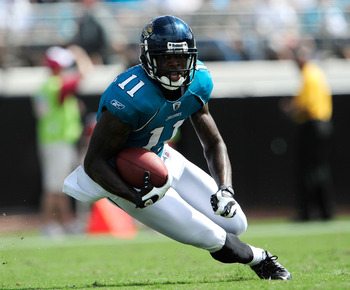 Sam Greenwood/Getty Images
It's back to Jacksonville for Michael Sims-Walker, and he's not going to a better situation from St. Louis.
Sure the Rams were 0-5, but Jacksonville is 1-5 and have rookie QB Blaine Gabbert starting under center.
Walker will be the expected No. 1 receiver for the Jaguars, but he could have contributed and been so much more productive for St. Louis alongside Brandon Lloyd.
In each of Walker's last two seasons, he scored seven touchdowns. And it's not like Jacksonville was a dominant passing team.
Keeping him in St. Louis with Lloyd would have been a much better situation for Walker, but it's gut check time. His willingness to compete will now be tested with his former team.
Be sure to check out John on Bleacher Report.
And, you can follow him on Twitter @ Sportswriter27.
Keep Reading