2011 World Series: Jason Motte Brings Recognition to Iona College Baseball
October 19, 2011
Ed Szczepanski/Getty Images
This season, the St. Louis Cardinals have seen some unlikely players step up and make a major impact for the National League Champions.
However, arguably the biggest surprise for the Cardinals over the past month has to be their unofficial closer, Jason Motte.
Motte became the closer for the Cardinals in their amazing September run and has saved four games in this postseason, including the pennant-clinching out in Game 6 of the NLCS.
This postseason has been a great story for Motte, and has also helped to bring recognition back to his collegiate baseball program at Iona College.
From 1999 through 2003, Motte was a catcher for Iona, where he gained a reputation as a good defensive catcher with a strong throwing arm. However, he was not the strongest hitter on the Gaels roster, hitting just .277 with 11 homers and 72 RBI in his four years in New Rochelle.
But Motte got drafted anyway by the Cardinals in the 19th round of the 2003 draft as a catcher.
In his first three years in the minors, Motte hit only .190, and after injuring his left thumb, then-pitching coordinator Mark Riggins and then-farm director Bruce Manno told Motte to start pitching. According to Motte, the last time that he pitched before his time in the minors was when he was in the Dixie Youth World Series when he was 12.
Motte went on to flat-out dominate with the Double-A Springfield Cardinals in 2007, which was his first full season pitching, striking out 63 batters in only 48 innings.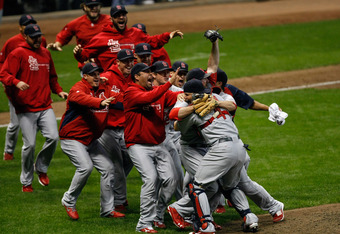 Scott Boehm/Getty Images
Motte then earned his call up to the major leagues in September 2008. Motte only pitched 11 innings that year but remained with the Cardinals ever since that call up.
In August, Motte unofficially got the closers role after Fernando Salas lost the job, and has proceeded to successfully save 13 of his 14 save opportunities.
Now that he is in the World Series, Motte will become only the second ever baseball player in Iona's history to pitch in the World Series.
In Game 4 of the 1980 World Series, Dennis Leonard and the Kansas City Royals beat the Philadelphia Phillies 5-3. Leonard pitched for Iona from 1970-1972 before he was drafted by the Royals in the second round of the 1972 draft.
Altogether, only two other players from Iona have pitched in the major leagues: Vito Valentinetti and Mike Bertotti.
In the next several days, Motte will get a chance to complete a feat that no Iona baseball player has ever accomplished: winning a World Series.
And considering the Cardinals' recent success, it shouldn't be a surprise if Motte is on the mound for the clinching out in this World Series.
For more World Series coverage, follow me on Twitter! @Andrew_Jordan