St. Louis Rams Week 6 Stock Report: Who's Up and Who's Down After Packer Loss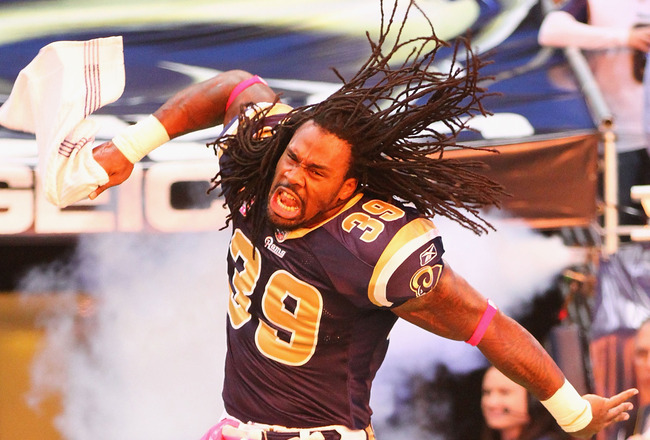 Dilip Vishwanat/Getty Images
It continues to be a rough season for the St. Louis Rams. The schedule has been none too kind to teams in Missouri, but brighter days are ahead.
On the bright side the loss could have been much worse to the defending Super Bowl champions. The Rams showed they aren't complete pushovers, but they need to turn solid performances into competitive games.
All is not lost for the Rams as their schedule gets significantly easier the coming weeks. This year won't be a playoff year for the Rams, but there are still players making a significant impact for the St. Louis Rams.
Danario Alexander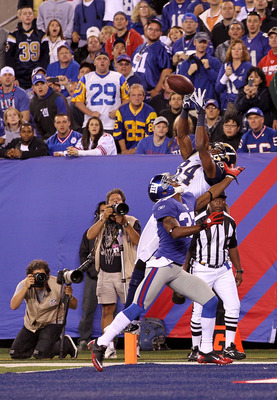 Al Bello/Getty Images
The biggest struggle for the Rams continues to be at wide receiver. Despite bringing a lot of mediocre talent, the Rams have struggled to establish anyone as their true No. 1 guy.
I don't think that Alexander will be their No. 1 guy, as Brandon Lloyd is coming to town from Denver, but he has the potential to be the deep threat the Rams need.
Alexander has great speed, and he has shown over the last two weeks that he has the ability to get behind defenses for big yardage. He had a long of 32 yards against the Packers and a 25-yard grab the week before. The more he sees the field, the better he'll get.
Stock: Up
Justin King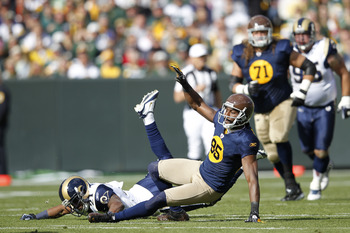 Joe Robbins/Getty Images
Cornerback Justin King was forced into service from the injuries to Ron Bartell, Bradley Fletcher and Jerome Murphy.
Some players are backups and make the absolute most of their time on the field. King should probably be paid by opposing teams instead of the Rams.
King was the worst man in coverage all day. He gave up two touchdowns and 92 yards between James Jones, Donald Driver and Greg Jennings. The Rams are definitely in the market for a competent cornerback.
Stock: Way Down
Mike Sims-Walker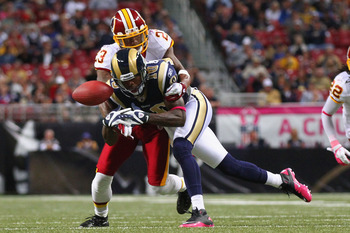 Sims-Walker is now an ex-Ram
Dilip Vishwanat/Getty Images
Mike Sims-Walker teased the Jaguars for years. He would display exceptional talent, then disappear for long stretches. He would flash the ability to become their No. 1 wideout, then drop a number of passes.
Unfortunately, the Rams got nothing but the dropped passes and disappearing act Sims-Walker, and they had enough of it. Soon after trading for Brandon Lloyd, Mike Sims-Walker was cut.
He was a starter at the beginning of the year, dropped four passes in Week 4, and was then inactive this past Sunday. He finishes his career as a Ram with 11 catches for 139 yards.
Stock: Obsolete
Quintin Mikell
Joe Robbins/Getty Images
Quintin Mikell has been one of the league's better safeties over the last few years, but has struggled his first three games of 2011.
Mikell has been quickly picking up his game, and had his best performance this year against the Packers on Sunday. Mikell had a perfect day in coverage, allowing zero catches on the only two targets thrown his direction, with six tackles on the day.
The Rams need Mikell to step up in a big way. Their secondary is struggling and the Rams will not win more than a couple games if the back end can't get it done.
Stock: Up
Justin Bannan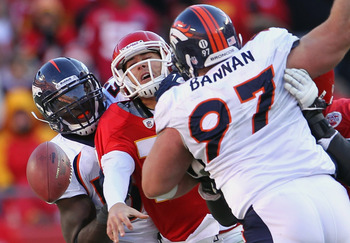 Jamie Squire/Getty Images
Bannan is quietly having a very nice season for the Rams.
He may not generate the pressure that more well-known defensive tackles like Richard Seymour do, but he has been a stalwart against the run.
Bannan has been almost unmovable when he's been in the lineup. Profootballfocus.com had a 2.8 overall grade in run defense this past Sunday in only 36 snaps.
The Rams are keeping him fresh in the rotation, making Bannan even more effective. The Rams' strengths lie in their front seven on defense, and if they can start getting pressure, they can show just how good they can be on defense.
Stock: Up
Steven Jackson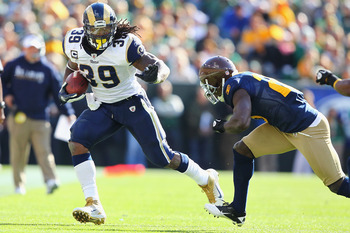 Dilip Vishwanat/Getty Images
The Rams most important player is finally back—healthy, and effective.
Jackson gathered 96 yards on the ground and 29 more through the air. He might be their most reliable receiver, considering they lined him up out wide repeatedly and Jackson caught four out of the five passes thrown his direction.
As long as Jackson is healthy and in action, the Rams will improve and get that elusive first win.
Stock: Up
Keep Reading

St. Louis Rams: Like this team?