Jason Campbell Injury: Would David Garrard Be Huge Downgrade for Raiders?
October 17, 2011
Ezra Shaw/Getty Images
With Oakland Raiders quarterback Jason Campbell out for the season with a broken collarbone, the Raiders have a decision to make, and quickly. There's no bye week to save them—Oakland needs a starting quarterback as soon as possible.
Their immediate options aren't very inspiring; they can either stick with backup Kyle Boller and hope for the best (which means the Raiders will become nearly one-dimensional as a running team) or try to turn to rookie Terrelle Pryor (who was cleared to join his team just last week after serving a five-game suspension) despite his lack of experience.
Certainly, they'd rather choose option No. 3, which is to grab an available free-agent veteran or trade for one. As of this morning, the Raiders have been in heated discussions with the Cincinnati Bengals in a play for Carson Palmer, but Bengals owner Mike Brown isn't likely to budge on his unwillingness to move the quarterback.
So that leaves a duo of veterans, David Garrard and Josh McCown, as the front-runners (at this time) for the vacant starting position. ESPN's Adam Schefter has reported that the Raiders have reached out both to Garrard and McCown this morning, and it's clear that Garrard would be the best option.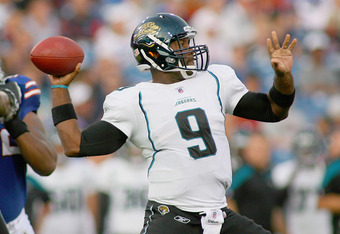 Rick Stewart/Getty Images
Indeed, barring a coup to acquire Palmer, Garrard is the only realistic choice the Raiders can make right now. The opening meets all of Garrard's criteria, aside from his financial demands (the Raiders' ability to pay him what he's looking for is as of yet unknown), as Oakland fields talented team that gives him a chance to win a number of games and even perhaps make the playoffs.
The Raiders have turned themselves around yet again, and they have proven in many ways how they are no longer the laughingstock of the league. Even all those fast players, of whom the late Al Davis was so fond, are panning out as serious playmakers, and the shaky Campbell was just coming into his own as a legitimate quarterback worthy of holding a starting job.
Statistically, Campbell and Garrard are very similar, with nearly identical career completion percentages and yearly passing yardage totals, and both are remarkably comparable when it comes to running with the ball as well.
If Garrard joins the Raiders, it won't be a major upgrade nor downgrade; in fact, they'd be getting themselves another version of Campbell. And yes, this is great news. It means an easier transition for the team and a familiar set of responsibilities for Garrard, and it means that neither Garrard nor the Raiders will have to alter course much in order to make the partnership work.
It's obvious that Garrard would be the best quarterback for Oakland going forward; now it's just about getting all parties on the same page as quickly as possible.