Albert Pujols or Prince Fielder: Which All-Star Is Better Fit for Chicago Cubs?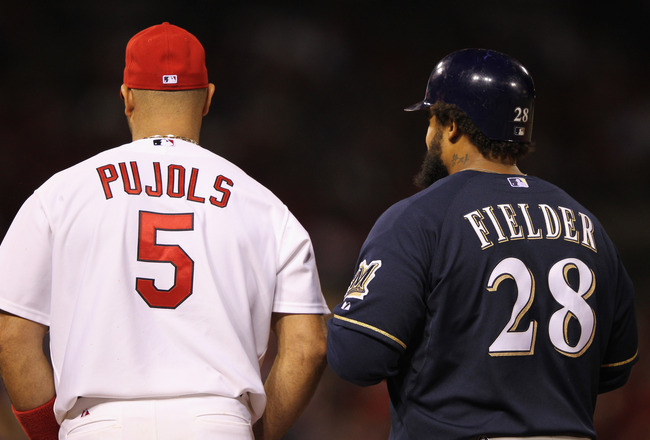 Jamie Squire/Getty Images
The 2011 MLB season is not over yet, but free-agent talks are going to increase now that Milwaukee Brewers' first baseman Prince Fielder may have played his last game in a Brewers' uniform.
The Brewers' 12-6 loss Sunday night at home to Albert Pujols and the Cardinals means the Cards are now going to the World Series.
However, free-agent talks will increase even more after the World Series with Albert Pujols on the market as well.
The Chicago Cubs have been linked to potentially landing one of the two, but now that Chicago is about to be under new management, anything can happen.
The following slides will determine which of the two first basemen will be a better fit for the Chicago Cubs.
Age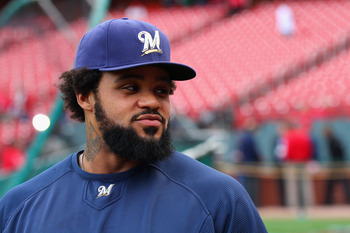 Dilip Vishwanat/Getty Images
Age is a very important factor when determining which All-Star slugger would be the best fit for the Chicago Cubs.
Prince is just 27 years old, and Albert is turning 32 in January. I'd hate to see the Cubs hand out Albert Pujols a 10-year contract worth $25 million annually and have it turn into an Alfonso Soriano-esque contract by the time he hits his late 30s.
Prince is entering the prime of his career and doesn't turn 28 until next season. Prince gets the advantage when it comes to age.
Left Handed Bat vs. Right Handed Bat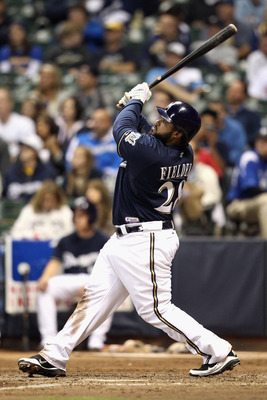 Christian Petersen/Getty Images
Pujols has put up more impressive numbers in his career, but he's only been in the league for a few more years than Fielder. However, in the Cubs' current situation it's not completely about numbers.
The Cubs' current everyday lineup is dominated by right-handed hitters. Soto, Barney, Castro, Soriano and Byrd all, most likely, will be in the everyday lineup barring any setbacks in their games. The Cubs need a left-handed bat that can provide power in the heart of the lineup.
Prince Fielder is that left-handed bat that can provide the necessary power the Cubs are currently lacking.
No disrespect to Albert, but in this case, it's hard to add another right-handed hitter to the already right-handed dominant Cubs lineup.
Career at Wrigley Field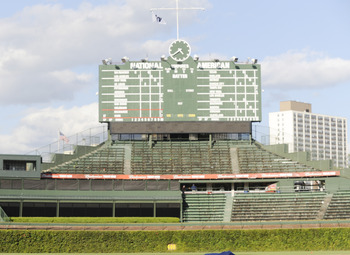 David Banks/Getty Images
In my 21 years watching Cubs baseball, I have seen my fair share of "Cub Killers." And Albert Pujols is one of those Cub Killers.
Pujols' numbers at Wrigley Field are much better than Fielder's. Since 2008, Pujols has had 99 at-bats at Wrigley, and he's driven in 23 runs on five doubles, one triple and eight home runs. Oh yeah, his batting average was over .350 and he even drew 23 walks in the process.
Fielder has been a different story at Wrigley. Since 2008, he's driven in just nine runs in his 93 at-bats that consisted of six doubles, one triple, two home runs and a batting average of .247. However, the one upside is that he's drawn 32 walks at Wrigley since '08, and the entire world knows how desperate the Cubs are for base runners.
When it comes to playing at Wrigley, due to the fact that if either one of them signs with the Cubs they'll have to play 81 games there, Pujols has the advantage in this one.
Health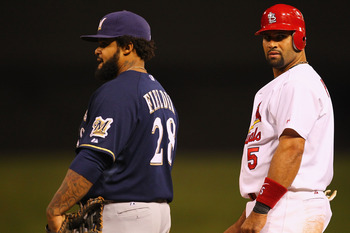 Dilip Vishwanat/Getty Images
Neither Albert or Prince have had injury problems throughout their careers, except this year Albert had to miss a short period of time when he fractured his wrist.
But, Albert's fractured wrist this season could be a result of good, ole' father time, and it may be a sign of things to come.
Since Prince became an every day starter for the Brewers in 2006, he's missed just 13 games in those six seasons. Over that same span since '06, Pujols has 58 total games.
Prince gets the advantage in this one, because if the Cubs are willing to give either one of these guys buku-bucks, they're going to need to be on the field.
Career in Postseason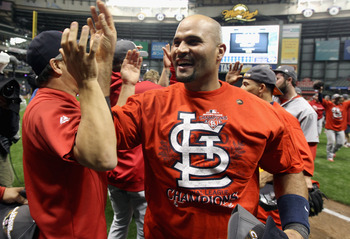 Christian Petersen/Getty Images
Comparing Fielder and Pujols' careers in the postseason isn't even a contest. Pujols, who's been in the league since 2001, has appeared in the postseason more times than not. Fielder has been there just twice.
Albert has more career postseason hits (82) and still counting, than Fielder has career postseason at-bats (57). Albert has any many postseason home runs (15) and still counting, as Fielder has career postseason games.
Without a doubt, Albert gets the nod in this category, but don't forget Prince has been in the league for about five less seasons. His time can come.
And the Winner Is...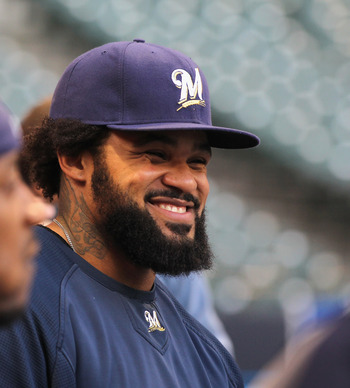 Jonathan Daniel/Getty Images
And the winner is Prince Fielder.
If the decision were up to me to sign either Prince or Pujols, I'd sign Prince. Yes, Albert has had more success at Wrigley, as well as in the postseason then Prince. But there's one factor that's far more important than any factor that takes place on the field.
Prince is four years younger than Albert. Four years is a long time when a ball club is willing to give a player over $20 million annually. I've seen the Cubs give players some bad contracts to players who are past their prime, and I don't want to see them take that risk again.
The Cubs are on the brink of a new GM in Theo Epstein, and I trust that he'll make decision that are in the best interest of the organization.
But just know, if it were up to me to pick between Prince or Albert, I'm going with Prince all day.
Keep Reading

Chicago Cubs: Like this team?