MLB Free Agency 2011-12: Where the Top 50 Players Are Headed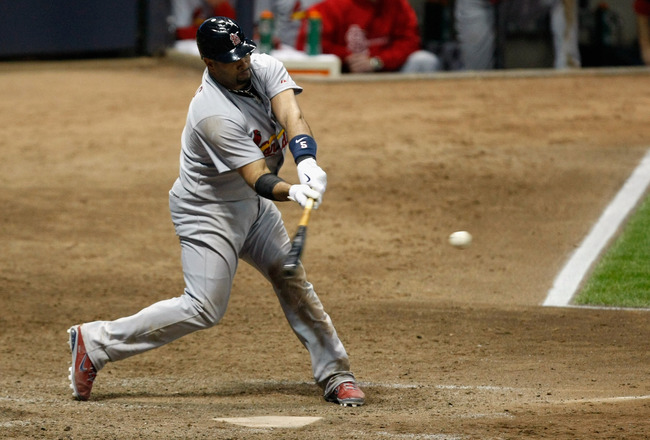 Scott Boehm/Getty Images
Once the 2011 World Series reaches a conclusion, the real fun begins.
Not to minimize the importance of the World Series, for that is the ultimate goal of each and every team. However, once the Fall Classic has ended, 30 teams in Major League Baseball will be scrambling for the following five days in an attempt to sign their own free agents.
That is the window in which the original teams for potential free agents have to try to resign their players. MLB shortened that window from 15 to five days last September. However, original teams can still negotiate with their players after that time; it just means that the stakes get that much higher.
With some of the big names out there this offseason, it will be a very busy "second season" for baseball. While the players themselves are out there competing during the regular season and playoffs, the general managers and owners are put to the test during the second season, and it's during this time that they are judged based on their activity and success.
So, with some of the incredible talent out there that will be offered to the highest bidder, just where will they end up?
I will take a look at potential landing places for the top 50 free agents on the board.
50. Fernando Rodney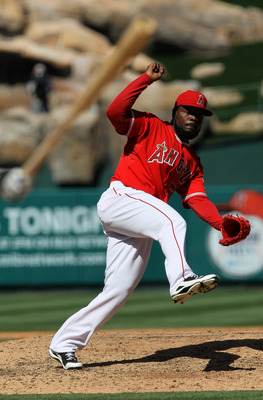 Stephen Dunn/Getty Images
Reliever Fernando Rodney's time with the Los Angeles Angels was certainly rocky. In 2010, Rodney took over the closer's role after the trade of Brian Fuentes to the Minnesota Twins, and Rodney failed miserably, posting an ERA over 5.00 and blowing four saves in September.
This past season, after being named the closer by manager Mike Scioscia, Rodney was again unable to get the job done, losing his position to rookie Jordan Walden and landing on the disabled list for a time before closing the season with a 4.50 ERA and being used sparingly in the final month by Scioscia, so much so that Rodney apparently approached GM Tony Reagins and demanded a trade.
With a glut of closers on the free-agent market, Rodney will likely only draw interest as a possible setup man, but certainly not at the salary he drew with the Angels. Where Rodney ends up is anyone's guess. Considering that Rodney walked more batters (28) than he struck out (26), he may need to do some fast talking to convince teams that he can still command the strike zone.
49. Jason Varitek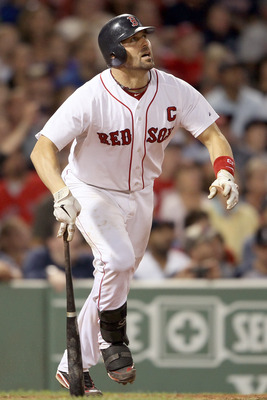 Elsa/Getty Images
With all of the drama surrounding the Boston Red Sox in their epic September collapse and allegations of a very fractured clubhouse, this could likely be captain Jason Varitek's last season in Boston.
While the Red Sox certainly enjoyed great seasons with Varitek as their captain, it seems clear that changes are needed in a clubhouse that featured separation between pitchers and position players, allegations of beer drinking and ordering fried chicken during games, and players generally disinterested at a time when they were experiencing an unprecedented September swoon.
It's my guess that Varitek chooses to retire. He will likely have a job somewhere within the Red Sox organization, likely as a minor league instructor.
48. Jorge Posada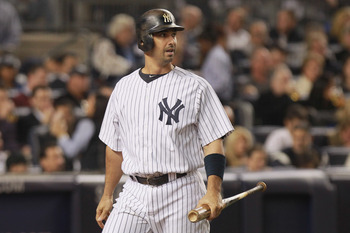 Nick Laham/Getty Images
Jorge Posada likely said goodbye to his New York Yankees career when the Detroit Tigers ousted the Yankees in the NLDS. Posada's last year in pinstripes was a far cry from the successful seasons he enjoyed throughout his career, hitting as low as .160 at one point in May and famously being dropped to ninth in the batting order by manager Joe Girardi.
The Yankees will be looking to seriously upgrade at the DH position next season, but Posada still feels he has value as a major leaguer.
I honestly believe that Posada will opt to retire, rather than play one or possibly two years in a limited role with another team.
47. Juan Pierre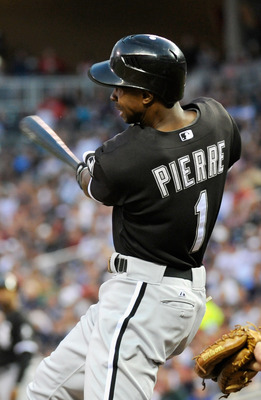 Hannah Foslien/Getty Images
Chicago White Sox outfielder Juan Pierre may have lost a step or two, but he's certainly still pesky at the top of the batting order. Pierre's stolen base production dropped drastically in 2011, however he hit .279 with 50 runs batted in at the top of the order for the White Sox.
It's doubtful that GM Kenny Williams will retain Pierre, but the New York Mets could come calling. The Mets are weak in the outfield in terms of production, and with the possible loss of Jose Reyes, the Mets will be looking for production and peskiness at the top of their batting order.
46. Ryan Doumit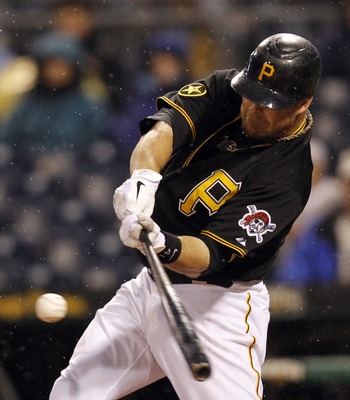 Justin K. Aller/Getty Images
Pittsburgh Pirates catcher Ryan Doumit missed over half the season in 2011, yet still managed to hit .303 with 8 HR and 30 RBI. However, the Pirates will definitely not be looking to resign Doumit, and will decline the two-year option on his contract totaling $15.5 million.
Doumit could be an option for the Los Angeles Dodgers, who will look to upgrade at catcher with the pending free agency of Rod Barajas.
45. Melky Cabrera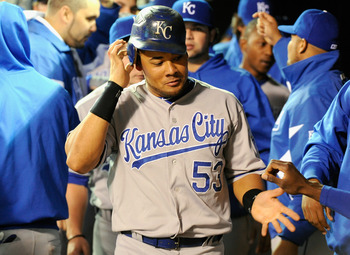 Hannah Foslien/Getty Images
With a slash line of .305/.339/.470, along with 18 homers, 87 RBI, 20 steals, 102 runs scored and 201 hits, 27-year-old center fielder Melky Cabrera had a breakout season for the Kansas City Royals.
The fact that he did it while making only $1.25 million was even more of a surprise. Cabrera is entering his final arbitration year, and would likely command compensation if the Royals offer arbitration. The Royals also have outfielder Lorenzo Cain in waiting, who could very well make the jump to the big club next season.
I don't see the Royals signing Cabrera, as much as his season was promising for his future. Look for the New York Mets to throw some love Cabrera's way. The Mets will be looking for better production in center field than has been provided by Angel Pagan.
44. Laynce Nix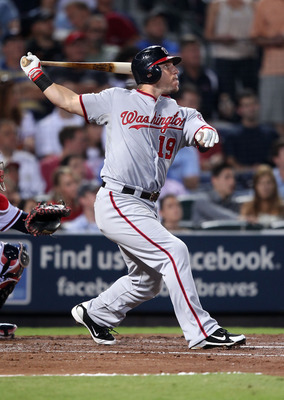 Mike Zarrilli/Getty Images
Outfielder Laynce Nix filled a nice niche for the Washington Nationals last season, with a .250 average, 16 HR and 44 RBI in 324 at-bats. Nix will definitely draw interest from teams, especially at the bargain basement rate.
Two teams who could show interest are the Kansas City Royals and Houston Astros. The Astros seem pretty clear about going with a younger lineup and will need a veteran presence or two to help stabilize the roster and provide bench depth as well.
43. Joe Nathan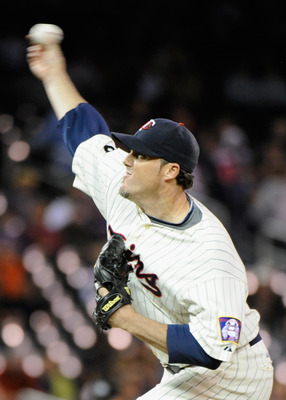 Hannah Foslien/Getty Images
Minnesota Twins closer Joe Nathan has a $12.5 million option for 2012 that will almost certainly not be exercised by the Twins.
Nathan, coming off Tommy John surgery, had a very up and down season, with a 4.84 ERA and 14 saves, losing his closer's role to Matt Capps early in the season before gaining it back later.
With all of the elite closers on the market this season, Nathan will not garner much interest. I see the Twins bringing Nathan back at a reduced rate next season, more to serve in a setup role.
42. Paul Maholm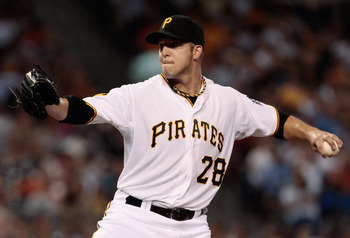 Jared Wickerham/Getty Images
According to several sources, including the Pittsburgh Tribune-Review, the Pittsburgh Pirates have told starting pitcher Paul Maholm that they will not be picking up his $9.75 million option for the 2012 season.
"There are no guarantees, but I'm going to test it and see where it goes," Maholm said. "I'm not going to close any doors, but I want to see what's out there. I owe that to my family, to do what's best for them."
Maholm was 6-14 for the Pirates in 2011, but with a very respectable 3.66 ERA. Maholm ended his season on the disabled list with a strained shoulder.
The Miami Marlins could be a landing spot for Maholm next season, as the Marlins look to upgrade their pitching staff in preparation for a new team name and new stadium.
41. Chris Capuano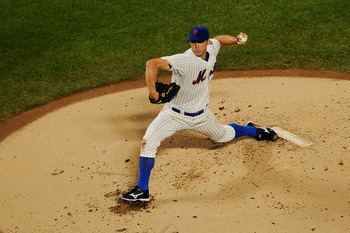 Patrick McDermott/Getty Images
New York Mets starting pitcher Chris Capuano proved to be durable this year after missing two-plus seasons, starting 31 games with an 11-12 record and 4.55 ERA.
Capuano could find himself with the Boston Red Sox next season, who gave Capuano a serious look at helping them during their epic September collapse.
40. Bartolo Colon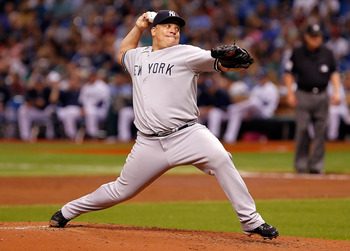 J. Meric/Getty Images
Much like Freddy Garcia, Bartolo Colon was a complete surprise for the New York Yankees, with an 8-10 record and 4.00 ERA. Colon faded big time in August and September however, recording no wins and sporting a 5.37 ERA over the final months. Colon's performance during that time was a primary reason as to why he was left off the Yankees' roster for the ALDS series with the Detroit Tigers.
Colon was paid just $900K for the 2011 season, and at 39 years of age, it's hard to say how much Colon has left. But he'll still draw some interest, possibly from the Detroit Tigers, who will be looking to replace Brad Penny.
39. Alex Gonzalez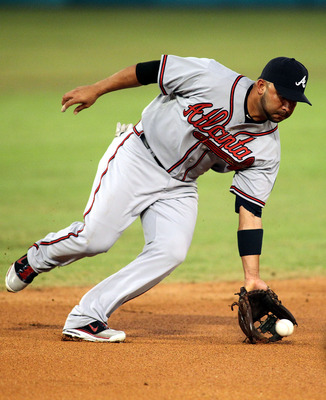 Marc Serota/Getty Images
Alex Gonzalez is still an excellent defensive shortstop, and can hit for power. That doesn't mean the Atlanta Braves will be looking to keep him, however.
The thinking here is that the Braves will actually opt to keep Gonzalez for one more season, and prepare for the arrival of prized prospect Tyler Pastornicky, who could be major league-ready by mid-season next year.
38. Freddy Garcia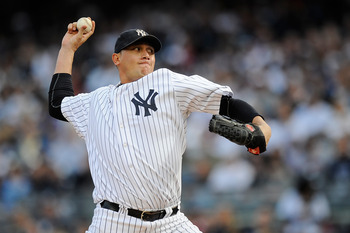 Patrick McDermott/Getty Images
Freddy Garcia was a huge surprise this year for the New York Yankees, with a 12-8 record and 3.62 ERA in 25 starts. At the bargain price of $1.5 million, Garcia certainly provided the Yankees with a value that far exceeded his contract.
However, at 35 years of age, what does Garcia have left in the tank? The Yankees will likely be shopping for elite pitching this offseason, and Garcia could be left in the lurch.
However, Garcia should find himself back in the Bronx next season. Even with a nice raise, Garcia will be a cheap option as insurance for the back of the starting rotation.
37. Hideki Matsui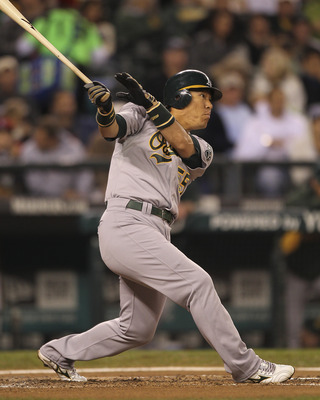 Otto Greule Jr/Getty Images
Much like Vladimir Guerrero a bit higher on this list, Oakland Athletics designated hitter Hideki Matsui has seen a drastic decline in his numbers as he has advanced in age. Matsui hit .251 with 12 HR and 72 RBI for the A's in 2011.
At this point, it's likely that if Matsui doesn't receive a decent offer, he will return to Japan. With his goal of hitting 500 home runs now attained, combined with the declining numbers, Matsui's US career could likely be over.
36. Rafael Soriano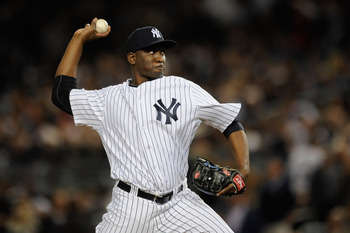 Patrick McDermott/Getty Images
When the New York Yankees signed former Tampa Bay Rays closer Rafael Soriano to a three-year, $35 million contract, many people questioned the size and length of the deal, including, apparently, Yankees' GM Brian Cashman, who was overruled on the deal.
Turns out that Cashman had every right to be wary about the deal. Soriano suffered through a horrible season, losing the setup role to David Robertson and posting a 4.12 ERA in 42 appearances, spending time on the disabled list.
Much like CC Sabathia, Soriano has an opt-out clause in his contract, allowing him to walk away from his contract at the end of this season.
The guess here is that Soriano stays in New York. With the year he had, he would see a drastic reduction in salary, and I can't imagine that anyone would walk away from the kind of money that the Yankees threw at Soriano's feet.
36. Rafael Furcal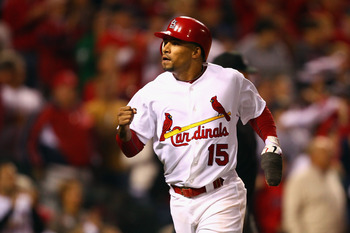 Dilip Vishwanat/Getty Images
When the St. Louis Cardinals acquired shortstop Rafael Furcal for the stretch run from the Los Angeles Dodgers, they wanted a pesky hitter at the top of the lineup that could also provide decent defense. In Furcal, they have certainly gotten that and more.
Furcal hit .255 for the Cardinals in 50 regular season games with 7 HR and 16 RBI, and has added a nice option at the top of the Cardinals lineup.
Look for the Cardinals to make an attempt to sign Furcal this offseason, most likely a two-year deal.
35. Erik Bedard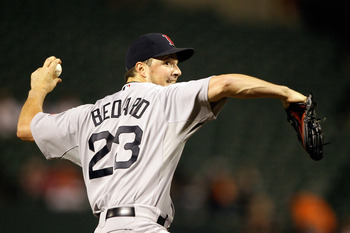 Rob Carr/Getty Images
There is probably a zero percent chance that left-hander Erik Bedard is resigned by the Boston Red Sox. While Bedard put up decent numbers during the season with both the Seattle Mariners and Red Sox, his injury history will be a major concern moving forward.
The Colorado Rockies could be the next destination for Bedard. The Rockies will be looking to upgrade their rotation, and Bedard might be a decent fit there.
34. Bruce Chen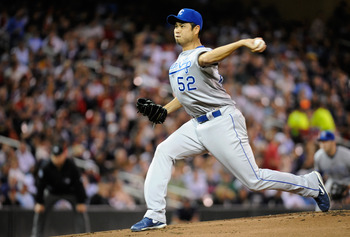 Hannah Foslien/Getty Images
Left-handed starting pitcher Bruce Chen quietly put together two nice seasons for the Kansas City Royals, with a combined record of 24-15 and a 3.96 ERA, pretty good numbers for a team that was 48 games under .500 during that time.
Chen will likely be offered arbitration by the Royals, and he would be smart to consider a two-year deal to stay in Kansas City. Chen will likely draw interest, but considering his success in Kansas City, he will receive a nice raise and stay in a city that has appreciated his services.
33. Brad Lidge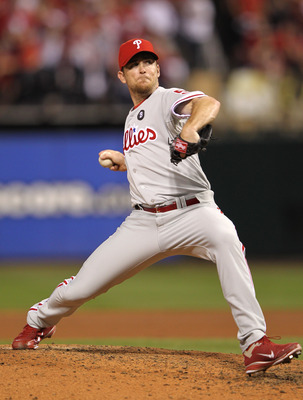 Jamie Squire/Getty Images
It is almost a sure bet that the Philadelphia Phillies will buy out the option year on the contract of reliever Brad Lidge for $1.5 million rather than pay him $12.5 million. Lidge did not play until after the All-Star break due to injury, and the Phillies clearly wish to move on.
Lidge could draw interest as a closing option for several teams, including the New York Mets, however it will be at a drastically reduced rate.
32. Ryan Madson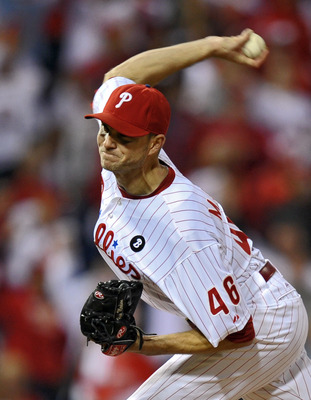 Drew Hallowell/Getty Images
The Philadelphia Phillies will clearly be looking to shop for an elite closer during the offseason, and they have two relievers in Ryan Madson and Brad Lidge that will likely be shopping for other teams.
Madson delivered 32 saves for the Phillies in 2011, however he has been injury prone for the past two seasons. With the emergence of Antonio Bastardo and the Phillies' wish to upgrade the closer's position, Madson is almost certainly gone.
It's very possible that the Boston Red Sox could come calling, in an effort to upgrade their bullpen. With Daniel Bard probably taking over the closer's role, Madson could step into a setup position in Boston.
31. Vladimir Guerrero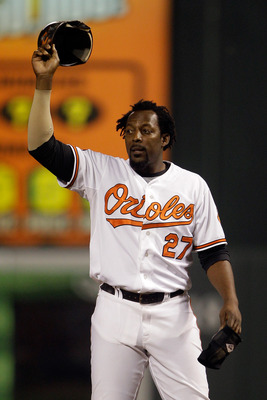 Rob Carr/Getty Images
What a difference a year makes. Baltimore Orioles designated hitter Vladimir Guerrero may have hit .290, but his production slipped drastically from his 2010 numbers with the Texas Rangers. Guerrero is no longer able to carry a team with his offense, and at 36 years of age, Guerrero may well be seeing the natural decline.
Guerrero could draw interest from Oakland, but at a drastically reduced price from his 2010 contract of $8 million.
30. Raul Ibanez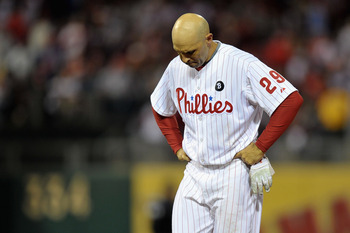 Drew Hallowell/Getty Images
Now 39 years of age, Raul Ibanez may still have life left in his major league, but he's clearly on the downside. Ibanez struggled through the early part of the season before rebounding with 20 HR and 84 RBI. However, the Phillies will look to get younger.
Ibanez will have a draw possibly as a designated hitter, because his lack of an arm and diminished range clearly shows he can't play left field full-time any longer.
The Oakland Athletics could show some interest, however it's unlikely that Ibanez will get anything more than a one-year deal.
29. Wilson Betemit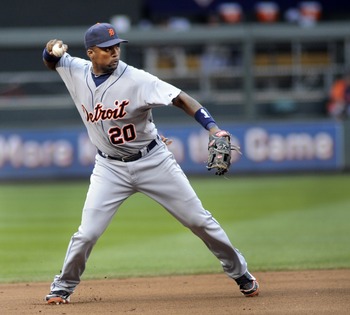 Craig Lassig/Getty Images
It was pretty clear during the postseason that the Detroit Tigers did not regard third baseman Wilson Betemit as an option for the postseason, opting to play Brandon Inge the majority of the time.
Betemit hits for a nice average, but offers nothing in the way of power at a position that generally demands a power bat. The Florida Marlins could make a play for Betemit, especially considering that Matt Dominguez continues to be groomed for the position and Greg Dobbs will likely hit free agency. Betemit could help provide a bridge to Dominguez.
28. Johnny Damon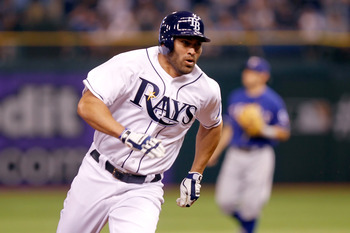 Mike Ehrmann/Getty Images
At 37 years of age, outfielder/designated hitter Johnny Damon put together a very productive year for the Tampa Bay Rays, with 16 HR, 73 RBI and 19 stolen bases.
Damon is just 277 hits away from the coveted 3,000 hit club, and the Rays could very well be the team that accommodates Damon's wish to reach that mark. It's unlikely that Damon would get more than the $5.25 million he made last season on the open market, so look for the Rays to pursue resigning Damon this offseason.
27. Ramon Hernandez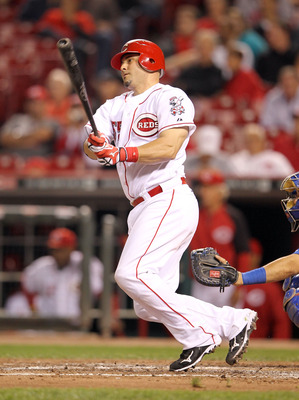 Andy Lyons/Getty Images
Cincinatti Reds catcher Ramon Hernandez has always provided a complementary bat at the catcher's position, and he certainly did so for the Cincinnati Reds in the 2011 season, with 12 HR, 36 RBI and a .282 in 91 games.
At 35 years of age, Hernandez would be hard-pressed to assume the rigors of the position full-time, however several teams would no doubt love to have him as added depth on their bench.
With the emergence of Devin Mesoraco, it's unlikely that the Reds will return Hernandez, look for the San Francisco Giants to make a play for Hernandez as insurance should Buster Posey's rehab take longer than expected, or if he misses significant time in 2012.
26. Francisco Rodriguez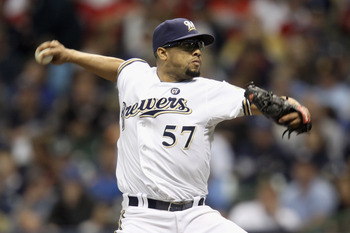 Christian Petersen/Getty Images
Despite Francisco Rodriguez' grumblings about his role with the Milwaukee Brewers, he has performed nicely in the setup role, posting a 4-0 record and 1.86 ERA in 31 appearances, and four additional innings in four postseason appearances without allowing a run before Sunday night's ALCS Game 6 with the St. Louis Cardinals.
With a $17.5 million option that clearly won't be picked up, and questions about character, it's hard to say where K-Rod could be pitching in 2012, but it certainly won't be in Milwaukee. Look for the Phillies to possibly make a pitch if they can't land Jonathan Papelbon, or possibly the Mets, now that they're free of the $17.5 million option that prompted them to deal K-Rod in the first place, although it's doubtful the Mets want that kind of aggravation back again.
In any event, K-Rod is dreaming if he thinks he can $17.5 million with any team.
26. Javier Vazquez
Mike Ehrmann/Getty Images
Florida Marlins starting pitcher Javier Vazquez finished the 2011 season on a very nice note, with a 5-0 record in five September starts, posting a 0.71 ERA.
After a disastrous season in New York in 2010, Vazquez appears to be very comfortable in the Miami. If the Marlins can talk Vazquez into a two-year deal in the $16-18 million range, he could very likely keep pitching for the new Miami Marlins.
25. Ryan Dempster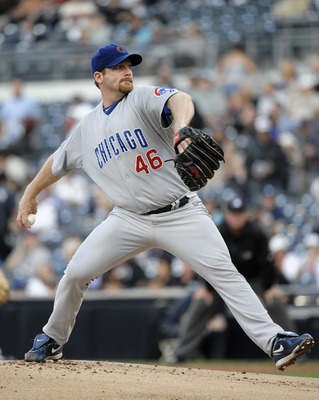 Denis Poroy/Getty Images
Chicago Cubs starting pitcher Ryan Dempster has been working on his impression of Harry Caray ever since he arrived in Chicago in 2004, and it's likely Dempster will continue honing his impressionist skills.
Dempster has also done everything asked of him in a Cubs uniform, serving as their closer for three years before heading back to the starting rotation in 2008.
With a $14 million for the 2012 season, the Cubs would be hard-pressed to find a comparable pitcher to Dempster in this year's relatively weak pitching free agent market. Look for the Cubs and Dempster to agree to stick around for another season.
24. Josh Willingham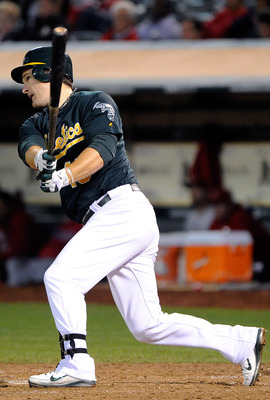 Thearon W. Henderson/Getty Images
Outfielder Josh Willingham certainly provided bang for his buck with the Oakland Athletics in 2011, setting personal career highs in both home runs (29) and runs batted in (98).
Willingham certainly appeared comfortable in an A's uniform this season, and considering that not much offense was generated aside from Willingham, look for A's manager Billy Beane to work out a deal with Willingham.
23. Brandon Phillips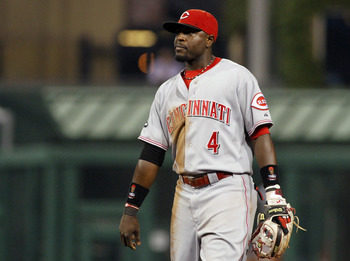 Justin K. Aller/Getty Images
Cincinatti Reds second baseman Brandon Phillips, much like teammate Francisco Cordero, also holds an option for the 2012 season with the Reds, for $12 million. Phillips has been an All-Star the past two seasons and has won the Gold Glove Award twice, so it's widely believed that the Reds will exercise the option.
However, Phillips is looking for an extension, and has stated that a hometown discount is not an option. That fact however shouldn't preclude Jocketty from exercising his 2012 option.
22. Francisco Cordero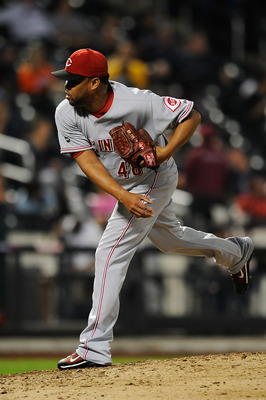 Patrick McDermott/Getty Images
Cincinnati Reds closer Francisco Cordero has been very productive in his four seasons with the Reds, posting 150 saves during that time.
John Fay of the Cincinnati Enquirer tweeted two weeks ago that GM Walt Jocketty was optimistic about resigning Cordero to a two-year deal to remain with the Reds.
21. Kelly Johnson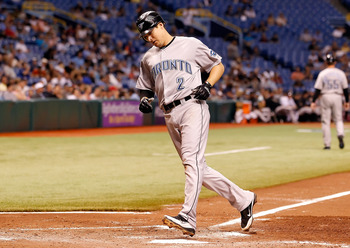 J. Meric/Getty Images
The Arizona Diamondbacks did everything they could to work to pull second baseman Kelly Johnson out of a horrific season-long slump that saw him hit just .209 with the D-Backs, after hitting .284 with 26 HR in 2010. They finally gave up, swapping him for Aaron Hill and John McDonald.
The Blue Jays clearly thought there was a future for Johnson, and he did show signs of life in his brief time with the Jays, hitting .270 with three HR and nine RBI in his final 33 games for Toronto.
Johnson should also be easier to sign than Hill, who had three option years on his contract totaling $26 million.
Look for Toronto to sign Johnson long term.
20. Adam Wainwright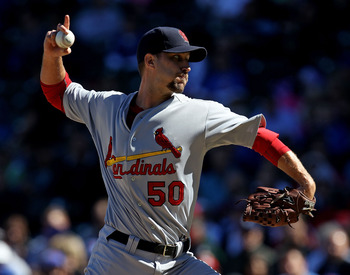 Jonathan Daniel/Getty Images
If not for Adam Wainwright's elbow injury and subsequent Tommy John surgery, he would have placed much higher on this list.
St. Louis Cardinals general manager John Mozeliak recently indicated that there is no reason not to assume that the Cardinals will pick up the option on Wainwright's contract, which calls for $21 million to be paid over the next two seasons.
Wainwright is staying in St. Louis.
19. Edwin Jackson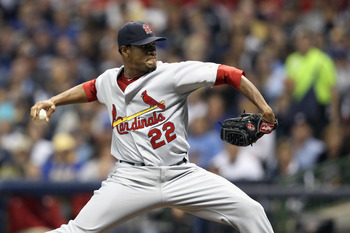 Christian Petersen/Getty Images
St. Louis Cardinals starting pitcher Edwin Jackson has been a riddle wrapped around an enigma throughout his career, however he has been surprisingly effective since joining the Cardinals in late July.
Jackson finished 5-2 during the regular season with a 3.58 ERA in 12 starts for the Cardinals, and beat Roy Oswalt and the Philadelphia Phillies in a pivotal NLDS Game 4 matchup.
If the Cardinals are somehow able to resign both Albert Pujols and pick up the two-year for Adam Wainwright, will there be enough money in the coffers to make an offer for Jackson's services?
If not, look for the Boston Red Sox to take a close look. With the uncertainty surrounding the future of John Lackey and other issues, Jackson could very well lock in the No. 3 slot in the Sox rotation in 2012.
18. Derrek Lee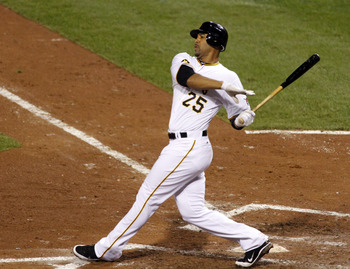 Justin K. Aller/Getty Images
While Derrek Lee may have struggled in his brief stint with the Baltimore Orioles, the power-hitting first baseman certainly found his stroke in Pittsburgh.
In his first four months of the season with the O's, Lee hit just .246 with 12 HR and 41. However after the trade and a brief stint on the disabled list, Lee hit 91 points higher with the Pirates, adding 7 HR and 18 RBI in 28 games. Projected over a full season, that certainly reminds people of the Derrek Lee of old.
Look for Pirates GM Neal Huntington to make a serious run at signing Lee. While Lee has stated he is mulling over his options, which also include possible retirement, the opportunity to help a growing young team, combined with a positive ending to the season, could very well be enough of a draw to Lee.
17. Carlos Pena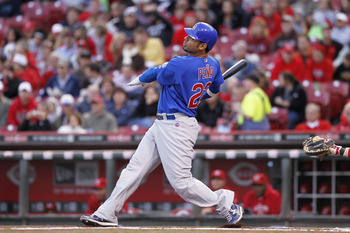 Joe Robbins/Getty Images
Chicago Cubs first baseman Carlos Pena will most likely be looking for another place to play, as the Cubs appear intent on going after either Albert Pujols or Prince Fielder. Pena got off to a horrible start early in the 2011 season, but rebounded to hit 28 HR with 80 RBI. Although Pena hit just .225, he sported an impressive .357 on-base percentage.
Pena could find himself with the Cleveland Indians, if they decide not to move Carlos Santana to first base full-time. The Indians may just be one or two pieces away from being a true contender, and adding Pena's power to the lineup would be a huge upgrade over Matt LaPorta.
16. Hiroki Kuroda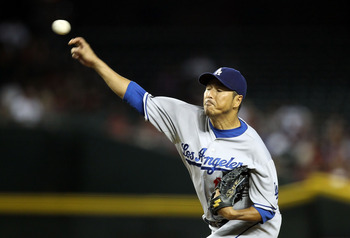 Christian Petersen/Getty Images
Los Angeles Dodgers starting pitcher Hiroki Kuroda elected not to waive his no-trade clause when teams came calling before the end of this year's trade deadline, opting instead to stay in the dysfunction that dominated the Dodgers with their ownership situation and bankruptcy.
While the Dodgers could certainly be hamstrung by their current bankruptcy situation, general manager Ned Colletti certainly sounds like a man who will do what he can to retain Kuroda. In a recent interview with ESPN's Jim Bowden, Colletti cited Kuroda's dedication to the Dodgers and to the city.
"Kuroda has bought a house in Los Angeles and both of his daughters go to school here," Colletti told Bowden. "He is an extremely loyal person to both the Dodgers and the city of Los Angeles and really doesn't want to play anywhere else. We hope he decides to stay here because he's a very important part of our rotation and clubhouse."
Considering Kuroda shut down several teams looking for help in late July, look for him to resign with the Dodgers.
15. Jason Kubel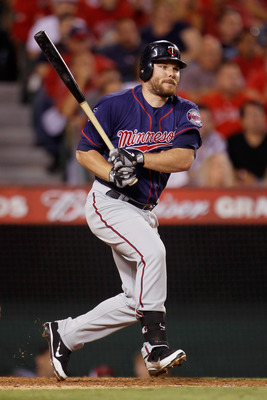 Jeff Gross/Getty Images
Two months ago, it certainly appeared likely that both Michael Cuddyer and Jason Kubel would almost certainly not be retained by the Minnesota Twins when their contracts expired at the end of this season.
However, Kubel and Cuddyer between them represent a huge part of the Twins offense that has not had Justin Morneau or Joe Mauer available for entire seasons now for two years running.
The Twins are all about loyalty, so the guess here is that Kubel will be retained by the Twins along with Cuddyer.
14. Heath Bell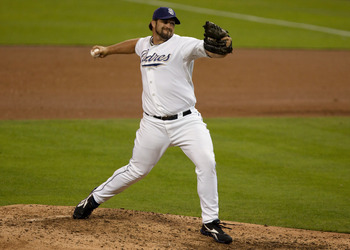 Kent Horner/Getty Images
San Diego Padres closer Heath Bell will be just as attractive on the open market as Jonathan Papelbon of the Boston Red Sox. With three straight years of 40-plus saves, Bell has clearly established himself as one of the elite closers in the majors.
Bell has gone on record repeatedly with his wish to stay in San Diego, despite obvious payroll issues that the Padres face. San Diego Union-Tribune writer Bill Centers indicated during a recent online chat with fans that San Diego is willing to offer Bell a two-year deal for $15-16 million with an option for a third year.
Given Bell's reluctance to want to leave an area he clearly enjoys, look for the Padres to retain his services.
13. Jimmy Rollins
Jamie Squire/Getty Images
For 12 seasons, shortstop Jimmy Rollins has called Philadelphia home. However, considering that he wants a five-year deal, the 2011 season could have been Rollins' last in a Phillies uniform.
At 32 years of age, Rollins is not the player who captured the NL MVP Award in 2007, however he still has skills that will be attractive for several teams.
Phillies' beat writer Todd Zolecki tweeted earlier last week that Rollins sees himself in a Phillies uniform next season, but that it's about money and years.
Look for GM Ruben Amaro Jr. to get this deal done. It could be a HUGE PR mistake to let Rollins go, despite the fact the Phillies need to get younger.
12. Jonathan Papelbon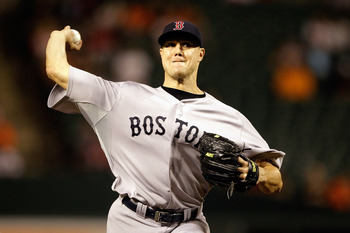 Rob Carr/Getty Images
Boston Red Sox closer Jonathan Papelbon will be an attractive option for several teams looking for a solid closer. It's highly unlikely the Red Sox will keep Papelbon, given the fact that they've been grooming Daniel Bard for the position over the last two seasons.
Papelbon drastically improved his numbers over the 2010 season, issuing only 10 walks all season for an impressive 8.7 strikeout-per-walk ratio, and posting a 0.933 WHIP.
Look for the St. Louis Cardinals to make a play for Papelbon. The Cardinals would love to have a big closer in a bullpen that has utilized several different options over the course of the 2011 season.
11. Roy Oswalt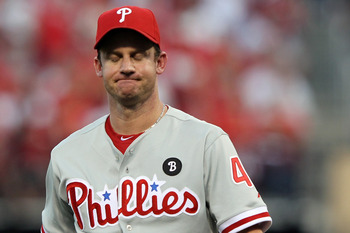 Jamie Squire/Getty Images
Philadelphia Phillies starting pitcher Roy Oswalt has a mutual option on his contract that pays him $16 million for 2012, or the Phillies could opt to buy Oswalt out for $2 million. Oswalt suffered through severe back pain that limited him to 23 starts in 2011, however he was nonetheless effective as a No. 4 option in the Phillies' rotation, with a 3.69 ERA, but with a lower than average 105 ERA+.
The guess here is that the Phillies pick up the option for Oswalt. With one more year, he can act as an effective No. 4 option while Vance Worley continues to develop his skills after an excellent rookie season.
10. Michael Cuddyer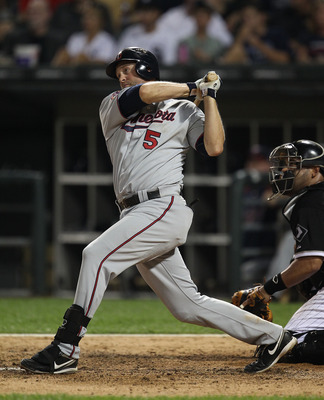 Jonathan Daniel/Getty Images
Over the past two seasons, with key injuries to both Joe Mauer and Justin Morneau, Michael Cuddyer has been the spark that drives the offense for the Minnesota Twins.
With the trade of Delmon Young to the Detroit Tigers, the likelihood of Cuddyer signing with another team is much less than it was two months ago. The guess here is that GM Bill Smith will resign Cuddyer.
9. Carlos Beltran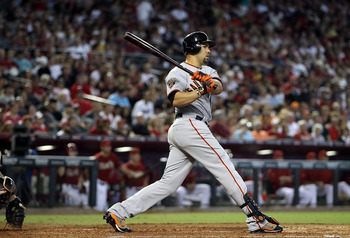 Christian Petersen/Getty Images
When the New York Mets shipped right fielder Carlos Beltran off to the San Francisco Giants before the trade deadline, it was thought that Beltran would infuse life into a largely unproductive Giants' lineup. Unfortunately, that didn't happen right away, as Beltran was injured less than two weeks after the trade, missing 16 days of crucial time that saw the Giants slip farther in the standings behind the Arizona Diamondbacks in the NL West race.
Beltran recovered to hit .323 with 7 HR and 18 RBI for the Giants, however it was too little too late. Beltran has left option the option of signing with the Giants if they can add some more offense, and Brian Sabean will definitely make a genuine offer to Beltran, along with attempting to upgrade an offense that finished last in the National League.
Look for Beltran to stay with the Giants.
8. David Ortiz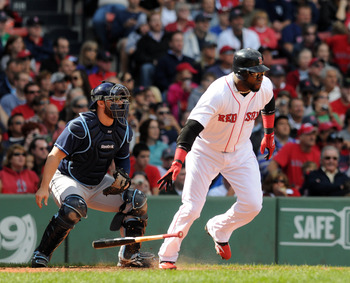 Darren McCollester/Getty Images
Boston Red Sox slugger David Ortiz certainly presents an interesting case. With a spectacular season at the age of 35 (.309, 29 HR, 96 RBI, .953 OPS), Ortiz would be a welcome addition to any team.
With the Red Sox still reeling from the loss of Terry Francona and Theo Epstein, and ownership promising changes to a team that suffered through an epic September collapse and a fractured clubhouse, it's less likely that Ortiz will resign with the Sox, especially given the fact the he's tired of the drama that occurred in Beantown.
Ortiz even talked about the possibility of signing with the arch-rival New York Yankees, something that appeared unthinkable just one or two years ago.
It's entirely possible that the Yankees would be interested, given the fact that they likely won't resign Jorge Posada. However, the Yankees have two older veterans in Derek Jeter and Alex Rodriguez who could also be moved to the DH position to prolong their careers.
At this point in his career, Ortiz can only DH, so his options are limited, especially considering his desire to play for a winning franchise.
It will be either Boston, New York or possibly the Los Angeles Angels, if the incoming general manager can get creative with the current roster.
7. Aramis Ramirez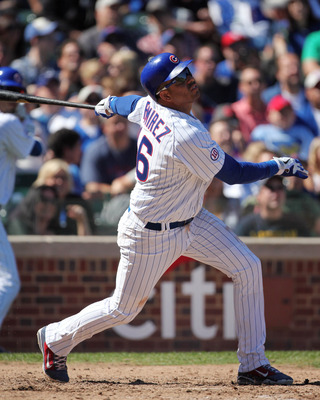 Tasos Katopodis/Getty Images
The Chicago Cubs hold a team option for 2012 on third baseman Aramis Ramirez, but it is likely they will buy him out for $2 million and let him test the free agent waters. Ramirez had another strong season for the Cubs, hitting .306 with 26 HR and 93 RBI with an .871 OPS, nearly 30 points above his career average.
The Los Angeles Angels could be the next port of call for Ramirez. The Halos have been looking for a power-hitting third baseman ever since Troy Glaus left town, and with their anemic offense, Ramirez could certainly add a nice punch in the middle of the lineup.
The Tigers could be in the market as well, with Brandon Inge suffering a hugely disappointing year and Wilson Betemit entering free agency as well.
6. Mark Buehrle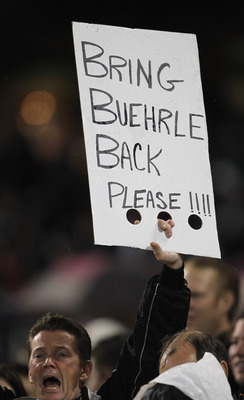 Jonathan Daniel/Getty Images
It is hard to imagine Chicago White Sox starting pitcher Mark Buehrle in another uniform, but as a left-hander who has been remarkably consistent throughout his career, he will be highly sought after when the free agency period opens.
While general manager Kenny Williams will make a play to keep Buehrle, look for the New York Yankees to come calling. With the threat of CC Sabathia opting out of his contract, combined with no reliable starters other than Ivan Nova, Yankees' GM Brian Cashman will be looking to shore up his rotation. In a relatively weak free agent market for pitchers, Buehrle will be an attractive option for the cash-rich Yankees.
5. C.J. Wilson
Leon Halip/Getty Images
Two years ago, Texas Rangers starting pitcher C.J. Wilson made the transition from the bullpen to the starting rotation. While it may coincidence that Wilson's transformation coincided with the Rangers' two straight trips to the World Series, Wilson was nonetheless a key factor in the Rangers' overall success.
Look for general manager Jon Daniels to retain the services of Wilson. While there are certainly a number of teams who have expressed interest, Wilson has a great gig going in Texas, and he will resign with his original team.
4. CC Sabathia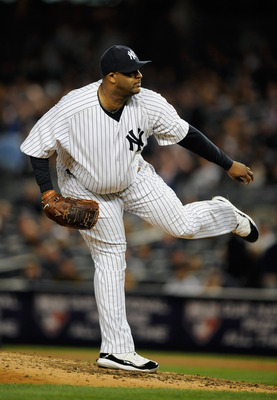 Patrick McDermott/Getty Images
To opt out or not to opt out? That is the question…
Sorry, Shakespeare fans, but that is the question many people are asking in regard to the opt out clause written into the CC Sabathia contract with the New York Yankees. Sabathia was given the opportunity to opt out of his contract after three years in pinstripes, and conventional wisdom says that is exactly what Sabathia will do.
However, that does mean that the Yankees won't work hard to retain Sabathia's services. And the likely will resign Sabathia.
Let's face it, there are only two reliable arms in the current Yankees' starting rotation—Sabathia and rookie Ivan Nova. Freddy Garcia and Bartolo Colon put together very nice seasons at their advanced age, but there is no guarantee whatsoever they can repeat that success. A.J. Burnett was erratic and inconsistent all year, and Phil Hughes was largely inconsistent himself after experiencing a "tired arm" at the beginning of the season.
Look for Brian Cashman to make sure Sabathia isn't going anywhere.
3. Jose Reyes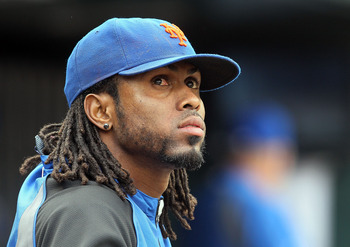 Jim McIsaac/Getty Images
It certainly seems likely that shortstop Jose Reyes has seen his last days in a New York Mets uniform. The Mets got good news recently, when the courts decided that Mets owners Fred Wilpon and Saul Katz would only be liable for approximately $380 million in the wake of the Bernie Madoff Ponzi scheme.
However, that money still has to be set aside in case of an unfavorable ruling, leaving very little, if any, to offer to Reyes.
The San Francisco Giants have long been thought to be the frontrunner for Reyes' services, and I still believe that to be true. The Giants brought in two veteran shortstops, Miguel Tejada and Orlando Cabrera, who simply didn't get the job. Bringing in Reyes and inserting him at the top of the lineup will be an instant upgrade for a team that finished dead last in runs scored in 2011.
2. Prince Fielder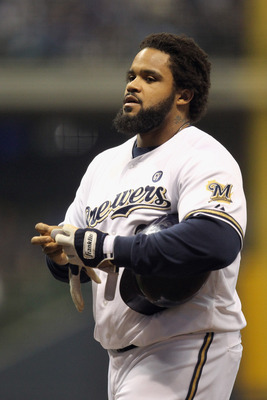 Jonathan Daniel/Getty Images
Milwaukee Brewers first baseman Prince Fielder, much like his counterpart in the NLCS, Albert Pujols, is playing for his postseason life and for a new contract.
Several Brewers' teammates have gone on record as stating that they would love to win a championship for Fielder, likely because it is his last year in a Milwaukee Brewer uniform. In fact, Sunday night could be his last appearance in home whites at Miller Park.
The Chicago Cubs would appear to be the frontrunner in the Prince Fielder sweepstakes. New Cubs GM Theo Epstein will no doubt be looking hard at Fielder, who would instantly upgrade a Cubs offense that has proven to be anemic in recent years.
1. Albert Pujols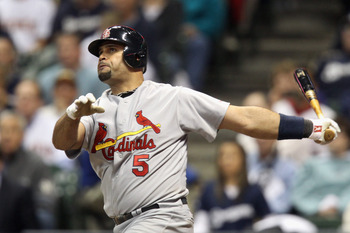 Christian Petersen/Getty Images
St. Louis Cardinals first baseman Albert Pujols is playing during the postseason like he's on a mission. Hitting .410 in the current postseason with one HR and eight RBI entering Sunday night's crucial NLCS Game 6 with the Milwaukee Brewers, Pujols is doing everything in his power to bring a second World Series championship to the Cardinals during his tenure there.
Could this be because Pujols wants to leave St. Louis with a bang?
Not likely.
It's my belief that the Cardinals will do everything in their power to retain Pujols. He has been the face of the franchise throughout his career in St. Louis, and with a number of milestones for Pujols to reach in the future, the Cardinals would reap the benefits in ticket sales that would easily compensate them for the value of Pujols' contract.
Keep Reading