Why Cincinnati's Andy Dalton Should Win Rookie of the Year
October 17, 2011
Al Messerschmidt/Getty Images
Are you kidding me?
That's what must first come to mind when reading the title.
But no, I did not forget about the dynamic Cam Newton.
Andy Dalton has been making owner Mike Brown look like a genius while propelling the Cincinnati Bengals back into relevance in the AFC North. 
During the offseason, longtime quarterback Carson Palmer made it clear that he will not play another down for the Bengals and went as far to say that if he is not dealt to another team he will retire.
Owner Mike Brown held firm and responded that his franchise will not trade Palmer, and that he should enjoy his retirement. In April's draft, Brown proved that he meant business by using his second round selection to draft Andy Dalton out of Texas Christian University.
Dalton was a winner in college, and was chosen to be the new leader of an overhauled offense. He was an extremely efficient passer at TCU, completing a very high percentage of his throws. Dalton would act as the new centerpiece of the team along with first round pick A.J. Green, a wide receiver out of Georgia.
Although there were constant rumors floating around involving many teams that appeared to be interested in acquiring Palmer, Brown did not give in. He made sure that everybody understood that Palmer is retired and that Dalton is the leader of this franchise moving forward.
After the lockout Brown took another step in rebuilding his team. He traded longtime top receiver Chad Ochocinco to the Patriots for two late round picks. This move only put more pressure on Dalton and Green. Ochocinco was not producing top numbers as he once did, and gave the impression that his appearance off the field was more important than winning.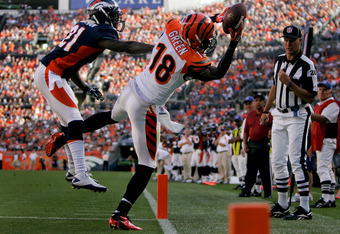 Justin Edmonds/Getty Images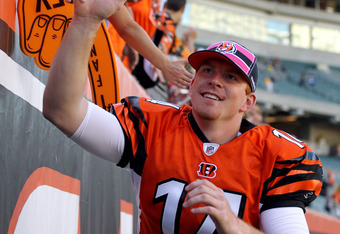 Andy Lyons/Getty Images
These moves put a lot of pressure on Dalton. The trust of the city was riding on him come opening day. He had to prove that he was the right choice to be the play-caller for a team coming off a miserable year. He had to give the team a better chance of winning than Palmer did.
Week One was a rivalry game against the optimistic Cleveland Browns. The winner would be on top of the state of Ohio.  
The pressure was on Dalton from the opening game of his career.
It was a very shaky day for the Bengals, particularly their new quarterback.
Dalton threw his first career touchdown to Jermaine Gresham in the first quarter, and Cincy jumped out to a 13-0 lead in Cleveland. Dalton was injured but witnessed a come from behind win in the fourth on a touchdown by Green.
Dalton put up steady numbers in his debut, including a 66.7 completion percentage while throwing one touchdown and no interceptions. Most importantly, they got the win and Bengals fans were able to breath a sigh of relief as their two prized rookies did not disappoint.
Dalton was healthy enough to start the following week in Denver.
The Bengals were unable to pull out a victory against the feisty Broncos, but Dalton had a spectacular game. He completed 27 of his 41 attempts (65.9%) and accounted for a shocking 332 yards while throwing two touchdowns and not committing a single turnover. Dalton found Green for a score, the first of many connections for the rookie combo.
In his first full game with his new quarterback A.J. Green caught 10 passes for 124 yards and that score.  
While this game was not a success in the win department, Bengals fans saw what their new look offense was capable of while being led by the two rookies.
The next opponent for the Bengals was the 49ers, one of the best teams in the league thus far.  
That game was not as much of a success for Dalton as he threw his first two picks of his career. This was an ugly loss for Cincy, but Dalton still managed to keep his composure and complete 53% of his passes.
Then the offense clicked.
The Bengals have won each of the last three games, thanks to the leadership of Dalton.
In Week Four the Bengals ended the undefeated season of the Bills, a big step for this franchise after two tough losses. Dalton ran for a score and found Gresham for another.
The following week the Bengals took down the Jaguars. Dalton had a superb day completing 21 of his 33 pass attempts, 63.6 percent. Dalton connected with his favorite targets, Green and Gresham for scores and only threw one interception in an impressive showing in Jacksonville.
This past Sunday, the Bengals returned home to showcase their new starting quarterback against the reeling Colts.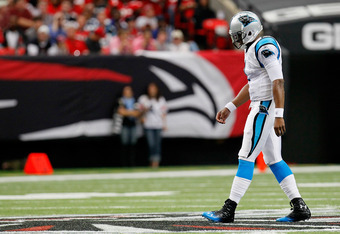 Kevin C. Cox/Getty Images
Dalton did not disappoint. 
He completed an incredible 78.1% of his throws while throwing another touchdown to Green and compiled 264 yards through the air. He had a Quarterback Rating of 111.5 in the big win.
The Bengals are now 4-2 under their new face of the franchise.
Dalton has been very impressive, but should he win Rookie of the Year?
Cam Newton has been putting on a show in Carolina, making most of the country think that he will win the award without a doubt.
But does he deserve it over Dalton?
The obvious reason to give it to Dalton is in the wins department.
Dalton's Bengals are an impressive 4-2 while Newton's Panthers are an ugly 1-5. There is obviously a lot of season left to play, and these are not final records, but that is a significant difference record-wise between the two.  
If both gunslingers were thrust into undesirable situations on teams that did very poorly last year and one finishes with a winning record and the other a losing one, shouldn't the former win the award?
Neither team had high expectations this year, and while Newton has put up big numbers and gained more attention from the media, Dalton is getting it done while helping his team rise to the top of the AFC North.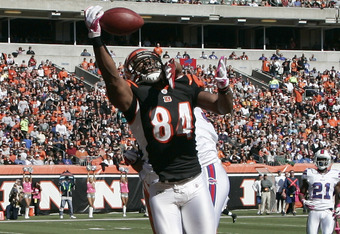 John Grieshop/Getty Images
But isn't Newton putting up much better numbers?
Actually, he is not.
Newton has been remarkable in amassing 1,847 yards through the air, as opposed to Dalton's 1,311. But there is a reason why Newton has so many more yards. 
That is simply because Newton's Panthers have been trailing in the fourth quarter of games, forcing Cam to air it out the entire second half.
Dalton, on the other hand, has had the luxury to be in the drivers seat late in games and has been able to hand it off the Cedric Benson while controlling the clock in the fourth quarter.  
Because of this Newton has attempted 30 more passes that Dalton thus far.
Coming out of college, Dalton was singled out as an extraordinarily efficient passer.
Dalton has surely made the most of his skill, completing 62.4 percent of his passes, as opposed to Newton's 58.5 completion percentage. Dalton's Quarterback Rating thus far is 84.3, which is better than Newton's 78.3 rating.
Another key statistic that Dalton has been superior than Newton in is his ratio of touchdown passes to interceptions.
Each quarterback has thrown for seven touchdown passes, but Andy has only thrown five interceptions while Cam has thrown nine picks. Dalton has been a more mature passer, making better decisions than his fellow rookie.
Newton does add an extra dimension on the ground, but has not rushed for significant yardage this season, only in short yardage situations acting as a running back.
Although Newton has been a more exciting player, capturing the attention of the whole country, Dalton has done more to deserve winning Rookie of the Year.
Dalton has won ball games, stepping up as the veteran leader on a young team. Dalton has more pressure from a franchise that won its division just two years ago.  
He is also proving to the city of Cincinnati that Mike Brown is making the correct decision to not give in to his disgruntled quarterback.
Many people may say that Newton should win because of his stats, but closer examination shows that Dalton's numbers are just as good, if not better than Newton's
Newton is an incredible athlete, but this year's top rookie is Cincinnati's Andy Dalton.