Panthers vs. Falcons: 5 Things We Learned from Carolina's Loss to Atlanta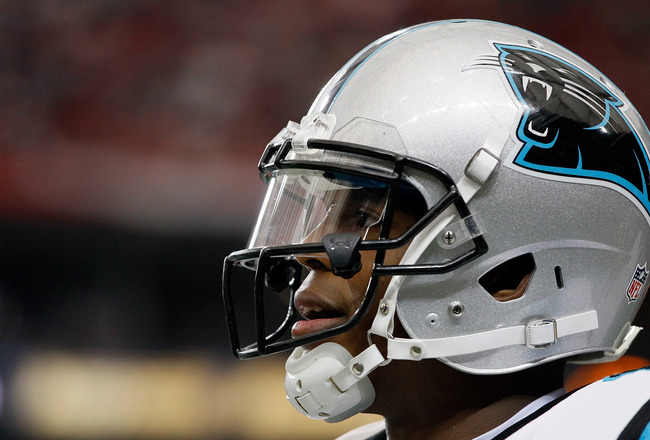 Kevin C. Cox/Getty Images
The Panthers were handed their first big loss of the season, 31-17 to Atlanta, and as the losses continue to pile on, the sense of optimism is dissipating. Although the Panthers know that they have their franchise quarterback, this is a league where immediate results are all that matter.
Carolina now falls to 1-5, and hopes of making the playoffs are at an all-time low. With as much parity as we've had thus far into the season, it wouldn't be a shock if a 9-7 team won the wild card, but that would mean that the Panthers would have to go on an 8-2 tear. That's not impossible, and they've made crazier runs in the past, but they'll have to make some changes if they are to mount that run.
Here are five things to take away from Carolina's 31-17 loss at the hands of the Atlanta.
Cam Newton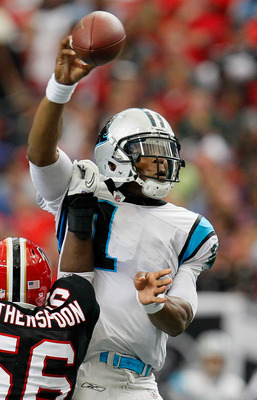 Kevin C. Cox/Getty Images
After a fantastic start, Newton slowed down as the game progressed. Once Atlanta began to put pressure on the rookie, his performance went downhill and he ultimately finished with three interceptions, two of which were handed to the defense on a silver platter.
He did make some beautiful runs and showed a great sense for the pocket in quarters one through three, but when it came down to the wire, he was not clutch. It's difficult to expect a rookie to play with extreme poise in high pressure situations at this point, but for a guy who puts as much pressure as he does on his teammates and himself to win, you'd expect better play at the end of the game.
Byron Bell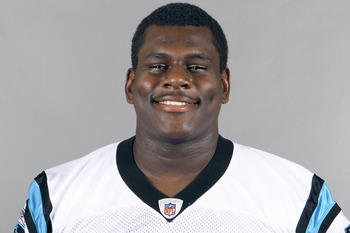 Handout/Getty Images
Ron Rivera suggested that rookie Byron Bell can play at the same level of the oft-injured tackle Jeff Otah, but if that's the case, Otah isn't the tremendous talent we know him to be. Bell was owned by Ray Edwards from the second quarter on and by the fourth quarter, the Panthers were using a running back to chip Edwards on every drop back pass.
Bell didn't create much movement on run plays either. Newton's escape ability padded the team's run statistics, but most long runs resulted from broken tackles and the efforts of the running back rather than stellar blocking by the offensive line.
Run Defense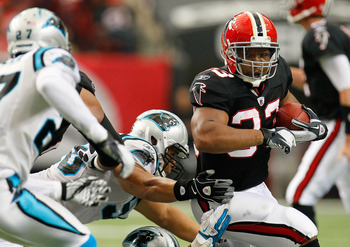 Kevin C. Cox/Getty Images
It's beginning to feel like I'll be mentioning this every week now. The Panthers' tackling against Michael Turner and the Falcons' run game was abysmal. Turner turned should-be losses into first downs all day and when the Falcons were near the goal line, a defensive stop seemed hopeless.
Sione Fua began to get a push once the fourth quarter came around, but by that time it was too late. The Falcons had already done their damage and gained an insurmountable lead.
Greg Hardy played well and I'm not sure there was another player on that field today who could pull down Michael Turner by his jersey the way Hardy did. That displayed tremendous strength and I have no gripes about the way the young defensive end played today.
Penalties...Penalties...Penalties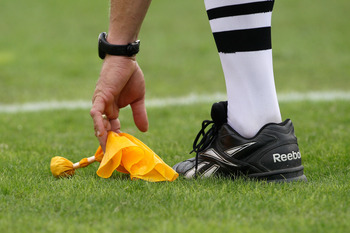 Rob Carr/Getty Images
Seven Penalties for 85 yards—that's how undisciplined the Panthers played. You cannot win a game when you give up nearly 100 yards and penalties and set the other team up with first and goal scenario's at multiple times in a game.
The first holding penalty of the game on Geoff Hangartner was a phantom call, but there were numerous penalties that were declined by Atlanta as well, so it's hard to put the blame on the refs in this one. The Panthers simply played undisciplined football and that reflects poorly on rookie head coach Ron Rivera.
Coaching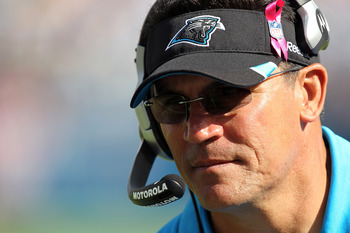 Streeter Lecka/Getty Images
Ron Rivera has taken a lot of flack over the past few weeks for some questionable decisions, and it appears he will take some more this week.
The Panthers once again started Legedu Naanee, who seems to rarely get open and defensively, the weak-side linebacker position had a very odd rotation, with Jason Phillips coming in near the goal line and using his lack of speed to watch Ovie Mughelli make a short touchdown catch for the Falcons in the second quarter.
It appears Rivera missed an opportunity to challenge a Matt Ryan throw earlier in the drive that set up that score. It appeared Ryan may have been over the line of scrimmage when he threw the ball to Harry Douglas on an eventual 23-yard catch. The Falcons quickly lined up and got another play off before Carolina challenged, and a play and a penalty later, Atlanta was lined up at the 1-yard line once again.
Keep Reading

Carolina Panthers: Like this team?