Pittsburgh Steelers vs. Rashean Mathis: Learning from History
October 16, 2011
Getty Images/Getty Images
The Pittsburgh Steelers know a bane when they encounter one.  It always seems there is a thorn in their side.  As they prepare to hose the Jacksonville Jaguars, most fans have highlighted the importance of avoiding turnovers as a key to surefire victory.
After all, it seems apparent that Pittsburgh owns most edges in the matchup.
Still, what of those aggravating nuisances that turn the momentum of football games?  Playing the Jags, Pittsburgh needs to be aware of one such game changer, whose ability to make a big defensive play could haunt the Steelers during what promises to be an otherwise successful outing. 
So, what is a bane?  Aside from a soon to be popular Batman villain (who appears in this summer's blockbuster "The Dark Knight Rises"—filmed partially in Pittsburgh!  What a segway!), a bane is a person who ruins or spoils.
Everybody knows the first name on the "Big, Bad Bane List" in Steelers Country.  You can practically expect to see his mugshot on the bulletin board of the post office.
Tom Brady is 6-1 lifetime against the Black and Gold, delivering some Black and Blue blues with every trip to Western Pennsylvania.  He isn't the only man thwarting plans of black bravado and gold grandeur!
Fred Taylor wore the teal for a large portion of his career, and his tenure with the Jaguars was one of relentless domination over Pittsburgh.  Against a team that prided itself on run defense, he once ran for 234 yards (69 of those yards came on four touchdown plays) amidst a prime time national audience tuning into the game at Three Rivers Stadium.  On Three Rivers turf, Taylor was simply "Teal-riffic!"
But what about defensive stars? 
Nobody has ever disrupted the team's groove from defensive position like Rashean Mathis, a cornerback who has made a career out of silencing Steelers fans. 
So, why is his name so important?  History is a matter of learning from mistakes so as to not repeat them.  If that is truly the most important purpose of historical data, here are a few numbers from which the Steelers can learn:
Five games, six interceptions, three touchdowns.
Adjusted to account for an entire NFL season, Mathis would have 19 interceptions and 10 touchdowns in a season entirely against the Men of Steel.  Then again, perhaps Mathis should be truly referred to as the "Man of Steal." 
In a game that Tommy Maddox tailor-made for a Jacksonville victory, the Jags defeated the Steelers at Heinz Field on a Mathis interception touchdown in overtime, sealing a 23-17 heart-breaker.  However, it was Tommy playing at the lowest point in his Steelers career, thus explaining the outcome....right?
The aggravation didn't end with the return of franchise passer Ben Roethlisberger.
The next season, the Steelers lost their first game as defending champions.  In a 9-0 shutout of Ben Roethlisberger and the Steelers (in fairness, Ben was just returning from an appendectomy), Mathis picked off Ben twice, the final interception being mere inches from becoming Rashean's fourth touchdown of the series.
Proving that terrible things do come in threes, Mathis continued to torment Pittsburgh for a third straight season.  In 2007, after the Jaguars beat Pittsburgh for the third consecutive contest during the regular season, Mathis twice picked off Roethlisberger in the Wild Card playoffs.  The first interception gave the Jaguars their first lead of the game, 14-7 in the second quarter.  The Steelers would ultimately fall despite a late rally, 31-29.
When Pittsburgh last met their Jags in 2008, this "Tale of Teal Terror" came to a merciful end.  Still, the Steelers could only thank their schedule for ending this reign, as Mathis intercepted another throw from Big Ben to become a Steelers killer for the fourth straight year.  In fact, the cornerback opened up scoring, intercepting for a 71-yard touchdown to give the Jaguars the lead.
The Steelers nearly lost to their former AFC Central rivals for the fifth straight time, narrowly averting defeat when they rallied to win 26-21 in the final minutes.
In the last four seasons in which the Steelers played the Jaguars, Mathis has made a game changing play every year.
In a game that should be marked by victory for Pittsburgh, a key to securing the predictable will be avoiding turnovers.  If we have learned anything from the past, it is that Rashean Mathis can and will be ready to make the critical play to boost Jacksonville into contention. 
If we learn from history not to repeat our mistakes, the Steelers should win handily.
However, wouldn't this still have held true after the seconds—or even third—straight game in which Mathis was a Black and Gold bane?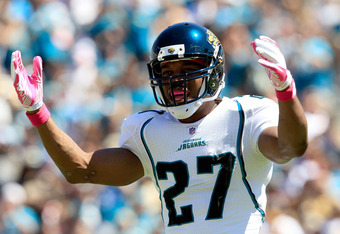 Sam Greenwood/Getty Images
If Pittsburgh hadn't already heeded the cry for caution that came with Mathis's repeat successes, perhaps another quote holds more true in this circumstance that the notion of learning from our mistakes.
We learn from history that we do not learn from history.
                                                                  -Georg Wilhelm Friedrich Hegel
In this history of these teams, that would seem to be the case.  Hopefully, Hegel's quote will not be the reality of today's contest.  With any good fortune, the Steelers will be careful with Mathis and not allow him to carry Jacksonville to a seemingly impossible win—with their rookie quarterback, pressured head coach and anemic roster. 
For Jacksonville, there are only two ways to win today's game at Heinz Field, and both elements will be necessary for an upset:
1) Running the ball with success.
2) Winning the turnover battle.
If Rashean Mathis has proven anything to Steelers fans, it is that one can never rule out the latter option.  Will Mathis have another superb effort against his favorite opponent?

In a few hours, the answer to that question will be Steelers history!