Nelson Cruz: Ranking the Importance of All 6 of His ALCS Home Runs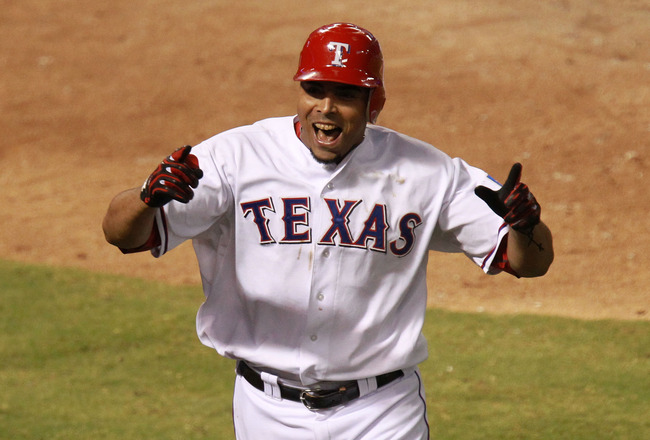 Ronald Martinez/Getty Images
After the Rangers routed the Tigers in Game 6 of the ALCS, Nelson Cruz was named MVP of the series. The righty slugger set a pair of postseason records: nobody in the history of the game has hit more home runs or driven in more runs in a series than Cruz did in this one.
He belted six home runs and drove in 13 runs, leading the Rangers to their second straight World Series appearance. He went 8-for-22 (.364), and all eight of his hits went for extra bases.
Here is how I rank all six of Nelson Cruz's ALCS home runs.
6. 7th Inning of Game 6 off of Brad Penny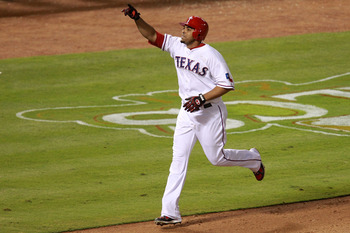 Ronald Martinez/Getty Images
The series was essentially over at this point, but more runs never hurt. This two-run shot to left set the record for home runs in a series. It was his last at-bat of the series and cemented the fact that it was a freakishly good one for Nelson Cruz.
5. 8th Inning of Game 5 off of Justin Verlander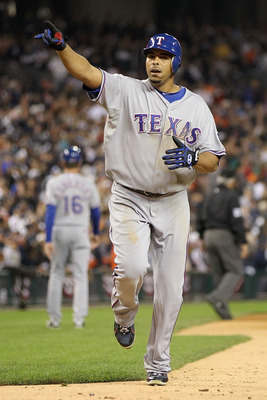 Leon Halip/Getty Images
This game was a lot more important for Detroit, and they did win it to stay alive. However, Nelson Cruz still did some damage.
Home runs are always impressive, but they are especially that when they come off of a guy like Justin Verlander. The two-run homer down the left field line cut the lead to three, but the Tigers did hold on for the win.
What's crazy is that this wasn't the first time he took Verlander deep in the series.
4. Fourth Inning of Game 1 off of Justin Verlander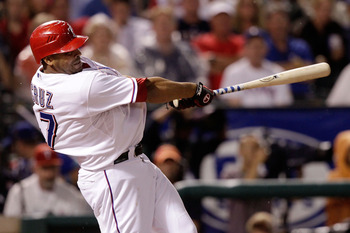 Bob Levey/Getty Images
Like i just mentioned, Cruz took the probable AL Cy Young winner deep twice in this series. The first time was his solo blast to left field in the series opener.
Game 1s are always important for setting the tempo, and this home run turned out to be the difference in the pitchers duel. CJ Wilson wasn't able to get out of the fifth inning, but the Rangers' bullpen dominated.
The 3-2 victory got Texas off to a great start in the ALCS.
3. 7th Inning of Game 2 off of Max Scherzer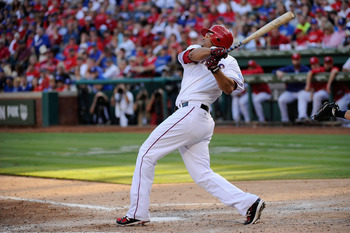 Kevork Djansezian/Getty Images
The Rangers won Game 2 of this series to take a commanding 2-0 lead. Five of the seven Rangers runs were driven in by Nelson Cruz.
Max Scherzer pitched a great game and took the mound in the seventh inning with a 3-2 lead. Cruz led off and blasted a game tying home run to left field. It was a huge momentum changer.
However, Nelson was far from finished in Game 2.
2. 11th Inning of Game 2 off of Ryan Perry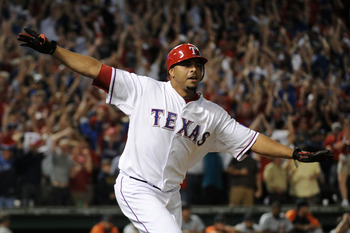 Harry How/Getty Images
Cruz's walk-off grand slam in Game 2 was perhaps the most memorable moment of this series. After three-straight singles to start the inning, up stepped Nelson Cruz.
He promptly deposited another one over the left field wall.
This home run put the Tigers in a huge hole in the series—one that they were not able to dig themselves out of.
1. 11th Inning of Game 4 off of Jose Valverde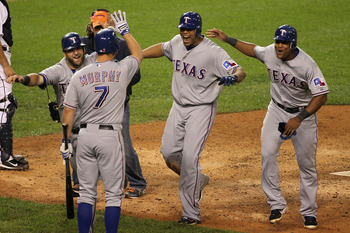 Leon Halip/Getty Images
Most people would probably say that the walk-off grand slam in Game 2 was Cruz's biggest home run, but I'm going with his three run shot to left center in Game 4.
There are a few reasons why this is No. 1. In my opinion, the Rangers won the series in Game 4. If the Tigers had won that game, the series would've been even at two and completely up for grabs. The Tigers received a huge performance from Rick Porcello, and had a few chances to go ahead.
They however, did not take advantage of those chances and the Rangers made them pay. Jose Valverde had not blown a save all year, and had been lights out in the postseason. After Mike Napoli drove in the go-ahead run, Cruz put the game out of reach.
This was no cheap shot either—he hit it to one of the deepest parts of Comerica Park.
This home run was essentially the knock-out punch of this series. It put the Rangers up three games to one, and I don't think anyone expected the Tigers to win three straight.
Keep Reading

Texas Rangers: Like this team?