Vikings vs. Bears Sunday Night Football: Live Score, Highlights and Analysis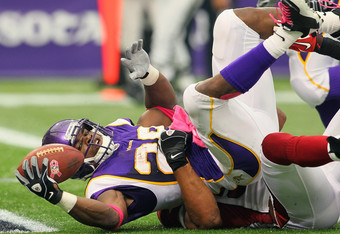 Adam Bettcher/Getty Images
Updated score: (Chicago wins 39-10)
The Minnesota Vikings travel to Chicago to play the Bears in a Sunday night matchup in front of the whole nation. Given that these two teams are both fighting to stay out of the basement of the NFC North, this prime-time divisional game could end up being one of the most interesting of the weekend.
The visiting Minnesota Vikings come in to this game with a 1-4 record and a big win last week against the Arizona Cardinals. Their defense and run-game have hit their respective strides, being really the only things holding Minnesota up at this point. RE Jared Allen has already recorded a league-leading 8.5 sacks this season, and is chasing down Michael Strahan's sack record. Meanwhile, All-Pro RB Adrian Peterson remains one of the league's top rushers, recording 3 touchdowns in the first quarter alone against Arizona. The real issue for the Vikings has been their production through the air offensively. QB Donovan McNabb has not played well in any of the Vikings' game so far this season, but the fact that the Vikings don't have a clear-cut No. 1 receiver doesn't help them either. They will need their offense to step up to have any chance in this game - if they can keep their offense on the field long enough to get their defense some rest, we shouldn't see any more second-half collapses.
The Bears look forward to this home matchup against the Vikings after a tough loss on Monday Night Football to the Detroit Lions that left them with a 2-3 record. The traditionally strong Bears defense has been very anemic this season. Last week, they allowed Detroit RB Jahvid Best 163 rushing yards and a touchdown on 9.1 yards per carry - This could be dangerous with the NFL's top RB Adrian Peterson coming to town. Offensively, the Bears have their ups and downs. RB Matt Forte has accounted for more than half of the offense's production, leading the team in both rushing and receiving yards. Jay Cutler is still an upper echelon QB, but his production has been staggered by a worthless offensive line and an inconsistent group of receivers. Chicago's passing game is nowhere near where it needs to be for them to beat the Vikings. The Bears need to feed the ball to Matt Forte and really step up on defense to hold off their divisional rival.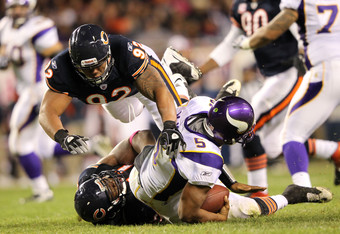 Tasos Katopodis/Getty Images
At the end of the game Chicago holds their lead and wins 39-10.
Chicago really did everything right in this game. They were able to protect Cutler and still move the ball both on the ground and through the air. They did allow Minnesota to move the ball, but not enough to be a threat in this game. Chicago improves to 3-3 where they can still claw their way back into contention for a wildcard spot or potentially another division title if Green Bay and Detroit completely fall apart. The Bears will head to London next weekend to face the Tampa Bay Buccaneers after a solid win over Minnesota.
Minnesota, meanwhile, couldn't do anything against the Bears. Adrian Peterson was a non-factor and the Vikings had to turn almost exclusively to a passing game that couldn't come to fruition. Despite a solid showing from Donovan McNabb, we still got to see Christian Ponder take the field for the Vikings. I doubt this was anything more than getting him the "garbage time" because McNabb actually played pretty well. Defensively, the Vikings couldn't manage much. Jared Allen looked to have sparked life into this defense after a strip-sack and recovery in the second quarter, but the Bears offense was just too much and the Vikings left with their tails between their legs. They'll look to bounce back next week against the defending Super Bowl Champion and currently undefeated Green Bay Packers at home - but I'm not too confident for them...
Chicago wins 39-10. Thanks for staying with us everybody. Come back to Bleacher Report for live coverage of Monday Night's matchup between the New York Jets and Miami Dolphins.
Now we're seeing Bears backup QB Caleb Hanie as we get into garbage time where Chicago will try to run down the clock.
On the Vikings' side, Ponder is looking pretty solid, but he's not getting much help from the offensive line or his receivers. Maybe the Vikings should make a play for Brandon Lloyd or Eddie Royal.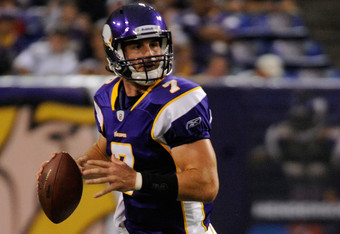 Despite not being able to convert on fourth down, Christian Ponder has looked pretty impressive so far. He's looked poised in the pocket and rolled out when he needed to. I don't know if he's having a Tim-Tebow-effect, but either way he's looking good so far.
Ponder is deceivingly fast, I think he even broke a tackle by Julius Peppers...
Ponder gets into the game for the Vikings, he looks scared out of his mind. He couldn't even get his chin-strap buckled on the first play.
After rushing for a first down, Ponder really needs to start moving the ball through the air. Overall pretty good so far though.
The Vikings hold Chicago to another field goal inside the ten. Bears lead 39-10.
Could we see Ponder next?
Ponder-watch is officially on at Soldier Field! McNabb is looking pretty solemn on the sideline, while Ponder is throwing the ball around to warm up. Could we see the Vikings first round pick? Stay tuned.
With two injuries on the offensive line, the Vikings have allowed the Bears to sack Donovan McNabb on two consecutive plays. At this rate we might see Christian Ponder in the game, but only because of injury.
The Vikings elect to punt. Chicago's ball.
After almost no production inside the 15-yard-line on that series, Gould kicks another field goal to put Chicago up 36-10.
Bears TE Kellen Davis catches the ball inside the 20-yard-line.
Vikings FS Jamarca Sanford goes down. Sanford had two interceptions last week against the Cardinals and looked good so far in this game. Tough loss for the Purple.
The Vikings offensive line is really hurting in this game. RT Phil Loadholt hasn't been in yet this half, and C Jon Sullivan is out of the game with a concussion. Donovan McNabb was sacked twice on that drive before punting away once again.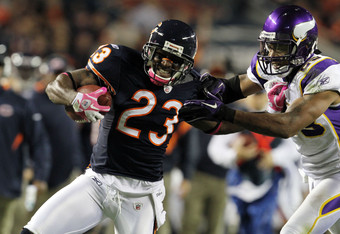 On the ensuing kickoff, Devin Hester returns one 98-yards for a Bears touchdown. Just when Minnesota thought they were getting back in the game... Who's idea was it to kick the ball to Hester?
Chicago now leads 33-10.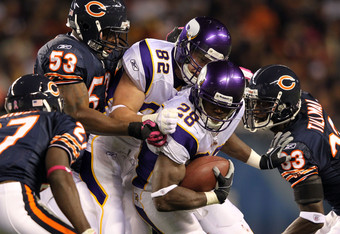 Adrian Peterson waltzes into the endzone for the Vikings' first touchdown of the game.
They now trail 26-10.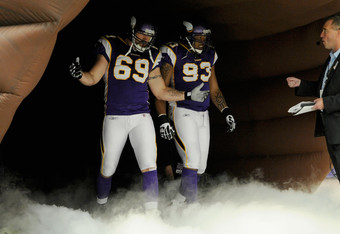 Jared Allen with a strip-sack and a recovery for the Vikings. You're looking at the NFL's defensive MVP right there. That's No. 9.5 for Allen this season.
The Vikings will take over.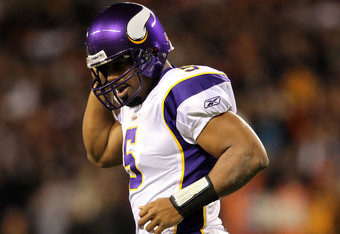 Jamie Squire/Getty Images
Chicago is doing everything right so far in this game. Their plan of bringing in extra protection seems to be doing well and slowing down the Vikings pass-rush. Despite a few good throws, their passing game has seemed to once again revolve around RB Matt Forte - the Vikings need to do a better job of containing him if they want to get back into this game.
Minnesota just can't get the yards they need. McNabb is playing decently, but the execution is still just off. The Vikings still haven't been able to find the endzone and could be Pondering a change at QB to spark a lackluster offensive start. It really isn't McNabb's fault entirely, the receivers have been dropping some key passes, but the plays that McNabb has missed are not going unnoticed by Vikings fans.
The Vikings seem to have figured it out, more-or-less, defensively. They really do need to contain Forte better if they want to get back in it. What I've seen so far reminds me a lot of what the Vikings saw from San Diego: passes to the RBs and underneath routes to slot receivers and TEs. I hate to say it, but this really is the formula to beating the Vikings. Despite a mediocre showing from the Vikings LBs, this problem really comes from the Vikings play-call. The cover-two is supposed to take away the big play over the top and allows underneath completions. This is the same thing Chicago is doing defensively, but the Bears are just executing it better. The Vikings either need to start bringing extra help in the pass-rush or offer better coverage underneath their cover-two.
Let's see if/how things change in the second half. Chicago leads 26-3.
Minnesota unable to do anything on their last chance before halftime.
The Bears still lead 26-3.
After a dropped pass by Hester, Robbie Gould kicks a field goal that puts the Bears up 26-3 with 27 seconds left in the half.
After the two-minute warning, the Vikings line up to kick, but then call a time-out. They probably were going to try and fake it, but then backed out at the last second.
Michael Jenkins false-started to set the Vikings back where they then had to kick the ball. Longwell shanked the kick despite Kluwe's perfect hold and the score remains 23-3 Chicago.
Gus Johnson just made the comment that, if the Vikings are going to mount a comeback, it will have to be through Donovan McNabb because Peterson has been ineffective so far. If that is the case, I don't like Minnesota's chances...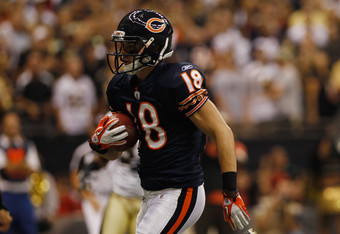 Cutler passes to Dane Sanzenbacher for another Bears touchdown. Chicago now leads 23-3.
On the previous play, Vikings CB Cedric Griffin lets Devin Hester convert a huge third down for the Bears. Griffin's been an absolute embarrassment this season. He's coming off of two torn ACLs but seriously, this guy's whole season has been one big segment of "C'mon Man!"
Let's see if the Vikings can bounce back.
How have the Bears not locked up Forte long-term? He's far and away the best player on this team.
Adrian Peterson has been a non-factor so far in this game. It seems like everyone is able to make shoe-string tackles better when he has the ball. I don't know what that is about...
I suppose that's how it goes when you keep eight guys in the box. But then again, you have to when it's AP carrying the ball.
A completion to Shiancoe sets the Vikings up for a 37-yard field goal.
Bears lead 16-3.
A 19-yard pass to rookie TE Kyle Rudolph finally gets Minnesota their first 1st-down of the game.
The Vikings seem to be putting a lot of guys in motion so far this game, I wonder what that's about...
Joe Webb came into the game for a couple of plays at QB, but it didn't seem to do much. The Viking already look desperate and it's only the first quarter.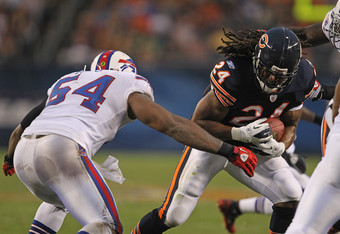 After a horse-collar penalty puts Chicago on the goal-line, Marion Barber runs the ball in to put the Bears up 16-0.
McNabb sacked in the endzone for a safety. 9-0 Bears.
This article is
What is the duplicate article?
Why is this article offensive?
Where is this article plagiarized from?
Why is this article poorly edited?