Buy Low Targets for Week 6: 5 Guys to Trade for Now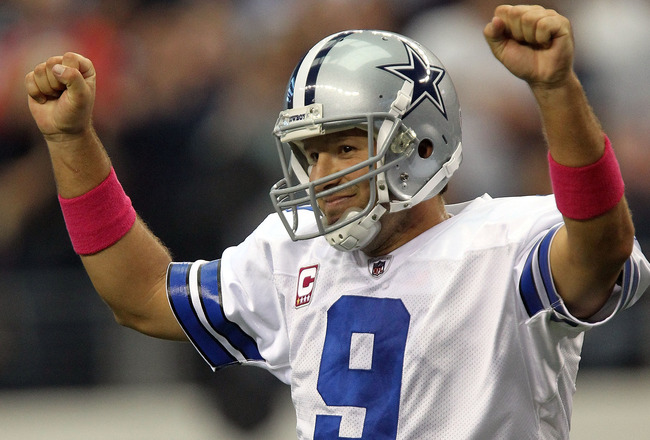 Romocoaster on a Low
Ronald Martinez/Getty Images
Taking advice on a waiver-wire pickup is pretty low-risk.
Drop the worst player on your team for him; if it works, great. If not, give it another shot next week.
However, taking advice on who to trade for is much more risky. Ideally, you want to trade for players before their value goes through the roof.
Here are five players who you will have to give up something good to get, but who I think are good trade targets. Hopefully you can buy low on one or more of them in your league.
Tony Romo, QB, Cowboys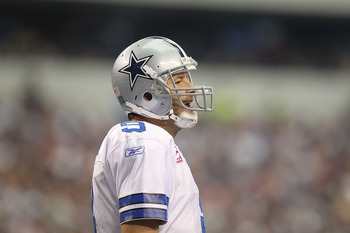 Buy Low on Romo!
Ronald Martinez/Getty Images
Lost in all the "Romocoaster" talk is that he is actually averaging 318 passing yards per game, good for fifth in the NFL. He is also top-10 in the league in completion percentage.
And he is about to get Miles Austin back, which will only improve his stats.
Romo's owners may be down on him because he has just seven touchdowns so far, and five picks as well. I expect that to change on Sunday against New England. Four touchdowns are a very real possibility, though three touchdowns are more likely.
Still, a 350-yard game with three touchdowns will likely give Romo's owner confidence in him; the opportunity to get a good deal for him will be gone.
Andre Johnson, WR, Texans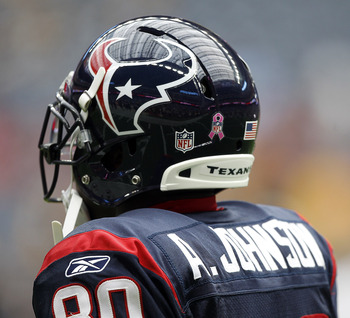 Johnson's Injury Makes Him a Good Buy Low Target
Bob Levey/Getty Images
This one is kind of a special case. If the team Johnson is on in your league is 3-2 or better, don't bother. However, if he is on an 0-5 or 1-4 team, you may be able to get him for a discounted price.
A bad team like that probably needs some decent starters and cannot afford to wait for Johnson to come back.
That team isn't going to be getting any points for Andre this week anyway, so he might as well trade him because that will automatically improve the team while he is out.
You might be able to trade a starting wide receiver—a borderline starting wide receiver—and a borderline starting running back for him, which is of course a steal for any team that can afford to do it.
Daniel Thomas, RB, Miami Dolphins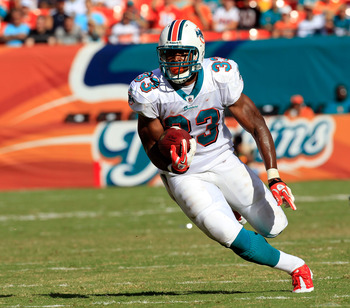 Thomas is about to Break Out
Sam Greenwood/Getty Images
Thomas has been one of the best kept secrets in football this season. After five weeks, he has tallied just over 200 yards.
So he's only gaining 40 yards per week, right?
Wrong! Thomas missed two games with a nagging hamstring injury. Last week was also the Dolphins' bye week, so his rushing yards have come in just two games. 100 yards per game is pretty good, especially when it comes with a 4.9 yards per attempt average.
He has yet to score a rushing touchdown, which is why you want to pounce on him now. His game this week is on Monday night against a Jets defense that is weak against the run.
He will likely have a big game on national TV, so trade for him before it is too late.
Jason Witten, TE, Dallas Cowboys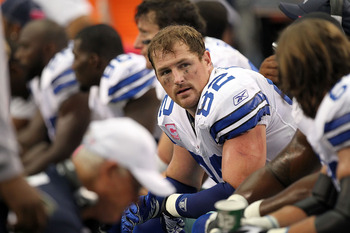 Witten is Having a Sneaky but Very Good Season
Ronald Martinez/Getty Images
Lost in the Jimmy Graham hype is the season Witten has had so far. He is seventh in the NFL in yards per game with 91.5.
However, he only has one touchdown on the season. Because of this, and the fact that Miles Austin is coming back this week, he may be available for a good price in your league.
That will change after Sunday's game though, as Dallas goes up against New England and their atrocious pass defense.
I could easily see Witten going off for 100-plus yards and two touchdowns, which will increase his price dramatically.
Pierre Garcon, WR, Colts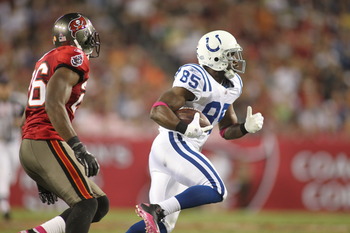 Garcon: Sell High or Buy Low?
Marc Serota/Getty Images
Pierre Garcon is certainly not someone with low value right now. However, his owner may be thinking that he is a fluke and that he can "sell high" on Garcon.
However, Garcon is no fluke. In the two games with Curtis Painter at quarterback, he has over 270 yards and four touchdowns. He also leads the team in targets since Painter took over.
Garcon is going to continue putting up big games in my opinion. It may only take one more 100-yard week for his owner to realize it.
Keep Reading