NFL Trade Talk: Could Maurice Jones-Drew and Steven Jackson Trade Places?
October 16, 2011
Rick Stewart/Getty Images
The Jacksonville Jaguars and St. Louis Rams have had a lot in common this season.  Both have young quarterbacks, both are heavily dependent on the running game and neither team will be making the playoffs this season.
These teams are in need of a shake up.  Possible solution: swap running backs.
As crazy as it sounds, this trade might actually benefit both teams in the long run.  
The Jaguars would send Maurice Jones-Drew to the Rams in exchange for Steven Jackson, Mark Clayton and a mid-round draft pick.  
Why the Jaguars would do it:
The Jaguars had an open door to the AFC South title and thus far has blown it badly.  
The team has gone from Luke McCown to rookie Blaine Gabbert at QB and is relying on Mike Thomas to be their No. 1 receiver.  Gabbert still has plenty of time to develop and mature, but Thomas is much more suited to be a No. 2 or slot receiver.  
Tight end Marcedes Lewis made the Pro Bowl last season but is off to an extremely slow start while struggling with injuries, leaving Gabbert with one somewhat reliable receiving target.
Steven Jackson has been one of the most productive and consistent running backs in the league the past five seasons, though he has gotten off to a slow start this year due to injuries.  He is a powerful back who is excellent at breaking tackles and plowing through the line as well as having good speed in the open field.  He is also a decent option as a pass catcher out of the backfield.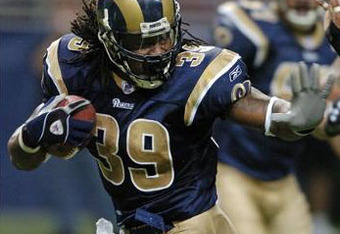 Jackson has exceeded 1,000 yards rushing in each of the past five seasons and would be an excellent addition to the Jaguars' smashmouth style of football.  
Mark Clayton was Sam Bradford's favorite target at the beginning of last season before he tore his patella tendon.  He would provide Gabbert with a legitimate No. 1 receiving target and also take some pressure off of Mike Thomas to perform.  
His presence would open up the running game as well as passing as he is a strong deep threat and his presence would force defenses to focus attention on him.  
He would also aid in the development of Gabbert, who would be able to pass to better receivers and gain confidence as he grows.
While Jackson is not as good as Jones-Drew, the addition of Clayton as well as the draft pick would likely convince the Jaguars to part ways with their Pro-Bowl running back.
Why the Rams would do it:
The Rams were expected to be a major contender for the division crown after the major improvements they made last season.  They have failed to live up to them as Sam Bradford is experiencing a sophomore-slump and the offense hasn't been able to get anything going consistently.  
Acquiring Jones-Drew would greatly help this team's offense as well as take pressure off of Bradford and the passing game.  
Jones-Drew is one of the top running backs in the league, both at rushing and receiving out of the backfield.  Last season he rushed for 1,324 yards and five touchdowns while also catching 34 passes for 317 yards and two touchdowns.  
He is one of the most versatile running backs in the league and would be a huge addition to this Rams offense.  
Jones-Drew is a powerful back who is hard to bring down while possessing good speed and the ability to wear down defenses and cause them to devote much more of their attention on stopping the run, thus opening up the passing game for Bradford.  
This trade would make even more sense for the Rams if they were to acquire WR Brandon Lloyd from the Broncos.   
Overall, this trade makes sense from both teams' standpoints and would benefit them both in the long run.  Despite Jones-Drew being an elite running back, the duo of Steven Jackson and Mark Clayton would be enough to convince the Jaguars to let him go.
Adding an elite playmaker to the Rams offense would take pressure off Bradford and instantly make them a more dangerous team in the NFC West.  
The Jaguars get a slightly less talented back in Jackson, but add a dangerous receiver in Clayton.  
This trade is a win for both teams.