5 Bold Predictions for the Boston Red Sox in 2012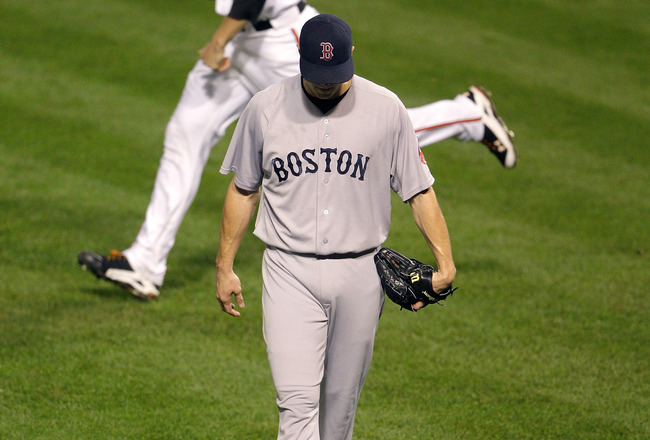 Rob Carr/Getty Images
Looking for a big bounce back after a disappointing end to the 2011 season, the Boston Red Sox will try to make a splash this winter. Boston has a lot of impending free agents and some leeway on who they want to bring back and who they want to go.
Here are some bold predictions for how the Sox get prepared for 2012.
They Acquire Adam Wainwright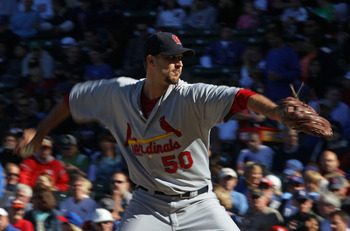 Wainwright last pitched in Sepetember, 2010
Jonathan Daniel/Getty Images
With a weak market for starters, in 2012 the Sox will have to get creative. One huge target could be Adam Wainwright. In six seasons with St. Louis, Wainwright has gone 66-35 with a 2.97 ERA, 1.202 WHIP and 8.3 K/9. The big right hander is an innings eater, compiling five complete games in 2010. The Cardinals were without their ace in 2011 due to Tommy John surgery, but still managed to fight their way into the playoffs.
The Sox need a guy they can slot in behind Lester who can truly dominate. Wainwright would give them that prized No. 2 guy. Since he missed all of 2011, the Sox could work to get him at a premium. If the Cardinals let Pujols walk, they could be looking to free up money and land some offense.
The Red Sox could build a package around Kevin Youkilis, who St. Louis could play at 1B, 3B, or even LF. The Cardinals get some offense and defense back, and the Red Sox acquire the secondary ace they desperately need.
David Ortiz Walks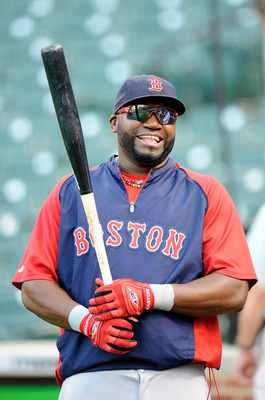 Greg Fiume/Getty Images
After a stunning career revival in 2011, in which he mashed to the tune of 29 HRs and a .953 OPS, David Ortiz may have spent his last year in Boston. The slugging DH has been with the Sox since exploding on to the scene in 2003, but at age 36 he may finally face free agency again.
Ortiz had a great season, but it is what he has done off the field that makes his return uncertain. It started in early September when Ortiz was the first to panic, making the comment "Hell yeah, it's time to panic." Later, Ortiz was critical of then-manager Terry Francona for not starting Alfredo Aceves. The final straw may have come in October when Ortiz made comments about being "done with the drama" of Boston and noting "they don't have that in New York."
After this season, Ortiz will be looking for at least a two- to three-year deal that will build on his 2011 salary of $12.5 million. It would be favorable for the Red Sox to avoid a contract like that. Fans will miss the personality, but right now Ortiz is practically running himself out of Boston.
Jonathan Papelbon Walks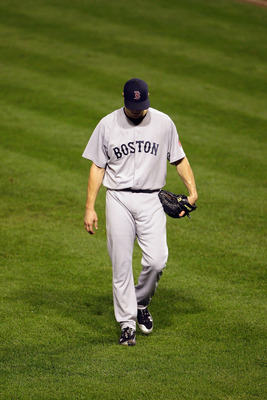 Papelbon walks away from the mound in Baltimore
Rob Carr/Getty Images
After Jonathan Papelbon walked off the mound during Game 162 of the 2011 season, it was easy to say he was automatically gone. Papelbon had one of his best seasons to date, converting 31 saves in 34 chances with a 2.94 ERA and 12.2 K/9. It is hard to see the Sox letting him go.
However, some believe Papelbon's heart has never been with Boston. He has often told the media how he believes he deserves a Mariano Rivera-like contract, and how he would not mind pitching for New York. Despite his work ethic, his immature attitude might be one the Sox would like to lose. In 2011, the closer made $12 million while Mo made $15 million. The powerful righty will be 31 years old on opening day in 2012, and could garner a four-year contract worth $60-$65 million.
The 2011 market for relievers is deep; Boston has a lot of options. The options range from the experience of Heath Bell to the high upside of Jonathan Broxton—or they could build from within, with flamethrower Daniel Bard or farmhand Alex Wilson (once referred to as the closer of the future). There is no sense of urgency when it comes to bringing Papelbon back.
Lackey and Beckett Are Shopped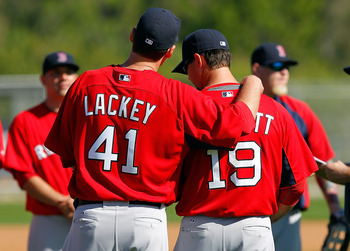 J. Meric/Getty Images
With the leaking of Beer/chicken/video game-Gate, the Sox could look to completely remodel their clubhouse. As far as the pitching staff goes, it starts with Josh Beckett and John Lackey.
With Beckett's role as one of the ring leaders in the clubhouse woes, the Sox front office could look to make an example of the ace. Despite their lack of pitching depth, if the return is high enough it could be well worth the move. Beckett's stock has never been higher, going 13-7 in 2011 with a career best 2.89 ERA. The 31-year-old is under contract for three more years at $15.75 million, and his production will be hard to replace. However, if the Sox can acquire some young talent for their pitcher it could be well worth it.
As far as Lackey goes, Sox fans cannot wait to see him go. The 32-year-old had the worst season of his career. In fact, his 6.41 ERA is the worst ever posted by a Boston regular starter. In L.A., Lackey averaged 6.4 innings per start—since coming to Boston he has averaged only 6.14 (5.7 in 2011).
The righty has made it a habit of escaping accountability, often blaming the defense or outside forces for his lackluster play. He has also been named as Beckett's partner in crime when it comes to clubhouse issues. Lackey still has three years and $45.75 million left on his contract; but, where there is a will there is a way. If Boston really wants the starter gone, they will do it—even if it means eating a huge chunk of money.
They Rebuild, but Stay Competitive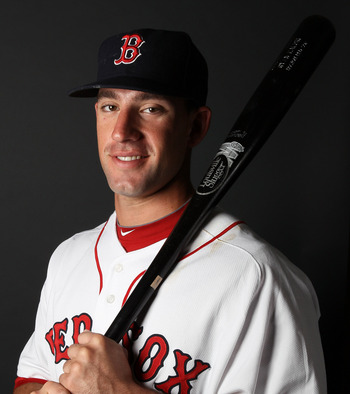 Elsa/Getty Images
2012 could be a crucial bridge year for the Red Sox, but that does not mean they cannot be competitive.
With J.D. Drew's contract finally up, right field is open in Fenway. Ryan Kalish is the obvious No. 1 option. The 23-year-old lefty broke onto the scene in 2010, hitting .252/.305/.405 in 53 games with Boston, notching four homers and 10 swipes. Kalish has great patience, athletic defense and a dirt dog mentality that the Sox desperately needs.
If Ortiz walks, Boston has big right-hander Ryan Lavarnway ready for DH duties. The 24-year-old, drafted out of Yale, has consistently mashed on the Sox farm. 2011 was no exception, as he blasted 32 homers between AA and AAA, posting a 0.935 minor league OPS. A right-handed power bat could bring balance to the Sox lineup, and Lavarnway has a great track record that shows he is ready.
Then there is Jose Iglesias. The bat has not yet developed, but the defense is major league ready. The 21 year old Cuban defector could provide wins by his stellar glove alone. With a pitching staff, that has struggled, a defensive injection could be just what the big league club needs in 2012.
As noted before, the Red Sox have some impending free agents. If Ortiz and Papelbon walk, they will be type-A free agents. If Boston declines Marco Scutaro's option, he could also become a type-A free agent. The last time the Sox had three type-A free agents leave was 2005—that year they drafted Jacoby Ellsbury, Craig Hansen, Clay Buchholz, Jed Lowrie and Michael Bowden, all in the first round.
Keep Reading

Boston Red Sox: Like this team?