Fantasy Football: 5 Players Who Will Have Monstrous Games in Week 6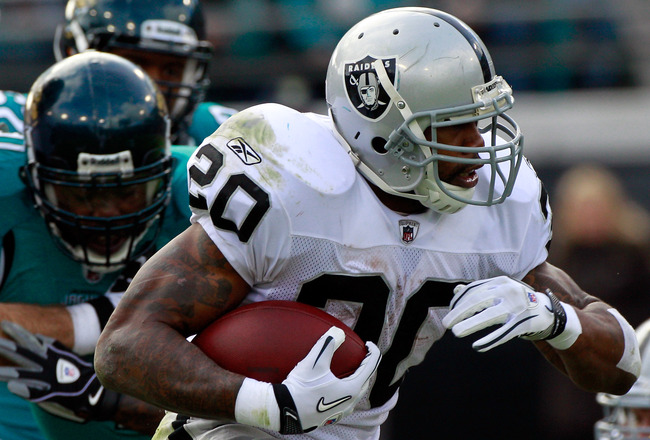 Sam Greenwood/Getty Images
The 2011 NFL fantasy football has emerge as one of the craziest seasons of all time. With record-breaking numbers happening each week, it is only right to indicate which players can be next to record high fantasy points.
With that said, Week 6 in fantasy football holds very good matchups for owners to look into. In particularly, these five players have demonstrated their ability to have major games for owners.
Although many may have solid points this upcoming week, here are the five who may just break away from the pack.
A.J. Green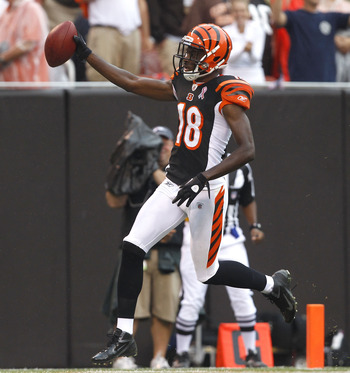 Matt Sullivan/Getty Images
The rookie sensation in Cincinnati has proven to be a reliable fantasy player. Yet in Week 6, the Bengals play a Colts defense that tends to give opposing receivers touchdown catches.
So why do I have all this hype on Green?
Simply look at his numbers. In four of the five weeks, Green has produced double digit fantasy points while also creating big plays for the Bengals. Since they play the Colts on Sunday, expect Green to have a monstrous fantasy game as he goes over 100 yards and may get a shot at two touchdowns.
If you are a fantasy owner, do not hesitate and start Green. He is a rookie but has shown that he can play in this league.
Darren McFadden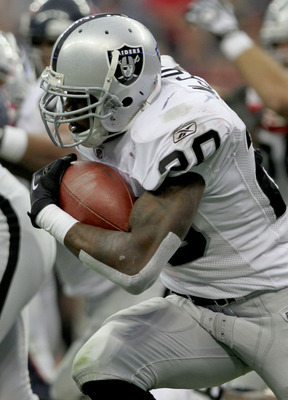 Thomas B. Shea/Getty Images
McFadden had by far his worst fantasy performance this past Sunday at Houston. Although he only had 51 yards on 16 carries, you know as a owner that he will be getting his touches.
At the same time, the Raiders are heading home to face a Browns team who has allowed opposing running backs to record triple digit numbers. It is the ideal matchup that fantasy owners holding DMC should not worry about.
Expect him to bounce back from last week and record monstrous numbers. He'll have above 100 yards on the ground while also scoring a touchdown. If Michael Bush does not take away his carries in the red zone, then McFadden should record the best fantasy week he will have this season.
Cam Newton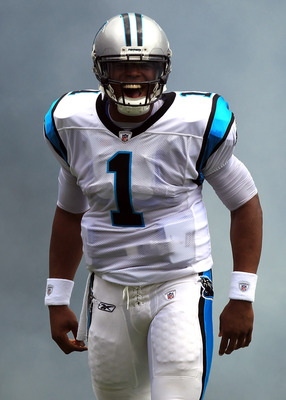 Streeter Lecka/Getty Images
Newton has calculated enormous fantasy points in his first month in the NFL. More surprisingly, he has shown to avoid errors to a minimum, which is what fantasy owners love about their quarterback.
In Week 6, the Panthers visit the Falcons. Although it appears to be a difficult matchup, the statistics are there to back Newton in having a monstrous game. A week ago he recorded 224 passing yards with two touchdowns against a decent Saints defense.
At the same time, Aaron Rodgers came into Atlanta and had 396 passing yards with two touchdowns. I know Newton is not Rodgers yet, but his ability to make big plays with Steve Smith and that offense must be eye-opening.
Lastly, in the red zone it seems that Newton tends to grab extra fantasy points when he runs in for scores. Expect that to also happen this week against the Falcons. Start Newton.
Ben Roethlisberger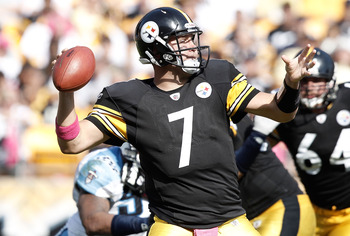 Jared Wickerham/Getty Images
Although Roethlisberger has been inconsistent this season, his outstanding performance last week against the Titans has to give fantasy owners the idea to start him again.
Back at home, the Steelers are playing a Jaguars defense that can stop the run but hold problems in stopping the passing game. At the same time, Roethlisberger has produced at least 12 fantasy points at home since November of 2009.
If history continues to repeat itself, which I expect it will, then Roethlisberger will record above 200 yards and a couple of touchdowns, matching him around the same area of fantasy points as he did this past Sunday against the Titans.
DeSean Jackson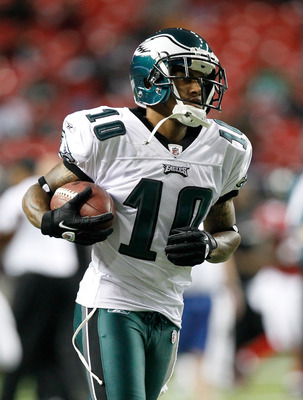 Kevin C. Cox/Getty Images
Jackson has been inconsistent in terms of fantasy points this season, but the Eagles do play the Redskins on Sunday.
If we recall from last year, Jackson and Michael Vick had that spectacular Monday Night Football game when they connected on the first play of the game for the 88-yard touchdown bomb that ultimately set the tone for the night.
Although I do not expect the same play to occur, I do expect Vick to look in Jackson's direction more as he has not been targeted as much as we had hoped for. Expect him to score a touchdown and get above 80 passing yards.
Keep Reading