7 Current Chicago Bears Destined To Finish as All-Time Franchise Greats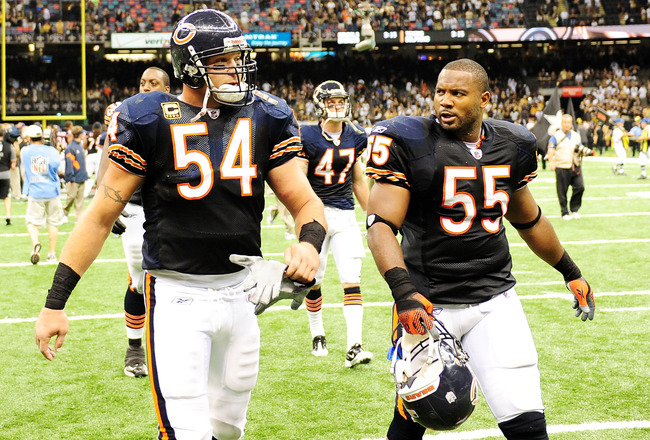 Stacy Revere/Getty Images
The 2011 Chicago Bears are just 2-3, and their chances of making the playoffs are bleak. The Bears are very poor at several positions, but the truth is they have several players that are outstanding.
The Bears are one of the oldest and most historic franchises in the NFL with greats like Walter Payton, George Halas, Sid Luckman, Gale Sayers and "Da Coach" Mike Ditka.
So it is saying something if we have current Bears who will finish their careers on the same level as these greats.
I don't think this current Bears team will be doing a Super Bowl shuffle anytime soon, but with a few decent wide receivers and an offensive line it is very possible.
Here are seven players who will go down in Chicago Bears history as greats at their positions.
Robbie Gould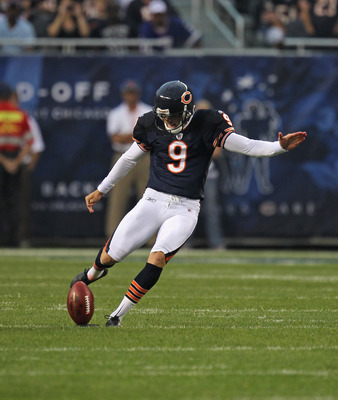 Jonathan Daniel/Getty Images
Saying Robbie Gould is as good as gold is an understatement. Robbie Gould is the already the best Bears kicker ever, and he is the third-most accurate kicker in the history of the NFL at 86.2 percent.
Robbie Gould is 169-for-196 on field-goal attempts, and 219-for-220 on extra points.
Chicago fans take having such an accurate kicker for granted, but Gould's predecessor, Paul Edinger, connected on just 75 percent of his kicks, showing how rare it is to have such a talented kicker.
Gould's amazing kicking accuracy is one thing, but if you factor in the conditions he regularly plays in, his talent is unreal.
Gould has had to deal with some extreme weather with the swirling winds that come off Lake Michigan, and feet of snow that falls in Chicago.
Robbie Gould is a Chicago Bears legend.
Brian Urlacher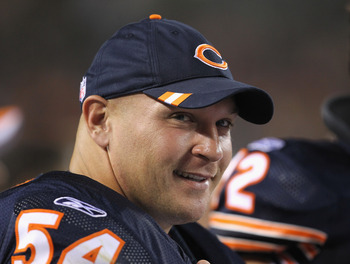 Jonathan Daniel/Getty Images
This is a gimme. Brian Urlacher has been a Bears Hall of Famer for years now. Urlacher has been voted to seven Pro Bowls, and has been a four-time member of the All-Pro first team.
Urlacher's list of accomplishments speaks for itself: NFL Defensive Rookie of the Year, 2005 Defensive Player of the Year, NFL 2000's All-Decade Team and many more.
He has more tackles than any other Bear, and still has a few years left in the tank.
Brian Urlacher has put up historic numbers, but he has been a leader on the Bears for a decade.
Urlacher is not only one of the greatest Bears linebackers ever, but he is one of the best Chicago Bears ever.
Jay Cutler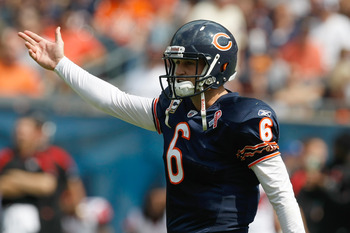 Scott Boehm/Getty Images
Yes, Jay Cutler has only been with the Bears for two full seasons and they haven't been great.
But if you look at the history of Bears quarterbacks, they have been much worse than Cutler's two mediocre seasons in Chicago.
Cutler is already seventh all-time in Bears history in passing yards, and will most likely be fourth or fifth by the end of this season.
He is also sixth in touchdowns, and again will be fourth or fifth at the end of this year.
If Jay Cutler plays in Chicago for even 10 years he will shatter every Chicago Bears quarterback record. That is a big "if" though; the Bears offensive line might get him killed long before then.
Lance Briggs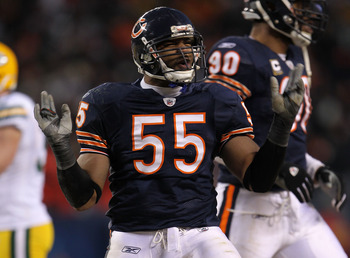 Jamie Squire/Getty Images
Lance Briggs, the forgotten Bears linebacker. Briggs is a six-time Pro Bowler, and has been selected to the All-Pro first team once.
Briggs is also third all-time on the Bears tackle board, but he is not often brought up when the all-time great Bears are discussed.
He hasn't been the best leader, and has not handled his contract negotiations admirably, but he is still an outstanding player.
Briggs is going to finish right behind Urlacher, and depending on their health Briggs could pass Urlacher in some statistical categories.
Urlacher and Briggs are arguably one of the best two linebackers combos to have ever played together in the history of the NFL.
Matt Forte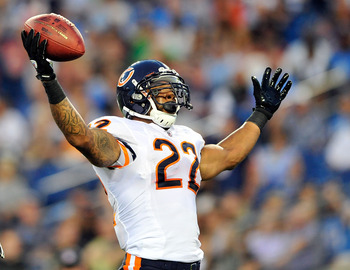 Grant Halverson/Getty Images
Matt Forte doesn't have a chance at dethroning the great Walter Payton, but he is going to be the second-best running back in Bears history. Yes, Gale Sayers was probably more talented, but Forte is going to play way more games for the Bears.
Of course, this is assuming that the Bears finally pay Forte because if they don't lock him up this year I think he will leave Chicago.
In just three years Forte is already fifth in all-time rushing yards for a Chicago Bear, and is 15th in receptions.
I understand the modern-day running back shelf life is very limited, but Forte has yet to miss a game (knock on wood).
Forte has started off his career with 1,700, 1,400 and 1,600 total yards respectively, and is on pace for 2,500 total yards this season.
The comparison between Forte and Payton is not as crazy as it seems.
Matt Forte's yards averaged over 190 games: 19,779 total yards.
Walter Payton's yards over 190 games: 21,264 total yards.
I am in no way saying that Forte is at the talent level of Walter Payton, but Forte is just hitting his stride now in the NFL, has played behind a god-awful offensive line and is on pace to finish just 1,500 yards behind the greatest running back to ever play the game.
Matt Forte is an incredible player.
Charles Tillman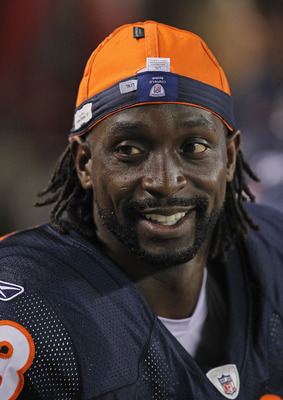 Jonathan Daniel/Getty Images
Bears fans have a love-hate relationship with Charles Tillman; he will blow his coverage one play, then turn around and change the course of the game by forcing a fumble.
Tillman has been with the Bears for nine seasons, and in his tenure with Chicago he is sixth all-time in tackles; the only man that has forced more fumbles than Charles Tillman is the Hall of Famer Richard Dent.
Tillman has been up and down with the Bears, but he fits in Lovie's system beautifully and has been a cornerstone of the Bears defense.
Tillman seldom gets the respect he deserves and has earned, but he is a great Chicago Bear.
Devin Hester

Hester Return Montage

The immortal words of Bears commentator, Jeff Joniak, "You are ridiculous," could not be more true.
For those who have witnessed a Hester return at Soldier Field, the song "Crank That" by Soulja Boy holds a special meaning, as it is Hester's song that plays before he returns a kick.
Even though Hester is entering just his sixth NFL season, he already holds the record for most returns in the history of the NFL at 15 (11 punt, four kick return).
Devin Hester truly is something special; if his career ended today he would be in the NFL Hall of Fame, let alone the Bears Hall of Fame.
Hester is a failed defensive back and mediocre wide receiver, but every time he touches the ball on special teams everyone watching holds their breathe, because they know there is a good chance something magical is about to happen.
Follow me on Twitter @ Tothemax15
Keep Reading

Chicago Bears: Like this team?