Cardinals vs Brewers: Which Team Has Pitching Advantage the Rest of the NLCS?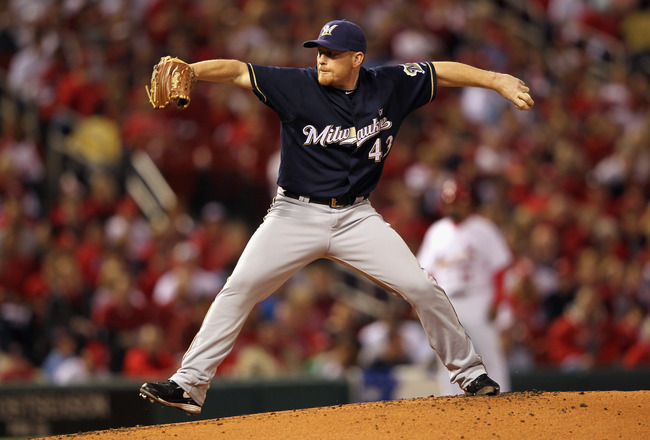 Jamie Squire/Getty Images
Veteran southpaw Randy Wolf made the biggest start of his career in Game 4 of the NLCS. He turned in seven quality innings and lead the Brewers to a crucial 4-2 win.
Pitching is so important in postseason baseball, and the right to represent the National League in the World Series may depend on it. The seven-game series has now turned into a three-game series. One more game in St. Louis, before the series is decided in Milwaukee.
Here is a breakdown of the starting pitching matchups in the final three games of the 2011 NLCS.
Game 5: Zack Greinke vs. Jaime Garcia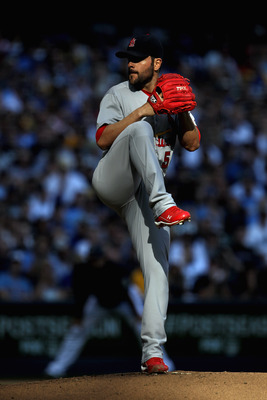 Jonathan Daniel/Getty Images
Entering the postseason, I wondered how Zack Greinke would fare dealing with the pressure of the playoffs. Well, he hasn't looked too good.
Greinke got a lucky win in Game 1 when he allowed six earned runs in six innings. He's posted a 8.18 ERA in the playoffs. Good news for Brewers fans is that Garcia has struggled a bit as well.
Garcia has lost both of his post-season starts, posting a 7.36 ERA. Greinke's lucky win in Game 1 was because Garcia got knocked out after four innings. Garcia's other start came in Game 3 of the NLDS, when he pitched well but was out-dueled by Cole Hamels.
This is a tough one to to predict because both guys struggled earlier in this series. One thing that some people forget is that Jaime Garcia is just 25 years old. I think he'll feed off the home crowd and come up big for the Cards in Game 5. It's hard to go against Greinke, as he's one of the best all-around pitchers in the game.
Crazy things happen in October, though.
Advantage: Cardinals
Game 6: Edwin Jackson vs. Shawn Marcum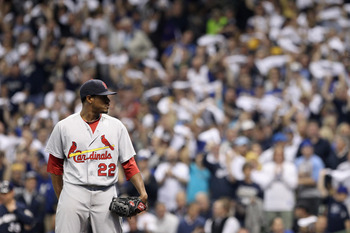 Christian Petersen/Getty Images
The series will shift back to Milwaukee for Game 6. The pitching matchup will be a rematch of Game 2, where St. Louis won 12-3.
Edwin Jackson only went 4.1 innings in that game, so he wasn't able to get the win. He came up big in Game 4 of the NLCS, which was an elimination game for St. Louis. Six quality innings and a 5-3 Cardinals win sent the series back to Philly.
To me, Jackson has been one of the biggest surprises of this postseason. He's bounced around his entire career and had very little playoff experience before this season. The Cardinals needed someone to step up like this.
Shawn Marcum has lost both of his starts this season and has an ERA above 12. The one thing Marcum had going for him coming in was that he was very successful on the road. During the regular season, he posted a 2.21 ERA on the road and a 4.81 ERA at Miller Park.
The bad news for Marcum is that this game is not on the road and Jackson has been on top of his game.
Advantage: Cardinals
Game 7 (If Necessary) Chris Carpenter vs. Yovani Gallardo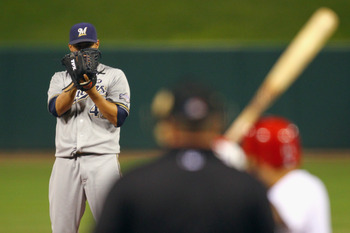 Dilip Vishwanat/Getty Images
It really would be great if the NLCS comes down to this matchup. One of the most promising young pitchers in the league going up against one of the most respected veterans.
It's hard not to go with Carpenter if this series were to get to a Game 7. He'll know how to handle the pressure, and we all saw him rise to the occasion in Game 5 of the NLDS in Philadelphia.
On the other side, Gallardo has been a force at the top of Milwaukee's rotation this postseason. He dominated the Diamondbacks in the playoff opener, and, like Carpenter, rose to the occasion in Game 5 of the NLDS against the Diamondbacks. His only blemish was Game 3 of the NLCS. He had a rough first inning, allowing four runs, but settled down nicely and kept his team in the game.
Both guys have shown they can deal with the intensity of a winner-take-all game. It would probably be a low scoring affair, with bullpen success being very important. With the home fans on his side, I'd bet on Gallardo.
Advantage: Brewers
Overall Advantage: Cardinals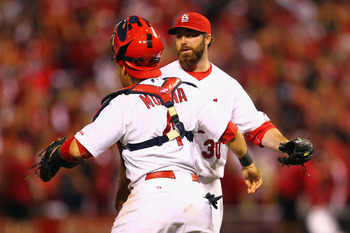 Dilip Vishwanat/Getty Images
I gave St. Louis the edge in Games 5 and 6. If they win both games, there won't be a need for a decisive Game 7.
Even if the Brewers are able to win one of those games, there is still a good shot that the Cards take Game 7. I gave Gallardo the edge, but I'm not too confident about that one. If Carpenter can shut out the Phillies on the road, he can surely do the same to the Brewers.
This series was unpredictable from the start, and it has been an evenly matched series so far. I don't think the pitchers will disappoint in the remaining three games.
As far as starting pitching goes, the Cardinals have a slight advantage.
Keep Reading

St Louis Cardinals: Like this team?