Rangers vs. Tigers: Using Twitter to Analyze Detroit's Game 5 ALCS Win
October 13, 2011
Leon Halip/Getty Images
The Detroit Tigers entered Thursday afternoon's ALCS Game 5 matchup desperately needing a victory just to be able to pack their bags for a return trip to Arlington, Texas.
The Rangers, with a 3-1 lead, appeared ready to wrap things up with their ace, C.J. Wilson on the bump.
However, the Tigers were countering with a pretty solid ace of their own in Justin Verlander, who should be a shoo-in for the American League Cy Young Award (which will be voted on next month).
Wilson has struggled thus far in the postseason, allowing eight earned runs in 9.2 innings in two starts, and the Tigers used the long ball to make sure Wilson's outing would be as miserable as his first two.
By the time balls stopped flying out of Comerica Park, the Tigers had four home runs, two by Delmon Young—a player who was left off the roster at the beginning of this ALCS.
In looking at the overall picture, our friends from Twitter had some interesting analyses to provide during the game.
In referring to Verlander's previous outings having to deal with rain, Jerry Crasnick was quick to pick up on that.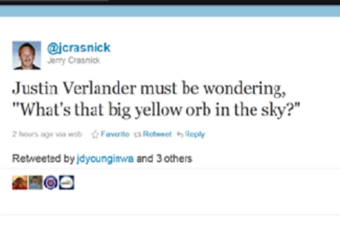 Daniel Kelly referred to the fact that Tigers manager Jim Leyland was going with his best, no matter what happens.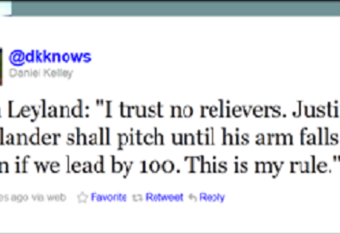 Ryan Whitney wondered if Verlander was taking after Boston Red Sox pitchers.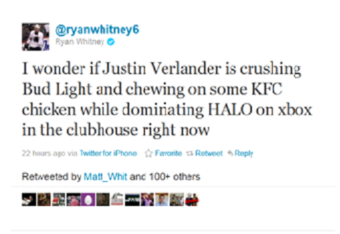 Adam Kilgore of the Washington Post marveled at the one-legged heroics of Tigers catcher Alex Avila.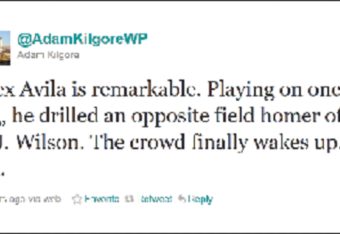 As for the heroics of Young, Twitter was abuzz with talk of Young and the power provided after he was seemingly out for the count at the beginning of the ALCS.
Kilgore once again was kind enough to point out that very fact.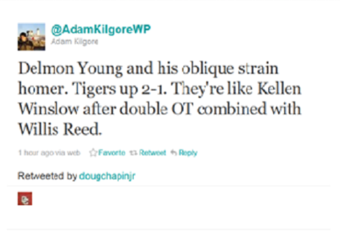 As for Nelson Cruz and his incredible power surge, he has certainly been anointed on Twitter as well.
Cruz set a record with his eighth-inning moon shot on Justin Verlander's 133rd pitch of the game.
Dave Universal wondered if maybe Young wasn't feeling well.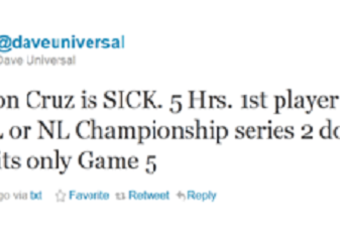 Karen Weaver chose the glamorous approach when talking about Young.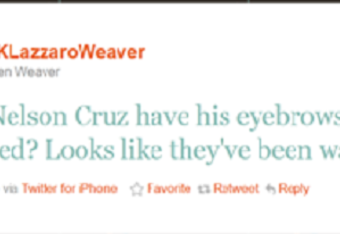 And Paulie Pabst is of course wondering if his Mets will someday come calling for Young.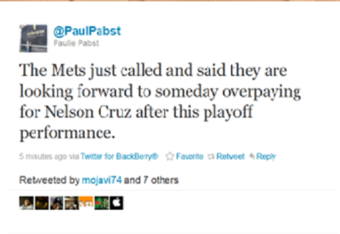 Seriously, who needs to listen to Joe Buck and Tim McCarver? We get all the great analyses we want and need just by following Twitter.
Doug Mead is a featured columnist with Bleacher Report. His work has been featured on The Seattle Post-Intelligencer, SF Gate, CBS Sports, The Los Angeles Times and The Houston Chronicle. Follow Doug on Twitter.