Chicago Cubs: 6 Expiring Contracts and $50 Million That Will Help Epstein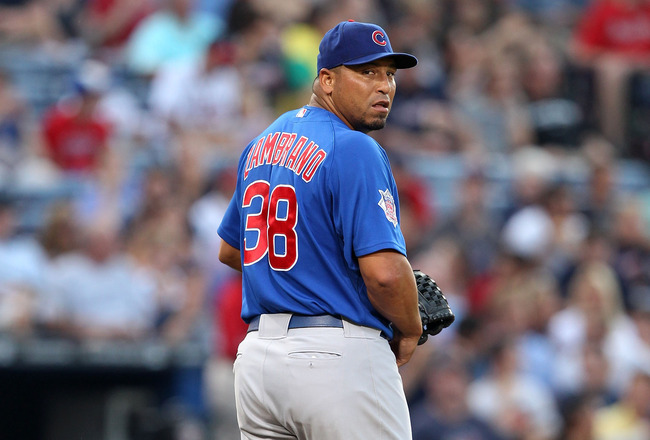 Mike Zarrilli/Getty Images
Everyone loves a good regime change, and with Theo Epstein coming to town, this is shaping up to be an exciting offseason for the Chicago Cubs.
The following slides represent a total of roughly $50 million that are coming off of the books in 2012. Still think we can't afford Prince Fielder? We can, the only question is: Will we pull the trigger?
6. The Ghost of Carlos Silva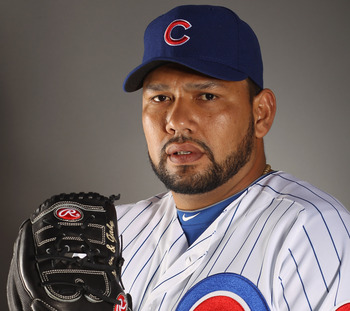 Ezra Shaw/Getty Images
Did you forget about the Milton Bradley/Carlos Silva ordeal already? I bet Tom Ricketts hasn't.
The Cubs were on the hook for $11.5 million to Silva in 2011, with the Mariners kicking in $5.5 million towards the cause. That still leaves $6 million coming off of the books from this deal for 2012.
Silva started strong in 2010 but fell apart after the All-Star break, posting an ERA of 11.12. He showed up to spring training not expecting to compete for a spot in the rotation, and posted an even more impressive 15.88 ERA.
Shockingly, he was released.
5. John Grabow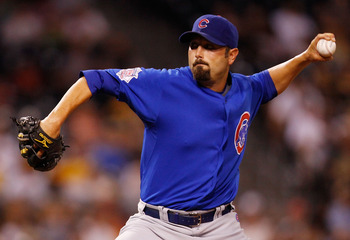 Jared Wickerham/Getty Images
Who was the most expensive Cubs relief pitcher in 2011? Marmol? Marshall? Wood?
Nope, it was John Grabow, coming in at $4.8 million.
Grabow pitched 30 games for the Cubs in 2009, with a 3.24 ERA. Jim Hendry gave him a two-year, $7.5 million extension, saying, "It was really imperative we re-sign Grabow, because he's not only our kind of guy and very successful, but has some experience and some savvy to him and can pitch seventh, eighth, ninth, matchups, righties, lefties. It doesn't matter."
Grabow's savvy lead him to a 7.36 ERA in 2010.
4. Jeff Samardzija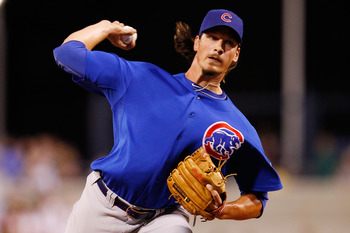 Jared Wickerham/Getty Images
Samardzija is entering free agency after the end of his five-year, $13 million contract—a contract that saw him put up a 7.53 ERA in 2009 and an 8.38 ERA in 2010.
However, he seemed to turn the corner in 2011. Samardzija's pitching became much more consistent and his 2.97 ERA reflected that.
The Cubs have a $3.25 million option in 2012; If Epstein doesn't exercise it, he has another $2 million to spend.
3. Kosuke Fukudome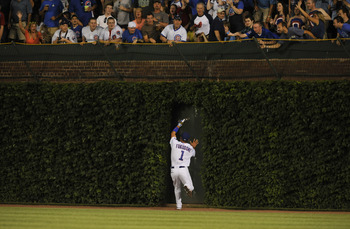 David Banks/Getty Images
In Jim Hendry's only trade at the deadline, Fukudome was dealt to the Cleveland Indians.
Despite the trade, the Cubs still paid $12.8 million out of the $13.5 million that Fukudome was owed—not a bad deal for the Indians.
Add another $13.5 million in 2012 savings for the Cubs.
2. Aramis Ramirez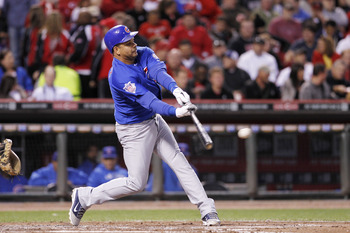 Joe Robbins/Getty Images
Aramis Ramirez wants one more multi-year deal. Coming off of the season he had in 2011, who can blame him?
He was the best-hitting, everyday third baseman in the league, hitting .306 with 25 home runs and 92 RBI.
Ramirez has said that he won't exercise his 2012 option with the Cubs for $16 million, but we'll see.
1. Carlos Zambrano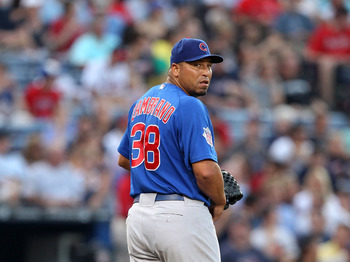 Mike Zarrilli/Getty Images
Technically, Zambrano still has one year left on his deal for $18 million. However, it's clear that he'll never pitch in a Cubs uniform again.
Ozzie Guillen has voiced interest in bringing him down to Miami. Good luck with that.
No matter where he goes, it will only be a partial victory for the Cubs. They will likely have to eat a very large portion of his contract in order to make a deal happen. Look for a trade to free up around $8 million for the Cubs in 2012.
Keep Reading

Chicago Cubs: Like this team?