Fantasy Football Tight End Rankings: Risers and Fallers
October 13, 2011
Matthew Stockman/Getty Images
The tight end position is deeper than it used to be in fantasy. Tight ends are no longer big bulky lineman with an ounce of more speed; they're now athletic pass catchers capable of breaking off big games. Figuring out which athlete is going to consistently put up points can be a frustrating part of putting together a lineup, however.
Luckily for you, there are quality options out there in case you weren't lucky enough to draft a big name. In our latest updates to the fantasy football tight end rankings, we detailed the best at the position, but here are a list of our biggest risers and fallers.
How it works: Each week we analyze a player's production on the football field and rank them accordingly, and then we go one step further and analyze their competition. Just because someone had 200-yards receiving against the Patriots doesn't mean they were that week's best performer. You are going to want a tight end that continuously puts up big numbers, even when they take on one of the league's toughest defenses.
After we rank their weekly performances, we then look at player consistency. Having a player that can consistently be a top performer is what is going to get you a championship at year's end.
RISING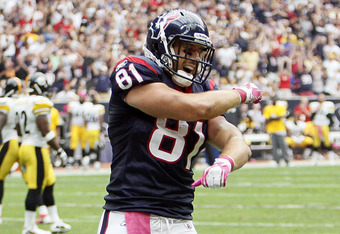 Bob Levey/Getty Images
7. Owen Daniels, Houston Texans (LW: 11)
Someone has to step up while Andre Johnson is nursing a partially torn hamstring, and that someone is Daniels. Sure, the Texans could look to Kevin Walter or Jacoby Jones for some production, but their equally poor track records forced the Texans to recently trade for Derrick Mason.
This past week was good for Daniels as he was the team's most productive pass catcher with seven catches for 89 yards. Daniels has his own injury concerns, but the Texans are employing multiple tight end sets that are confusing defenses and setting up Daniels. He is well worth the risk of injury.
11. Vernon Davis, San Francisco 49ers (LW: 16)
Davis had a slow start to the season before finally meeting with the coaching staff and pleading for a bigger role after Week 2. Since then, Davis has averaged five catches, nearly 70 yards and a touchdown. Those aren't the elite numbers we've grown accustomed to seeing from Davis, but the Niners offense is clicking lately and his numbers should only improve.
16. Heath Miller, Pittsburgh Steelers (LW: 21)
Marc Serota/Getty Images
Miller has always been one of the most underrated tight ends in the game but is working his way up our tight end rankings list. Miller has been getting targets more and more lately and could be a very strong bye week play.
He had been tied down as a blocker earlier in the season and last year but the Steelers are going to have to change their offensive game plan to match their poor offensive line play. Expect more quick passes and check downs, increasing Miller's chances of putting up good fantasy numbers.
In a world of basketball player-esque tight ends, Miller will never be a fantasy stud. He will provide consistent production when you only need those four to five points to get you over the hump.
FALLING
15. Scott Chandler, Buffalo Bills (LW: 9)
The Bills never really targeted their tight ends prior to this season, so even Chandler was surprised by his early season success. Chandler has seen a dip in production each week since the season began. It looks like things are getting back to normal in Buffalo.
24. Dallas Clark, Indianapolis Colts (LW: 18)
Clark is probably a bigger fan of Kerry Collins than he is of Curtis Painter. When Collins was the quarterback, Clark produced some fairly decent fantasy stat lines and was targeted frequently. Now that Painter is the quarterback however, his stats have dropped pretty significantly. Painter tries to get the ball in to the hands of his receivers most often so Clark isn't going to return to fantasy elite any time soon.
30. Visanthe Shiancoe, Minnesota Vikings (LW: 26)
It's not like Shiancoe is getting targets, he just isn't getting any good passes his way. We don't want to come off as the typical McNabb hater, but it's time for the Vikings to at least try something else. The Vikings' only offensive threat is Adrian Peterson, and even Percy Harvin has taken a massive drop in our rankings.
Every week TheSportsCannon.com updates their Fantasy Football Positional Rankings to keep up with the changing landscape of the football season.
The Sports Cannon is a fantasy football news website that offers free advice, rankings, waiver wire pickups and matchup rankings. You can follow TSC on Facebook or Twitter and can even email your questions to: advice@thesportscannon.com.