Fantasy Football Player Rankings: Updated Quarterback Rankings for Week 6
October 13, 2011
Streeter Lecka/Getty Images
There are some serious shakeups going on around the NFL at the quarterback position. Injuries have thrust players like Matt Moore and Curtis Painter into game action, and a benching in Denver is bringing in the Tim Tebow era.
It is easy to get hyped up about certain players just because of one good start. It's also too easy to get down on a player because they have had some poor performances. In our latest fantasy football quarterback rankings we have tracked player progress and their level of competition to give you the most accurate rankings of player consistency around.
How it works: Each week we analyze a player's production on the football field and rank them accordingly, and then we go one step further and analyze their competition. Just because someone torched the Broncos doesn't mean they were that week's best performer. You are going to want a quarterback that continuously puts up big numbers, even when they take on one of the league's toughest defenses.
After we rank their weekly performances, we then look at player consistency. Having a player that can consistently be a top performer is what is going to get you a championship at year's end.
Top Five
1. Aaron Rodgers, Green Bay Packers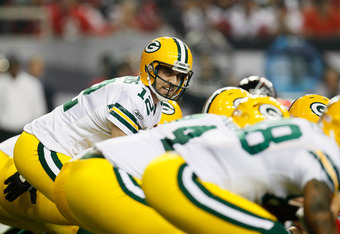 Kevin C. Cox/Getty Images
If you watched the game at home you know that Rodgers' numbers could have been even better. The Packers were slowed in the red zone in their Sunday night matchup against the Falcons and it hurt Rodgers' fantasy numbers. Of course, Rodgers still managed to post nearly 400 yards… again, and had a multi-touchdown performance… again. Rodgers was slowed in the first half, playing without his regular two starting tackles but tore the Falcons' secondary apart in the second half.
2. Cam Newton, Carolina Panthers
Newton is improving as a passer each week, which is a scary thought if he isn't on your team since he is already one of the best in fantasy football. Newton completed passes to seven different receivers on Sunday in a loss versus the Saints, further proving he is more than just an athletic freak. Further increasing his value, however, is the fact that Panthers offensive coordinator Rob Chudzinski said that Newton is the team's first choice running the ball when they get inside the red zone.
3. Tom Brady, New England Patriots
Brady's 14-game streak of multiple touchdown performances came to an end in the Patriots' home win against the Jets on Sunday. Brady should have extended the streak but a costly drop by Aaron Hernandez near the end zone actually led to an interception later in the game. Brady will still likely put up great numbers for you this week, so don't go shopping him just because he only had one touchdown.
4. Drew Brees, New Orleans Saints
In the Saints' comeback victory in Carolina on Sunday, Brees surpassed 350 passing yards for the fourth time this season. The Saints defense let the team down allowing Cam Newton to score a touchdown in the waning minutes, forcing the Saints to air it out on their final drive. That added 80 yards passing and another touchdown on to Brees' stats. Without that final drive, he likely has a letdown week in fantasy. The Saints' next five games on the schedule feature teams with struggling offenses, so there could be a bit of a regression in Brees' weekly average.
5. Matthew Stafford, Detroit Lions
Stafford is third in the NFL in passing touchdowns and seventh in passing yards. Stafford has started to move the ball around the field more recently, getting tight end Brandon Pettigrew more involved in the offense. Sure, he still relies on Megatron much more than any other receiver but can you blame him? The Lions went in to the second half of Monday Night's win over the Bears again facing a second half deficit. Lions fans probably hate that, but Stafford owners likely love the fact the Lions have to throw the ball more often in the second half.
Every week TheSportsCannon.com updates their Fantasy Football Positional Rankings to keep up with the changing landscape of the football season.
The Sports Cannon is a fantasy football news website that offers free advice, rankings, waiver wire pickups and matchup rankings. You can follow TSC on Facebook or Twitter and can even email your questions to: advice@thesportscannon.com.