Why Theo Epstein's Departure Is Good for the Boston Red Sox
October 14, 2011
Elsa/Getty Images
Right now the future doesn't look too bright for the Red Sox. 
At first, it feels as if the S.S. Red Sox is sinking. People are scurrying to cover their asses after two bad years. Theo Epstein has gone to Chicago to take a cushy job with the Cubs.
His exit doesn't sit well with me, primarily because he gave Terry Francona a bunch of underachieving, overpaid and overrated players to work with. Every time I watch John Lackey pitch, it feels like $82.5 million is being set on fire right in front of me. Dice K has been bad for three years now, and that's another $100 million down the drain. 
Ownership used the team's main publication to smear its outgoing manager. 
What was Terry Francona's crime? For a split second, he was honest by saying he felt like he wasn't supported by his bosses. Was that so horrible? Not really. Going through marital problems, horrific knee pain, intense media scrutiny and a bad season is tough enough. No man should have to deal with the humiliation of having his private life leaked to the media like that. 
But let's avoid the temptation to rip the media. Hunger for big news is in their DNA, and they did their jobs. In the Facebook/Twitter/TMZ world we live in, it's naive to think the Globe wouldn't print the story. It's like waving a red flag at a bull. You can't be surprised when they run towards it.
The problem is the gutless person who leaked the stuff and did not have the stones to go on record.  
Despite all the drama that's going down on Yawkey Way, however, there are reasons to be optimistic.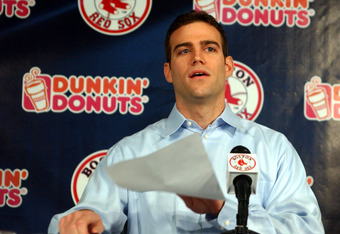 Darren McCollester/Getty Images
Long term, Theo's departure will be a good thing for this team. He was a bright guy who seemed to be dedicated to his job, but it's not as if we're losing a young Branch Rickey here. Overall, his record was pretty good, but let's face it, he lost some of the magic touch he had from 2003 to 2007. 
This is a great chance for the Red Sox because it's a chance to start fresh.
Luckily for us, the team isn't too far away from winning another title. All they need is to pick an intelligent guy that's hungry to win and has better judgment than Theo did when it comes to picking players. New blood is badly needed, because when it came to free agency, Theo's eye for talent was not very good. 
Part of me feels nit-picky for saying this, but we shouldn't put our heads in the sand. 
Ever since the 2007 World Series, this team has gotten worse every year under Theo's watch.  Let's look back at the results starting with the 2008 season—
2008: the team goes 95-67 and loses in the ALCS to Tampa Bay
2009: the team goes 95-67 again but loses in the ALDS to Anaheim
2010: 89-73, 3rd in the AL East, and they miss the playoffs
2011: 90-72, 3rd in the AL East, and they miss the playoffs
Considering the money and resources this team has at their disposal, the fact that they've missed the playoffs for two straight years is a joke.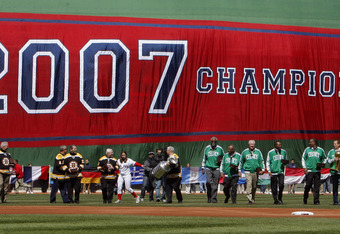 Pool/Getty Images
99.9 percent of the time, I hate Yankee fans, but I do like the mentality they have towards their team.  Like the Yankees, the Red Sox are one of the league's superpowers. It's not unrealistic to expect them to be a World Series contending team every year. 
The warm glow of 2004 and 2007 is still there, but it's faded considerably. Watching the Yankees win the 2009 World Series has me starving for another championship. 
Theo's departure is not the end of the world. 
The team can right the ship next year if they pick a GM with a good eye for the right free agent, the best trade scenarios and the brightest young talents going forward.
Many of the prospects that could have been useful in 2010 and 2011 were dealt to get Victor Martinez and Adrian Gonzalez. On the farm system, Theo had a stellar record, but for the past two years, he was in a slump. Daniel Bard was the last guy to come up through the farm system and really help the big league club. The rest of the players who came up in 2010 and 2011 did not play enough games. The sample size is too small. 
In terms of trades, this team badly needs a fresh perspective. Theo's track record had many gems but plenty of stinkers as well. Coco Crisp was a misfire. Bronson Arroyo for Wily Mo Pena looks horrible to this day. Doug Mirabelli for Cla Meredith and Josh Bard bombed. Eric Gagne was a disaster while he was here. 
Various media outlets reported Theo Epstein was opposed to the Josh Beckett for Hanley Ramirez deal. Let's say Theo didn't want to trade for the guy who was the ace of the staff on the 2007 title team and a third baseman who was another key component that year as well. Knowing that just confirms my belief that he lost his touch, and that it was time for him to move on.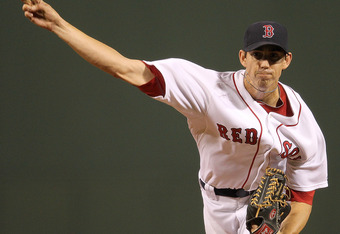 Jim Rogash/Getty Images
What's the outlook on some of the young players that are still here? Right now, it's okay, but the next GM is probably going to have to reload the farm system and buy vets until the kids are ready. 
Kyle Weiland had a tendency to be become ineffective after 25-30 pitches. Perhaps he can become a good middle relief pitcher. Felix Doubront showed some talent in 2010 but missed time with arm trouble. Jose Iglesias is apparently Ozzie Smith defensively, but questions about his hitting are still there. Josh Reddick has some talent and should be on the big league roster. Ryan Kalish looked good in 2010 but has had shoulder problems, so we don't really know what his future is. 
As a side note, it's going to be a breath of fresh air when the new GM comes in. He'll have a degree of credibility with me that Theo lacked. The minute he said JD Drew was worth the years and money they paid him, I could no longer really believe a word he said. You expect us to believe it was smart to drop $70 million on a guy who played in just 606 out of a possible 810 games? No way. 
Until the day I die, I will be grateful to Theo for what he did while he was here. He may be in Chicago now, but the team will be good without him. 
This is a chance to take an honest look at what went wrong and infuse the franchise with new blood that's eager to win. 
Winning another title isn't a pipe dream. All they have to do is get an intelligent GM, plug some holes here and there, weed out some of the players who weren't 100-percent committed to winning, and cut bait with some older vets.
It can happen. Hell, if the Bruins can end their Stanley Cup drought, anything is possible.