MLB Free Agents 2012: Why C.J. Wilson Should End Up with the Nationals
October 17, 2011
Bob Levey/Getty Images
The Washington Nationals, who finished 80-81 last year, are just one big free-agent signing away from making their first playoff appearance.
First baseman Michael Morse had a breakout season, leading the team in most batting categories and finishing fourth in the National League.  He can expect a fat raise when he's arbitrated this offseason.
Talented players Ryan Zimmerman (who had a season riddled with injuries but finished strong) and Jayson Werth still have good seasons left in them and could easy rebound from a lackluster 2011 season.  By the end of the year, they will likely be joined by star prospect Bryce Harper.
The Nationals have solid, young relievers in Drew Storen, Tyler Clippard and Ryan Mattheus.  The Nationals led the majors in relief wins and were fifth in relief ERA. 
So what is holding up the Nationals from a 100-win season?  Starting pitching.  Their rotation is essentially one of third, fourth and fifth starters, and while they have a solid bullpen, their starters' combined ERA is average at best, no match for the rotations of the Phillies and Braves. 
The Nationals' rotation combined for only three complete games, and no one who started 17 or more games for the Nats averaged more than seven strikeouts per nine innings.  The Nationals' starters combined for a 49-58 record, tied for 22nd in wins but were 23rd in opponents' batting average, 28th in total wins and 26th in total decisions, indicating that their starters just can't get it done.
Let's look at the three men who started the most innings for the Nats in 2011: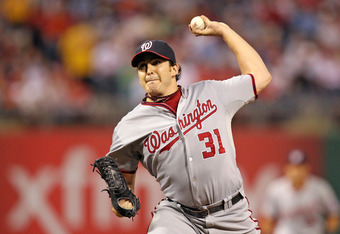 Hunter Martin/Getty Images
Livan Hernandez was supposed to be the Nats' ace last year.  The former All-Star and NLCS MVP had a 4.47 ERA and a 1.39 WHIP, with only 99 Ks and a .291 batting average allowed.  He'll be at least 37 (his real age is doubted) next season, and his best seasons are clearly years behind him.  He's a free agent now, and if the Nats had any sense, they'd put him out to pasture.
John Lannan led Nats' starters in wins last year.  However, I doubt that you can build a rotation with Lannan as the lynchpin.  His 3.70 ERA is more than half a run more per nine then you'd like your ace to allow, and a 1.42 WHIP suggests that Lannan's ERA may be a little lower than his actual talent on the field.  Furthermore, Lannan had only 106 Ks in 33 starts and a 10-13 record without a single shutout or complete game.  Not ace material.
The third man in the Nationals' rotation is Jordan Zimmermann.  As with Livan and Lannan, Zimmermann had a losing record, though he had a 3.18 ERA and a 1.14 WHIP.  Zimmermann would seem as the best option as ace, but he's still not really good enough to go toe-to-toe with Halladay or Hudson.
Yeah, I know that Stephen Strasburg will likely be a mainstay of the Nationals' rotation, but I'm wondering if building a rotation around Strasburg is a good idea.  Strasburg lacks veteran moxie, and his Ks per nine numbers will go down (and consequently, his WHIP will go up) once opposing players and coaches figure him out.  And there's a chance that Strasburg could get seriously hurt again.  It would certainly help the Nationals' chances at a playoff berth if they had another pitcher at least as good as Strasburg or Lannan.
Who's my candidate?  C.J. Wilson, one of the best pitchers on the market this season.  Wilson has won 15 games or more each of the two seasons he was a Rangers starter.  His ERA was better than Zimmermann's, with a larger sample size and having to face potent American League lineups like the Angels frequently.  He also fanned 206 batters, 82 more than Zimmerman. 
Wilson has the kind of experience that's invaluable in an ace—he's already carried the Rangers on his back for a season and has seven playoff starts and counting.
Wilson wouldn't even need to buy new gloves...his old red and blue ones will work fine in Washington.
Yeah, Washington would have to shell out some kale to get Wilson, but keep in mind that the nation's capital is one of the ten biggest media markets in the United States, certainly big enough to support a decent ballclub.
Bottom line: If the Nats can through a rotation of Wilson, Strasburg, Lannan and Zimmermann, they'd be competitive in the NL East and have a shot at making the playoffs.