2012 NFL Draft Sleepers: 25 Players You Need to Get to Know Now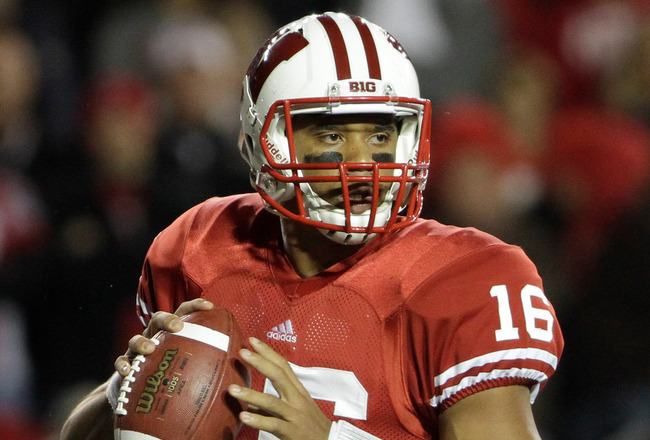 John Gress/Getty Images
The NFL season is only five weeks old, but it is never too early to talk about the NFL draft. Everyone that follows football is aware of Andrew Luck and his excellent chance of being selected No. 1 overall. However, there are a ton of players that do not get the publicity of Luck.
If you look across the NFL landscape, you will find plenty of players that have out performed their draft position. These players are often refereed to as "sleepers," players every team wants to land. Often times, a team's draft is made or broken by sleepers.
People have different definitions of a sleeper. I personally feel that a sleeper can be selected at any point in the draft, even the first round. To me, a "sleeper" is easily defined as someone who out performers their draft position.
Prior to the draft, prospects will see their draft stock fluctuate for any number of reasons. This fluctuation is what often creates sleeper picks. For example, many evaluators felt that Nick Fairley was worthy of a top 10 selection. However, as the draft approached, question marks emerge. These question marks resulted in Fairley slipping to the No. 13 overall.
Fairley has a good chance to develop into a sleeper pick, as he has the talent to perform above his draft selection.
This slideshow lists 25 players that I feel can outperform their draft position. The slideshow is not in any particular order; just a list of intriguing names.
Russell Wilson: Quarterback, Wisconsin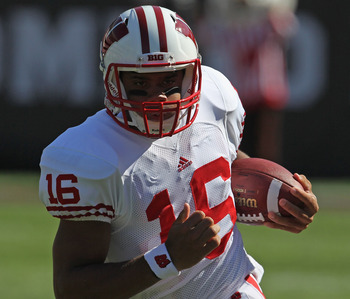 Jonathan Daniel/Getty Images
Russell Wilson is listed at 5'11", about three inches shorter than the average quarterback. NFL evaluators considered the height of a quarterback to an important factor. However, there have been a few quarterbacks that have been able to be successful.
A current example is Drew Brees, who is listed at 6'0". Brees dropped to the second round because of size and arm strength questions. Wilson could see a similar drop come draft day.
Shorter NFL quarterbacks tend to struggle because they are unable to see over the line. The quarterback needs to have a clear view of the field in order to quickly find his target.
Wilson has proven to be a successful college quarterback. He has been able to evaluate the play of everyone around him. His ability to hurt defenses with his feet add an extra element to his game.
Overall, Wilson's height will have a big impact on his draft stock. However, the success of other smaller quarterbacks shows he has a chance for success.
Tyler Eifert: Tight End, Notre Dame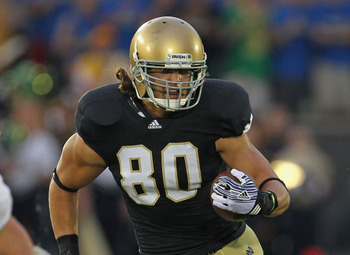 Jonathan Daniel/Getty Images
The NFL is starting to work their way back to featuring tight ends. In the past several years, offenses were using more four wide receiver sets. However, we have seen more athletic tight ends emerge as featured targets. A great example of this situation is the play of Aaron Hernandez.
Tyler Eifert is one of those big and athletic tight ends. He doesn't posses great blocking skills, but shows good effort. His willingness to contribute in the running game increases his value.
However, Eifert's strength is his ability to make plays in the passing game. He has an excellent combination of size and speed, standing an impressive 6'6". His ability to get off the line of scrimmage allows him to attack the seam.
Eifert has good hands, always attacking the ball and catching it away from his body. He would be a great option for a team that can utilize a pass catching tight end.
Dwight Jones: Wide Receiver, North Carolina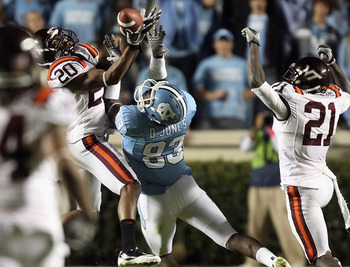 Streeter Lecka/Getty Images
North Carolina has had a few wide receivers make the adjustment to the NFL. Hakeem Nicks and Greg Little both have come out of North Carolina, each making an early impact. Dwight Jones is starting to make a move up draft boards. He is making waves in a very strong receiver class.
Jones has had a great start to the season. At 6'4", 225 lbs,, Jones possess good size, something that the NFL is starting to covet. He combines his size with good straight line speed. Jones is able to out pace defensive backs and attack the deep part of the field.
While Jones has good straight line speed, he lacks the elusiveness to be effective in space. Jones is more of a possession receiver, doing a lot of his damage in the middle of the field. He isn't afraid to go across the middle and take a big hit.
Vick Ballard: Running Back, Mississippi State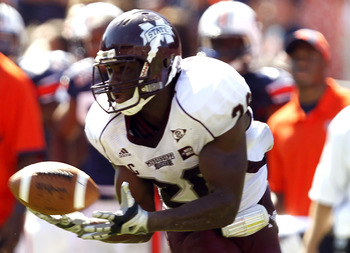 Butch Dill/Getty Images
Running backs have a tendency to fly under the draft radar. Only a handful of running backs actually end up in the first round. So if a back is not a first round prospect or in the Heisman running, he will get lost in the shuffle.
Vick Ballard is not going to be selected in the first two rounds the 2012 NFL Draft. However, that doesn't mean he can't have a successful NFL career. He is a good candidate to outperform his draft position.
Ballard has a solid build with a strong lower half. This helps him gain yardage after the initial contact. He has excellent quickness and a burst that allows him to quickly press the hole. Ballard is a constant home run threat, but can also pound out the tough yardage.
In the passing game, Ballard does a good job catching the ball and pass protecting. He is a reliable target, plucking the ball with his hands. Once in space, Ballard has quickness to be a dynamic playmaker. Ballard isn't afraid to take on pass rushers, while remaining balanced and using his hands to engage.
The biggest concern is that Ballard tends to go east and west rather than getting upfield. Ballard is very dangerous, especially when he shows a commitment to getting north and south.
Devon Still: Defensive Tackle, Penn State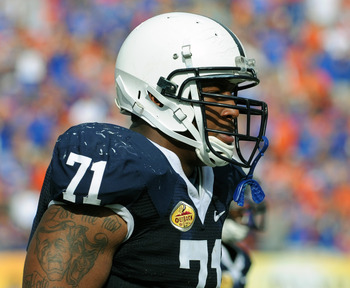 Al Messerschmidt/Getty Images
Devon Still is a very intriguing prospect who has seen a rise in this draft stock. Entering the season, he was thought of as an underachiever. He possesses a ton of talent, but had inconsistent production. Still was able to show flashes of greatness.
This season, Still has really found his stride and consistency. He does a great job getting off the ball and penetrating the pocket. His ability to get into the backfield has caused a lot of disruption. Still is finally playing up to his potential, and could be earning himself some money. It is nice to see him matching his talent level and production.
Still is considered a sleeper because he isn't getting a ton of national attention. However, if he continues his level of play, Still could end up in the first round discussion.
NFL teams are always searching for defensive linemen that are able to create pressure. Still appears to be a great fit as a 3-technique defensive tackle.
Dwayne Allen- Tight End, Clemson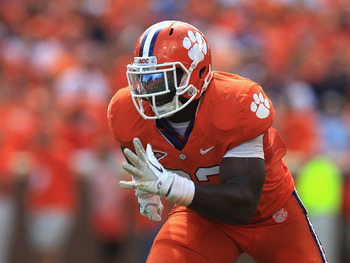 Streeter Lecka/Getty Images
Any NFL team in need of upgrading the tight end position should pay attention to Dwayne Allen. The tight end position is often under estimated, but provides a lot of value. Tight ends are typically labeled as a security blanket for the quarterback.
Dwayne Allen has the attributes to be a very good pass catching tight end. He has a nice thick build that allows him to use his body to block out the defender. Allen has terrific hands, always plucking the ball out of the air.
He shows good a football IQ by easily locating the open zones. Allen does a nice job attacking the football, as he is not afraid to go up for catch. His balance allows him to drop his pad level to reach low thrown balls.
Allen doesn't have elite speed, but he does have good explosiveness. He is able to cleanly snap off his routes and create separation.
He is unlikely to be a first round selection, but can easily put up first round numbers.
Isaiah Pead: Running Back, Cinncinnati
Andy Lyons/Getty Images
One of the biggest factors in being a successful NFL running back is the ability to press the hole. This is the ability to quickly work to the line of scrimmage and hit the open running lane. Isaiah Pead does an excellent job pressing the hole. He possesses great quickness and doesn't hesitate once he identifies the running lane.
Pead's explosiveness is something that you immediately notice. He has no problem out pacing defensive angles and reaching the second level. His speed is especially effective when attacking the edge of the defense.
Despite his size, Pead is able to gain yards after contact. He keeps his pad level low and runs behind his pads. His balance allows him to make terrific cuts and change direction. Pead is a very elusive runner.
In the passing game, Pead shows the ability to run clean and crisp routes. He does a good job catching the football with his hands. Pead is a very dependable receiving target. His lack of size and bulk limits is blocking ability, but he is at least willing.
A.J. Jenkins: Wide Receiver, Illinois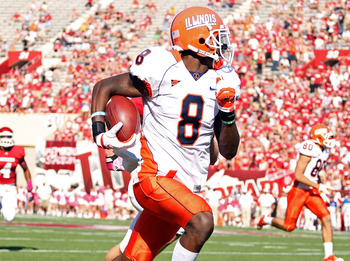 Andy Lyons/Getty Images
In recent years, Illinois has had several prospects fly under radar, such as Corey Liuget. However, as the draft approached, these prospects made a move up the board. Wide receiver AJ Jenkins strikes me as a prospect that can make a late push.
Jenkins has good size while flashing the ability to attack the defense deep down the field. He doesn't have great speed, but does a good job changing gears. His ability to quickly get in and out of his breaks help him gain separation.
He is a reliable target, as he always catches the ball with his hands. During his career, Jenkins has made several impressive catches. He might not be a highly rated prospect because he lacks elite speed.
However, he has a chance to quickly earn the trust of a quarterback. Earning trust is how rookies make an early impact.
Kendall Reyes: Defensive Tackle, UConn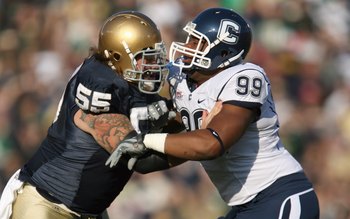 Jonathan Daniel/Getty Images
Kendall Reyes is flying under the radar, but is deserving of attention. Playing at Connecticut means that you will not receive a ton of national attention. However, Reyes is a terrific player who's name you will hear as the draft approaches.
Reyes is a well put together individual, with a thick enough base to hold up at the point of attack. However, his best attribute is his explosive first step. Reyes is very quick off the ball, which allows him to get up field and penetrate the pocket. The ability to create pressure is something NFL teams covet.
The best defenders in the NFL don't only possess great talent, but also a high motor. Reyes is a hard worker, constantly fighting for position. He is someone that will chase the ball carrier all over the field.
Reyes is not only a good perpetrator, as he can also hold at the point of attack. He has the ability to play two gap football, making him a versatile prospect. Reyes is someone that I am very high on, and feel could be a star in the NFL.
Tyler Wilson: Quarterback, Arkansas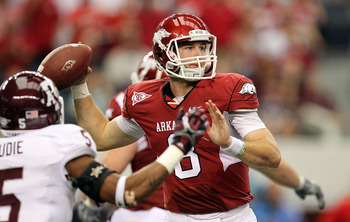 Ronald Martinez/Getty Images
Tyler Wilson is quickly making a name for himself as he leads Arkansas to another successful season. Wilson isn't getting a ton of draft attention because many feel he will return to school. However, I don't feel it is such an easy decision.
As the season progresses, Wilson continues to grow and develop. At the end of the season, he could be looking at a very tough decision. We have seen plenty of quarterbacks suffer because they decided to return to school. Wilson's stock might not be any higher than it is right now.
As far as skills go, Wilson has all the physical attributes you look for in a quarterback. He has a powerful arm, good size and decent athleticism. Wilson can make all the NFL throws with accuracy and zip.
Wilson also has the pleasure of learning under Bobby Petrino. Petrino is one of the best offensive minds in all off football. Any information he passes on to Wilson will benefit him in the NFL.
Josh Chichester: Tight End, Louisville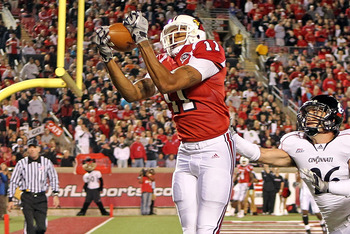 Andy Lyons/Getty Images
The first thing you will notice about Josh Chichester is his impressive size. He is listed at 6'8", 240 pounds. Chichester uses his size to his advantage in both the run and passing game. He presents a major mismatches for the defense.
Chichester isn't a great in-line blocker, but he is a willing blocker. He works hard to gain leverage, which isn't easy given his size. His long arms help him get into the body of the defender and get a push off the line.
In the passing game, Chichester uses his size to block out the defender and make the catch. He does a good job plucking the ball out of the air. While he doesn't have elite speed, he has more than enough to attack the seem.
Whitney Mercilus: Defensive End, Illinois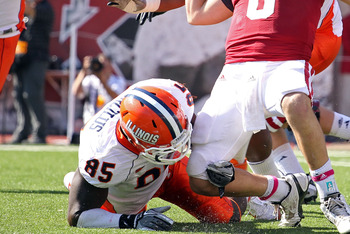 Andy Lyons/Getty Images
Whitney Mercilus been one of the players that have led Illinois to their impressive start. He is one of the top pass rushers in the entire Big 10. Mercilus is starting to get some draft attention, but he will only climb so high. NFL teams have a tendency to shy away from players with only one year of excellent prodcution.
However, it is tough to ignore Mercilus' prodcution. He is a relentless pass rusher who will stop at nothing to get to the quarterback. His best attribute is his speed and ability to attack the edge. All the great pass rushers have a high motor. Mercilus is very tenacious, with a high motor.
Kevin Reddick: Linebacker, North Carolina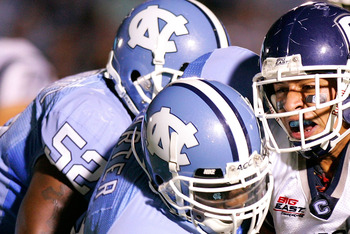 Kevin C. Cox/Getty Images
If you look up and down any team's draft board, you will find plenty of players from North Carolina. The Tarheels have top level prospects such as Quinton Coples and Zach Brown. However, Kevin Reddick is a player that shouldn't be overlooked.
Reddick is currently lining up at the middle linebacker position but has the versatility to play a few positions. He has a nice thick build that allows him to work his way through contact. His ability to attack the football can be attributed to his quick burst.
He is a very aggressive linebacker and loves to attack the line of scrimmage. He isn't afraid to stick his nose into the line and take on contact. However, his aggressive sometimes leads to poor angles and missed tackles.
David Wilson: Running Back, Virginia Tech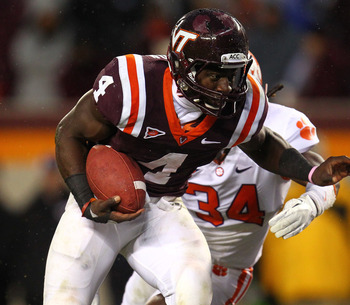 Ned Dishman/Getty Images
If you watched a lot of Virginia Tech football, David Wilson is a familar name. However, in the past, few years Darren Evans and Ryan Williams got all the attention. Despite backing up Evans and Williams, Wilson showed a ton of promise. So far this season, he is displaying his talents.
Wilson is a patient and powerful runner. He does a great job waiting for his linemen to set up the blocks. His ability to run behind his pads helps him gain yards after contact. Wilson possesses enough balance to make quick cuts.
The NFL is made up of different type of running backs, with coaches having their own preferences. Wilson is a north and south runner, which is something most coaches favor. He doesn't waste time; he just finds the open hole and hits hard.
Kawaan Short: Defensive Tackle, Purdue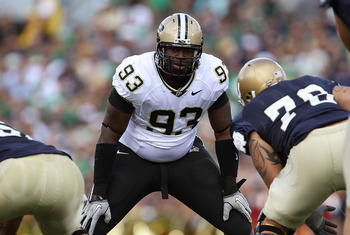 Jonathan Daniel/Getty Images
Defensive tackles only really gain attention if they are creating pressure. However, there are plenty of good defensive linemen that control the line of scrimmage. Often times, the success of the defense depends on the ability to hold at the point of attack. This clogs the running lanes while also allowing the linebackers to flow to the football.
Kawaan Short is very strong defensive tackle, capable of controlling the line of scrimmage. His upper body strength allows him to engage and move potential blockers. Short's strength is a small part of his success.He always fires off low, maintaining leverage throughout the play.
Short is not a great pass rusher, but he can get a push off the line. His pass rushing ability is limited because of his lack of quickness. However, his technique and strength allows him to drive back the offensive line.
I can see Short as a 4-3 nose tackle and someone that can dominate the line of scrimmage.
Bernard Pierce: Running Back, Temple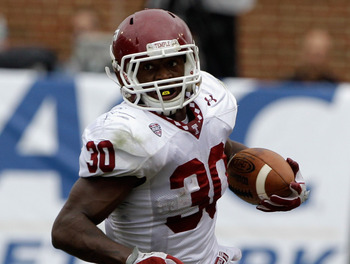 Rob Carr/Getty Images
Former Temple head coach Al Golden did a great job bringing talent to the university. In recent years, Temple has seen Muhammad Wilkerson and Jaiwquan Jarrett selected in the first two rounds of the NFL Draft. Bernard Pierce will likely be another impact player drafted into the NFL.
Pierce has spent his entire career compiling tons of yardages. He is a very physical running back who rarely is taken down by initial contact. Playing at Temple, Pierce didn't always face top competition. However, he has had successful games against the likes of Penn State, an always strong defensive unit.
Don't expect Pierce to wow many people at the combine, as he doesn't possess elite speed. His strength is his tough running style. Pierce will be able to succeed in a power running attack where he is asked to run between the tackles.
Barkevious Mingo: Linebacker, LSU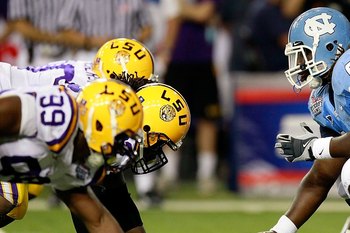 Kevin C. Cox/Getty Images
Every season, LSU features a very strong defense. That defense routinely graduates players into the NFL, where they are very successful. This season, LSU's undefeated season can be attributed to the play of the defense. Barkevious Mingo has been one of the biggest playmakers on the unit.
He is a hybrid player, who will likely have to transition to linebacker in the NFL. However, he has shown the explosiveness and athleticism to be able to handle the move.
At this point, Mingo is all about potential and upside. His first step off the line of scrimmage is deadly, allowing him to quickly get into the backfield. When watching the LSU defense, Mingo will likely be one of the first players you notice.
Mingo is always the in the backfield and pursuing the football. He needs a lot of work with his instincts and technique, but you can't teach his explosiveness.
Zebrie Sanders: Offensive Tackle, Florida State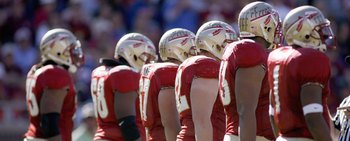 Marc Serota/Getty Images
Zebrie Sanders plays offensive tackle for Florida State and isn't even the most recongnizable on his own team. Andrew Datko is considered the better player, thus getting the majority of attention. However, I feel that Sanders has the better pro potential.
Sanders is a big and athletic offensive lineman, but could stand to add a little more bulk. He possesses quick feet and the ability to mirror the defender. His ability to reach the edge allows him to excel in pass protection.
Protecting the passer isn't only about quickness; it takes balance and strength. Sanders does a good job keeping low, allowing him to remain balanced after the initial contact. He has heavy hands and can velco to the pass rusher.
In the running game, Sanders is able to fire out low and get a good push off the line. However, he needs to add more strength and bulk in order to become a better run blocker.
Sanders' biggest question mark is his consistency and effort. However, he has enough raw talent to be a good NFL tackle.
Audie Cole: Linebacker, North Carolina State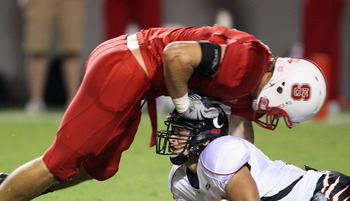 Streeter Lecka/Getty Images
You would be surprised to learn that NC State has produced several high draft picks such as Mario Williams and Phillip Rivers. NC State currently has a linebacker that has the potential to have an impact in the NFL. Audie Cole will not be selected in the first round, but he still has a bright future.
Cole is a hardworking player who is always in pursuit of the football. He doesn't have elite speed, but has enough to cover sideline to sideline. One of Cole's strengths is his ability to hold up in coverage. He has a good feel for the plays developing around him and the burst to break on the ball.
An area of concern is Cole's ability to diagnosis a play. At times, he will be caught guessing and out of position. Cole has limited upside, but can develop into a very solid NFL linebacker.
Willliam Vlachos: Center, Alabama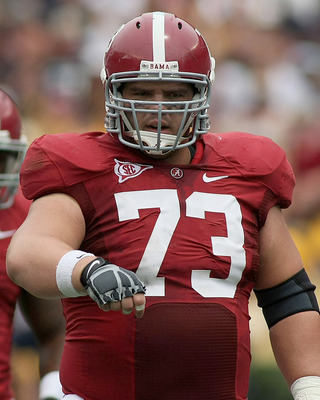 Greg McWilliams/Getty Images
A lot of players see their draft stock rise because they pass the eye test. The eye test is the impression you get from their physical build or athleticism.
William Vlachos is not going to pass any eye tests. He is a short and stocky offensive lineman that doesn't have fluid movements. Vlachos is listed at 6'1" and 300 pounds; he has a low center of gravity and good bulk. His stocky build limits his mobility, as he struggles to effectively work in space.
However, what Vlachos lacks in athletic ability he makes up with technique. His shortness actually works to his advantage, as it allows him to get underneath the defender. Vlachos uses his size to explode into the defender and drive him off the ball.
Vlachos does a great job of getting inside hand placement; this combined with this leverage makes him a good offensive lineman. He has spent his entire career facing tough SEC competition, including Nick Fairley and Drake Nevis.
He isn't going to be an early draft selection, but can easily be a 10-year starter in the NFL.
Shea McClellin: Defensive Line, Boise State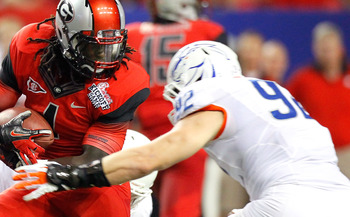 Kevin C. Cox/Getty Images
When someone mentions the Boise State defensive line, I think about Billy Winn. Winn is the best pro prospect on the entire Boise State roster. However, fellow defensive lineman Shea McClellin is also making some waves in the draft pool.
McClellin has an explosive first step, which allows him to attack the edge and create pressure. McClellin is a versatile player, possessing experience rushing the passer from both a two and three point stance.
I see McClellin as an excellent pass rusher, who also possesses great blitz timing. He appears like a great fit as a rush outside linebacker in a 3-4 system. The more you watch McClellin play, the more you get a feeling he could be a fast rising prospect.
NFL teams love players that can create pressure, and McClellin is developing into an extremely good pass rusher.
Mike Adams: Offensive Tackle, Ohio State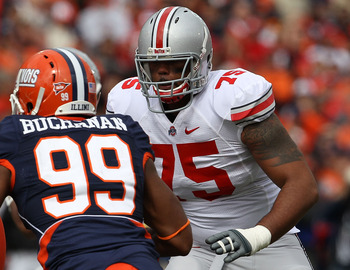 Jonathan Daniel/Getty Images
Mike Adams was among the Ohio State players suspended for the first five games of the season. He was mixed up in the tattoo and selling of items scandal. His suspension has limited his visibility, mainly because he isn't on the field. However, Adams will have the last few games to rebuild his draft stock.
The NFL places a high value on offensive tackles, especially ones that can play on the left side. Adams is a big and athletic tackle who is able to run and pass block. His strength is his ability to protect the passer and mirror rushers.
Adams plays with good leverage and balance, allowing him to anchor after contact. His balance also helps him react to the counter moves of the pass rush. Adams projects as a left tackle, someone that could make a push into the first round.
He needs to find a way to add some more bulk to his frame. Adams could also show a little more emotion and nastiness.
Ronnell Lewis: Linebacker, Oklahoma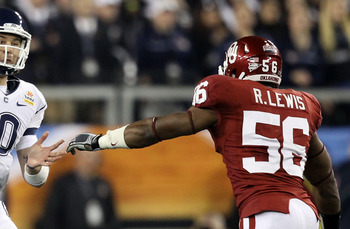 Christian Petersen/Getty Images
Ronnell Lewis fits the mold of player that has seen their draft stock rise in recent years. The NFL is currently in a phase where they are seeking undersized linebackers to convert to linebacker. These players are usually expected to create pressure.
Lewis is a tweener that will be asked to convert to linebacker. The Oklahoma defense likes to use Lewis in many different roles. He has experience rusher the passer from both a two and three point stance. This experience will make NFL teams feel more comfortable about asking Lewis to change positions.
This season, Lewis has shown why he is considered an NFL talent. His quick burst off the ball has allowed him to get into the backfield. He is still a work in progress, but the sky is the limit.
Senio Kelemete: Offensive Line, Washington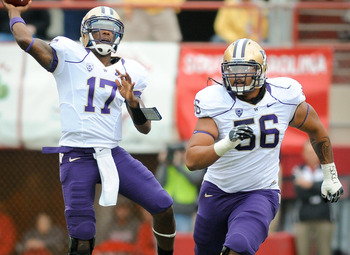 Eric Francis/Getty Images
Senio Kelemete plays left tackle for the Washingon Huskies, but that isn't where he will be asked to play in the NFL. Often times, we look at a player and see him struggle but fail to think outside the box. Kelemete may not be able to play left tackle NFL, but that doesn't mean he can't play in the NFL.
Kelemete is a big and powerful offensive lineman. He has good size and weight distribution. Kelemete does a nice job firing off the line while keeping his pads down. His low pad level allows him to get underneath the defender. This leverage is what helps Kelemete get a good push off the line of scrimmage.
In the passing game, Kelemete struggles to keep speed rushers off the edge. However, he has a strong anchor and base. This means that Kelemete would be an excellent candidate to move inside to guard.
While Kelemete may not play tackle in the NFL, he has a bright future as a guard. It is often difficult to project position changes, which could impact Kelemete's draft stock.
Chris Marve: Linebacker, Vanderbilt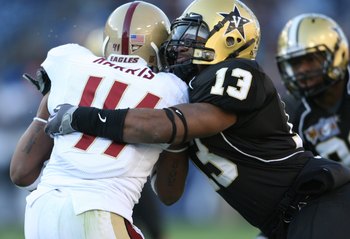 Andy Lyons/Getty Images
Vanderbilt isn't known for their top level football program, nor do they produce a high level of NFL talent. However, they have had several players make an impact in the NFL, especially on the Chicago Bears roster (Jay Culter, Chris Williams and Earl Bennett).
Linebacker Chris Marve has a chance to be the next Vanderbilt player selected in the draft. Marve is a shorter linebacker, but possess good bulk. He isn't afraid of contact and does a good job attacking the line of scrimmage.
In the passing game, Marve shows the ability to cover both tight ends and running backs. He has a good feel for the routes developing around him. His short area burst allows him to make a break on the football.
Marve has a nose for the football, as he is able to read his offensive line keys. His instincts put him in position to always be around the football.
Keep Reading