Theo Epstein: Where Do the Red Sox Go from Here?
October 12, 2011
Elsa/Getty Images
The deed is done. Theo Epstein has defected from the Red Sox and moved to greener pastures in Chicago. The Cubs took advantage of the collective panic attack in Boston and nabbed up Epstein before the Red Sox could respond. Who knows, maybe this was what John Henry and the rest of the owners wanted in Boston.
Yet, one cannot deny that this leaves the Red Sox in a difficult position. They have no manager and no gm. They have important free agents on their own roster to consider and they have the bigger picture to consider as well.
Where are the Red Sox going?
                                                                                                                                       Before we can answer any personnel questions we have to answer this question first. The Red Sox used to be known as an organization with both the financial and mental might to compete for the World Series title every year. Somewhere along the way that vision got lost and here they are serving as baseball's best soap opera.
Right now there are more questions than answers. Does ownership see this current roster as a championship nucleus in need of tweaking, or do they see the need to reshape the roster? It's hard to imagine that a team one game out of the playoffs needs retooling. They suffered numerous injuries down the stretch and still were among the best offenses in baseball.
As difficult as this decision is, it needs to be made soon. They have difficult decisions to make in regards to David Ortiz, Jonathan Papelbon and Marco Scutaro. Do they think John Lackey will become a quality pitcher again? Will Clay Buchholz be healthy for an entire season? Will Dice-K return from major surgery to be a solid pitcher again?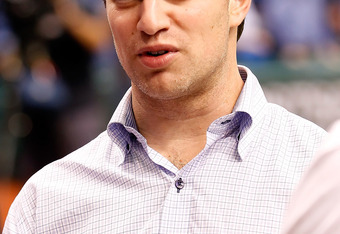 J. Meric/Getty Images
The Sox have been here before. They had a brief scare when Epstein stepped down for 12 minutes a few years ago. They seemed inclined to allow a committee of bright young executives take over then. Are they inclined to think so again?
Who's steering the ship?
                                                                                                                                       The answer to this question will undoubtedly tell you almost everything you need to know. The Sox abandoned the subtle analysis method last offseason. They signed Carl Crawford and traded for Adrian Gonzalez in moves that seemed very Yankees-esque. Are they willing to abandon the great experiment to trade punches with the Yankees? There is certainly cause to believe that is the way to go.
The Sox have become a revenue Juggernaut because of their success. The Yankees are getting older. There is reason to believe that simply making big, bold moves will be enough to get them to where they want to go. For those of us in the sabemetrical community, this would be a very sad day.
The Sox can go in two different directions. Ben Cherington is seen as one of the brighter minds in the game. Tom Tippett and Bill James are still there as well. There is more than enough brain power for the Sox to stay in house. Those three would return the Sox to the thinking organization it was revered for.
The Sox could also look to make a big splash by making a run for Andrew Friedman of the Rays, Billy Beane in Oakland or someone like Kevin Towers in Arizona. All of those moves could still result in the Sox being a thinking organization. It also means they would become a different kind of thinking organization. Not all great minds think alike.
Who's the manager?
                                                                                                                                       Your guess is as good as mine. We could talk about managerial styles and candidates until the cows come home, but we won't know this one until the general manager question is answered. They could go with experience because they are the Red Sox and they are attractive. They could also go with an up and coming manager.
Terry Francona really shouldn't have been fired, so finding another Francona wouldn't be a bad move. He blended well with that clubhouse and seemed to get the most out of the veterans. Of course, a retooled roster could mean they also move in a different direction. Stay tuned baseball fans, the fun in Boston is just beginning.