MLB Rumors: Should the Yankees and Braves Swap A.J. Burnett for Derek Lowe?
October 12, 2011
Scott Cunningham/Getty Images
Remember when we all wanted to trade A.J. Burnett out of New York?
At one time or another, we all said it during the 2011 season.
His Game 4 ALDS performance against the Tigers put those feelings on hold, but let's face it, if we could find a trading partner willing to take Burnett, we would do it in a heartbeat.
Newsday's Ken Davidoff had a pretty bold suggestion. And I think I'm pretty open to it.
Davidoff suggested sending Burnett and the rest of his two years and $33 million to the Atlanta Braves for Derek Lowe.
Lowe only has one more year left in his  four-year, $60-million deal with the Braves, which he signed in 2008, the same winter the Yankees signed Burnett to his five-year, $82.5 million deal.
In fact, Lowe, Burnett and CC Sabathia were all targeted by the Yankees, and the Yankees chose to go with Sabathia as the obvious first choice and Burnett over Lowe. They didn't go for Lowe because they still had to re-sign Andy Pettitte that winter, too.
I actually wanted Lowe over Burnett that winter, but I was willing to give Burnett in the Bronx a chance.
Burnett was 11-11 with a 5.15 ERA in 2011.
Lowe was 9-17 with a 5.05 ERA in 2011.
Yes, the 17 losses jump out at you, but Lowe also ran into some bad luck in September, going 0-5 that month when the Braves were just spiraling out of control and out of the Wild Card contention.
If you look at his losses from those games, the Braves didn't score any runs for Lowe (Atlanta scored a total of five runs in the five games, which just won't get it done).
He still made 34 starts and pitched in 187 innings.
What I always liked about Lowe is his big game ability and his durability.
Since 2002, when he became a full-time starter for the Red Sox, he has made at least 32 starts in each season.
Lowe just doesn't get hurt. Even at 38 years old, his durability is never in question.
He also has a ton of playoff experience that could be very helpful for the Yankees.
Remember when Andy Pettitte pitched every deciding game for them in the 2009 playoffs?
Lowe did the exact same thing for the Red Sox in the 2004 playoffs.
With the Dodgers and Braves, he's started a lot of Game 1's and 5's for them, like he did in 2010 and went 0-2, but his ERA was only 2.31.
That ERA tells you the Braves hitters didn't get much off the Giants pitching in the NLDS.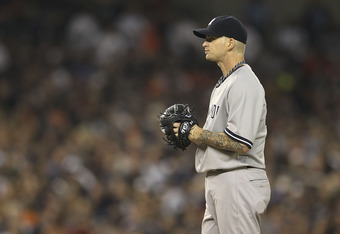 Leon Halip/Getty Images
The Yankees and Braves are no strangers when it comes to being trading partners, as they made a deal in the winter of 2009, trading Melky Cabrera and prospects for Javier Vazquez and Boone Logan.
Many felt the Yankees got the better end of the deal because of how well Vazquez pitched in 2009, but that was hardly the case, and many felt they should have gotten Lowe instead.
Now this could be their chance to get Lowe and try to dump Burnett.
In all honesty, this trade could work out for both sides.
To me, Burnett never really lived up to the hype of coming over from the Blue Jays and could use a fresh start to pitch.
He won't have the same pressure in Atlanta he does in New York, yet he would be playing on a good enough of a contender to still be competing.
Plus, the National League lineups aren't as strong as the ones in the American League, so that could only benefit Burnett in the later stages of his career.
For Lowe, he would still be pitching on the East Coast, which is why he bolted the Dodgers in 2008, and he would also be pitching for a contender with an offense that will give him run support.
Lowe's also a sinker-ball type pitcher, so he'll tend to give up hits, but he will also induce a lot of double-plays and ground-ball outs, which would benefit him pitching in a hitter-friendly Yankee Stadium.
If I could make this trade, I would. I think it would benefit both sides.
I think it especially benefits the Yankees because they would only have to deal with Lowe for one season rather than Burnett for two, and truthfully, I don't know if I want to see Burnett at age 35 and 36 pitching in New York.
So now I'll leave it up to you to debate and discuss.
Burnett for Lowe? Should the Yankees and Braves make the deal when the time comes?