Cam Newton and Tim Tebow Comparisons Prove That Carolina Has Much Better QB
October 12, 2011
Streeter Lecka/Getty Images
The Tim Tebow campaign that was primarily spearheaded by Florida faithfuls and Denver 'hometowners' has apparently forced the hand of executive Vice President of Denver Broncos operations' John Elway and head coach John Fox.
It has been made plain and clear that neither of these men were quick to hop on the Tebow train at the risk of Kyle Orton's starting job and were going to go through hell and high water before they gave in to the fans' demands. The job was going to fall in his lap no matter how much the Denver camp did not believe in him.
Not to say that Elway or Fox has some conspiracy to keep him out of their starting lineup, as ESPN's Skip Bayless may like to argue from time to time. But maybe, just maybe, neither of these men felt as if he is a good enough quarterback to represent their franchise.
Thankfully, we all get to toss our 'what ifs' to the side and actually see what the kid is worth on the field. Remembering that he has little to no experience on the football field as the go-to guy for the organization, I cannot possibly see how Tebow fans could make the case that the struggling-to-get-by, third-depth-chart listed, former Florida QB is better than proven Carolina QB Cam Newton.
Both have resumes that have yet to withstand the test of time and tape after the first season. No one has seen enough about Tebow to study his movements, and no one knows what Newton's patterns truly are until he finishes the season and tapes are revealed and reviewed. However, there are a couple of ways to determine why Newton is the obvious choice over the praised Denver Broncos' starting QB.
To make up for Tebow's accuracy issues, fans like to allude to the fact that Tim has extraordinary skills in escapability and play extension. Both of these intangibles are included in the genetic makeup of an elite quarterback but without accuracy, the point of play extension is dissolved.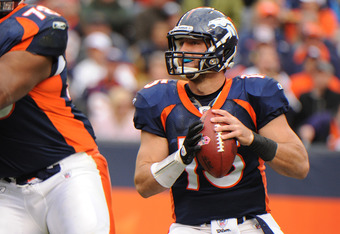 Bart Young/Getty Images
If you cannot get the ball into the hands of the intended receiver, you may as well sit back in the pocket and get sacked.
1,610 yards on a 58.2% completion rate and six touchdowns sounds like Newton does not have much of a problem getting the ball where it needs to be. What is most impressive about Newton's first five starts in the professional league is that he has without a doubt silenced a majority of his critics with great field reads, escapability against NFL defenses, accuracy under pressure and the will to survive even when all hope is lost.
Comparing him to Tebow in this aspect shows that Newton has one up on the scathed Denver hero.
But just in case you were wondering if this was the only avenue in which I would compare and exploit Newton's superiority at his position to Tebow, you are sadly mistaken.
Compare the reaction to each man from his own franchise. I am never a fan that sits back and says that the coaches are always right.
Sitting back watching the Atlanta Falcons coaching staff neglect the running game in latter halves of their contest, watching Nnamdi Asomugha in Philly operating in a talent-conflicted defensive strategy and the Minnesota Vikings sham their workhorse RB makes me realize and understand how far from the truth that statement is.
Yet, a Denver legend like Elway and the head coach of the franchise have continuously made the decision to bench Tebow in light of Kyle Orton and Brady Quinn. While fans may try to argue that this is some strong-minded conspiracy against Tebow's success, they may want to tackle the obvious first and foremost. Maybe Tebow is not as good at his position as his supporters would like to believe.
If a man who was Denver's saving grace for seasons on end sees a quarterback and despite the pressure from his surrounding community refuses to start him, something must either be said about his judgment regarding the current state of the game or Tebow's showcase off the field.
I am prone to go with the latter.
Newton stepped directly into the line of fire in Carolina. Even though Panthers' fans were elated to have anyone but Jimmy Clausen leading the charge, including Carolina's WR Steve Smith, critics were steadily hopping on the "Cam is not the man" bandwagon.
He was not supposed to be the saving grace of the franchise and was said to not even be equipped with the proper tools to succeed in the position he was granted as the No.1 pick in the NFL draft. His mechanics were too shaky, his accuracy was fleeting, and he was coming out of a system playing shotgun with the simplest of play-calling.
It of course was not Newton's fault that he excelled in the circumstances he was given. That did not stop the slander.
Even through all of that, Carolina's owner Jerry Richardson and head coach Ron Rivera launched Newton into the position of this season's starting QB and the new franchise face of the team. This had nothing to do with pure luck or a Hail Mary shot on their end.
They generally liked what they saw from the young man, and he was able to impress his coaching staff, front office and standing Carolina teammates enough to swipe the job from Clausen's fingers.
If Tebow is the man everyone outside of the football world thinks he is, why hasn't he had his moment in the spotlight?