Baltimore Ravens Need to Find an Identity on Offense
October 12, 2011
Larry French/Getty Images
The Baltimore Ravens have played very well so far this season, and except for a letdown against the Tennessee Titans in Week 2, every game they've played has basically been won by halftime.
As a result of their good performances, the Ravens had a 3-1 record heading into their bye week and are in sole possession of first place in the AFC North.
They've accomplished that by playing great defense and doing enough on offense to not lose games, and it's worked out well so far. The Ravens have been winning games with their defense for a long time, and as long as they continue to play like they have over the first four games, they will continue to win games this season.
That being said, simply playing defense and winning games in the regular season is not good enough to win a championship in the NFL anymore. The NFL has become an offensive, pass-happy league. There have been more quarterbacks throwing for over 400 yards in games than ever before.
In fact, the record for the most 400 yard games in a season by all quarterbacks is likely to be broken by Week 6 at the current rate and will certainly be shattered by the end of the season.
Sure, the Ravens will continue to win games with their current game plan, but what is the ultimate goal? Everyone knows that the Ravens, especially the veteran players like Ray Lewis and Ed Reed, are gunning for a Super Bowl victory. The problem is that the Ravens may not be good enough to win a Super Bowl right now.
The Ravens defense is absolutely Super Bowl-caliber. If they can avoid any more injuries in the secondary, they should be able to steamroll most offenses and give the Ravens a fighting chance in most games. There's not really much the Ravens can do to improve their defense besides getting and staying healthy.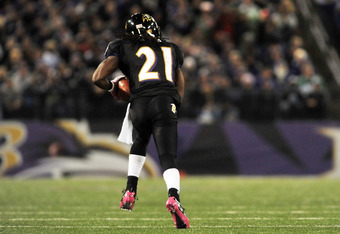 Larry French/Getty Images
If there's anything holding the Ravens back from being a Super Bowl-caliber team, it's the offense. There's no doubt that the offense has talent. They have playmakers at every position and are more unpredictable than ever.
"[The offense] is more subtle [than it has ever been], but we are less predictable in a lot of different ways," head coach John Harbaugh said at Monday's press conference. "Some [ways] are obvious—run, pass—and others that are less obvious—formation, motion, personnel group, splits, alignments, where guys eyes are at, all of the things that we self-scout and study ourselves on. I think we are better than ever at that, but you are always chasing that."
Unfortunately, the offense has not played up to their talent and has been mediocre for the most part this season. People will argue that the Ravens won their first Super Bowl with a mediocre offense.
The problem is that the NFL has completely changed, and even though the Ravens have been outstanding on defense so far, they have yet to face a truly great offense like Green Bay or New England—teams they will need to beat in the playoffs or in the Super Bowl.
There's no way to completely shut down great offenses and quarterbacks anymore. When the Ravens play against a great offense, their job is to slow down the opposing offense enough for the Ravens offense to outscore them. This seems simple enough, but the Ravens offense has been so inconsistent that it's hard to know what they will do from week to week.
Much of the perceived inconsistencies have been the result of the many personnel changes that occurred over the offseason. The biggest adjustment for the offense has definitely been all the new receivers and the lack of continuity.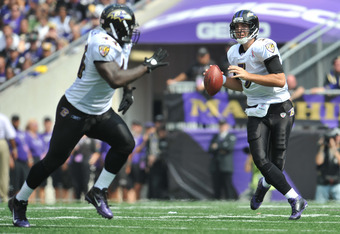 Larry French/Getty Images
Ravens quarterback Joe Flacco only has one receiver, Anquan Boldin, on the roster who he actually played with last season. The Ravens released his top two targets, Derrick Mason and Todd Heap, in the offseason.
That has caused Flacco to struggle with serious inconsistency issues. Even in games where the offense seemed to perform well—like Week 3 versus the St. Louis Rams where Flacco put on a career performance statistically, they still had trouble consistently completing passes. Obviously, Torrey Smith's three touchdown catches in the first quarter stand out, but Flacco still threw 21 incompletions in the game.
Against bad teams, that doesn't really matter, but against Super Bowl-caliber teams, that will not cut it. That's what we saw against the Jets in Week 4. The Jets offense is terrible, but their defense is still one of the best in the league. Against that defense, the Ravens offense was completely shut down.
Sure, they performed better than the Jets offense. That's why the Ravens won the game, but the point is that they will need to find a way to have some measure of success against good defense—because most playoff teams can play good defense.
The key to fixing the offense is good game planning with a balanced offense. Let's face it… The Ravens receivers aren't going to magically improve over the bye week and neither will Flacco. At this point, they are what they are, and every team in the league has enough game tape to dissect their weaknesses.
That's not saying the Ravens are doomed to be mediocre on offense. They just need to find their identity and do what every good offense in the league does—play to their strengths and have a balanced, unpredictable game-plan.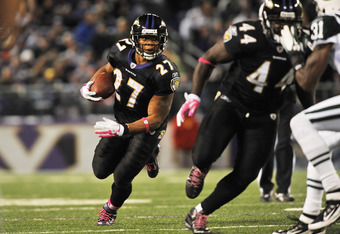 Larry French/Getty Images
"We talked about it with our team today—what's our identity?" Harbaugh said at Monday's press conference, "Well, our identity is a lot of things, but I think first and foremost, we're going to attack people. And what does that mean? It means you attack people running the ball, you attack people throwing short, intermediate and deep. You attack people in pass protection, you attack people by putting everybody out. You've got to be able to do everything in the National Football League, so that you don't become one-dimensional and they can't take away something and leave you with nothing. And that's what we're searching for."
More than anything, the Ravens need to find their identity on offense. That doesn't mean that they should only run the ball or only pass the ball. That means they need to determine what they do well, their strengths, really on those strengths and develop their game plan around them.
The Ravens base offensive attack should be the running game centered around their best offensive player, Ray Rice, and they should branch out from there. They have the talent on their offensive line and with fullback Vonta Leach to force teams to play zero coverage to stop their running game. They need to force opposing defenses to commit so much to stopping the running game that they neglect the passing game. That will open up the play action and deep passing game.
Finding a successful game plan is much easier said than done because much of it is a process that is determined through watching game tape and it changes from week to week. Opposing teams will be watching game tape of the Ravens and determining how to beat them. Ravens are doing the same, and although they will adjust their game plan based on their opponent, they cannot get to far away from their identity and their strengths.
Now that they've had a few weeks to feel out their new pieces on the offense and the bye week to analyze those performances, they should have a good understanding of what they're trying to do on offense. There's no doubt that the Ravens have the talent to be very good, and the defense is already Super Bowl-caliber.
If they can figure their identity on offense and find a consistent, balanced game plan, there's no limit to what this team can accomplish.