NFL Trade Speculation: Predicting 5 Trades Before Trade Deadline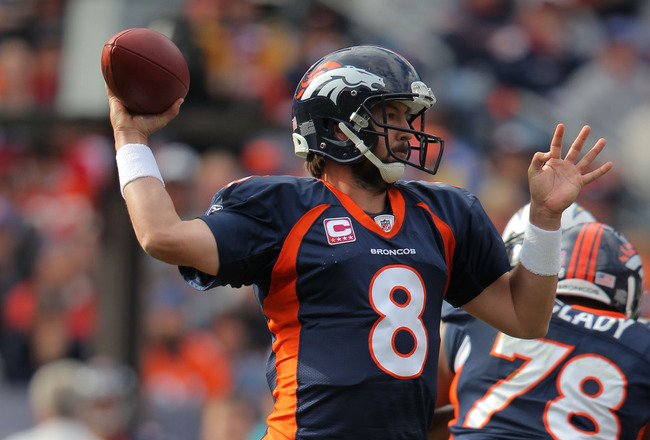 Doug Pensinger/Getty Images
October 18th is just around the corner, and that means the NFL trade deadline is rapidly approaching. It's time for teams to reevaluate their rosters and decide which needs they must fill and which current players aren't panning out. There also may be some teams looking to unload some contracts.
Here are a few trade predictions for the weeks to come.
Kyle Orton, Quarterback: Denver Broncos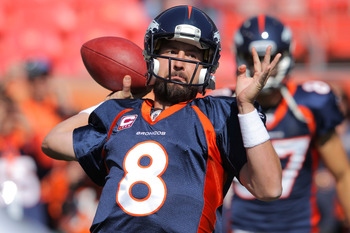 Doug Pensinger/Getty Images
Now that the Denver Broncos have officially announced Tim Tebow as the team's new starting quarterback, it would be no surprise if Kyle Orton does not play another down for them. After a less than stellar start to the season and a weak first half during Week 5, Denver head coach John Fox made the decision to give Tim Tebow an opportunity, and despite not getting the win, Tebow did a pretty good job.
With Orton becoming a free agent at the end of the year and his time with the Broncos as good as over, don't be surprised if Denver tries to deal him to a team before the trade deadline.
With Chad Henne out for the season, the Miami Dolphins are most likely to be on the receiving end of this trade. This trade was initially discussed during the preseason until Denver decided to make Orton their starter.
Carson Palmer, Quarterback: Cincinnati Bengals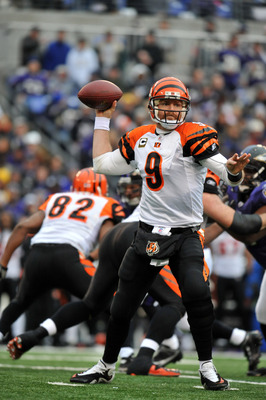 Larry French/Getty Images
The Bengals owners are still refusing to speak on the idea of trading Carson Palmer, but ultimately don't be surprised if they do. With rookie Andy Dalton doing a pretty decent job as the starter, the franchise seems to be in good hands.
When the Cincinnati Bengals would not grant Palmer's trade request, the quarterback refused to play for them and instead retired. Since the Bengals have Carson's rights, he cannot play for another team unless they release him or trade him. Trading Palmer would be an opportunity for the Bengals to get something for him instead of just letting him go to retirement.
Brandon Lloyd, Wide Receiver: Denver Broncos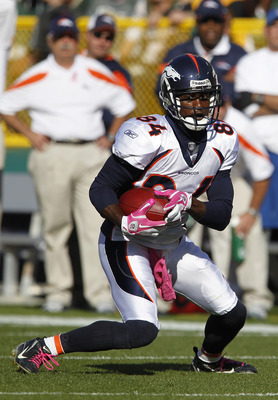 Matt Ludtke/Getty Images
Denver wide receiver Brandon Lloyd is a name that is being thrown around in a lot of trade speculations. Lloyd is a veteran wide receiver who has really shown he can shine at times, but he is in his last year of his contract, and the Broncos are rebuilding. With Eric Decker having a solid season, the Broncos could take this chance.
If they do, look for the Titans or Browns to be on the receiving end.
Peyton Hillis, Running Back: Cleveland Browns
Matt Sullivan/Getty Images
Although not likely, there is a possibility that Cleveland Browns could deal starting running back Peyton Hillis if his contract situation continues to be unresolved. Playing for just 600,000 a year, Hillis will be a free agent at the end of the year and the Browns have yet to come up with a new deal for him.
When Hillis missed a game a few weeks ago claiming to be too sick to play, things in Cleveland really heated up. Hillis provided no doctors note and many believe that the game absence was actually contract related. If Hillis does get traded, some team will be lucky to get him.
Aaron Curry, Linebacker: Seattle Seahawks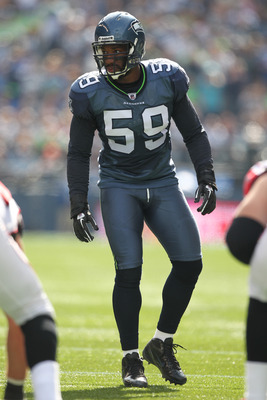 Otto Greule Jr/Getty Images
Seattle linebacker Aaron Curry's reps have been reduced substantially lately with the emergence of rookie K.J. Wright and his movement to the top of the depth chart. Talk of Curry possibly being traded from Seattle has been in the air for awhile now, and this is a move that could happen. However, Curry's contract is pretty high, so teams may shy away.
Keep Reading