Paul Konerko and 1 Future Player/Manager Candidate from Each MLB Team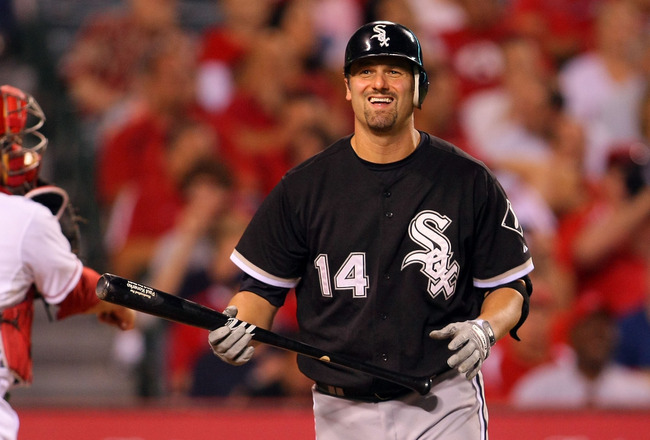 Victor Decolongon/Getty Images
When the Chicago White Sox officially introduced Robin Ventura as their new manager today, general manager Kenny Williams admitted that he had given serious thought to something that hasn't been done in the majors since the mid-1980s.
During the press conference, Williams revealed that he considered asking White Sox first baseman Paul Konerko to be a player manager.
It was considered long enough for me to realize that Paul is a very cerebral person and he would probably drive himself nuts right now playing and managing at the same time, Williams said. But that's the kind of respect I have for him that, yeah, I did consider it. Then I thought I think I would rather him be focused more on hitting third or fourth in the lineup and driving in 100 runs rather than trying to worry about 25 other guys in addition to it. We are trying to win.
Player/managers have not been in vogue since Pete Rose carried the dual position for the Cincinnati Reds from 1984-86. Before that, it was Frank Robinson (1975-76, Cleveland Indians) and Joe Torre (New York Mets, 18 games in 1977).
Being a manager in today's day and age is tough enough, dealing with a different "style" of personalities in the clubhouse as opposed to decades ago, so Williams was probably smart in re-thinking his thoughts about Konerko.
However, it certainly brings up an intriguing scenario—which player on each MLB team would be well-suited to handle both playing and managing?
We at Bleacher Report will take a stab at who we think would be the most qualified player on each MLB team to carry the role of player/manager.
Note: Keep in mind that with this list, we're not looking to replace any current managers (although it could be debated that some need to be replaced), we are merely fantasizing/joking about potential player/managers of the near future.
Arizona Diamondbacks: John McDonald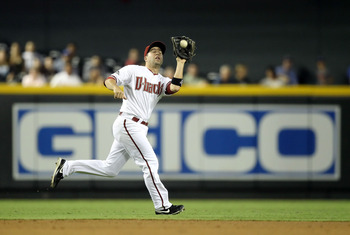 Christian Petersen/Getty Images
In watching the career of utility infielder John McDonald, one thought came to mind. He is not nearly as gifted as many of his fellow infielders throughout the major leagues, however he uses everything he does have to give a maximum effort for each and every game.
To have that type of player as your manager is certainly not a bad thing at all. McDonald is a great example of someone who can impart the knowledge of what he learned through his career even with skills that didn't appear to match up.
Atlanta Braves: Chipper Jones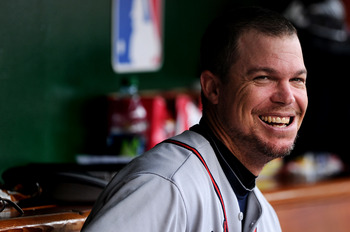 Patrick Smith/Getty Images
Atlanta Braves third baseman Chipper Jones played his entire career, up until this season, for legendary manager Bobby Cox. To say that the two were close would be like saying that Bud Selig and the Los Angeles Dodgers are just a little mad at each other.
Who better to run the Braves than a man who learned the Braves' way from a legend?
Baltimore Orioles: Vladimir Guerrero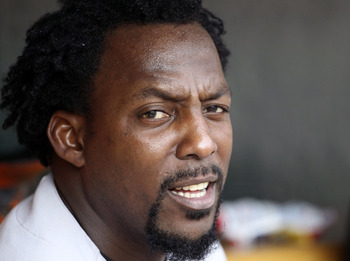 Leon Halip/Getty Images
Vladimir Guerrero just may be the best example of a hitter in baseball history who never met a pitch delivered to him that he didn't like. He rode his free-swinging style to great success for many years with three different teams (Montreal Expos, Los Angeles Angels, Texas Rangers) before joining the Orioles this season.
If he could teach Orioles' hitters how to hit like that, that would at least solve half of their problem. He'll just need to hire a REALLY good pitching coach.
Boston Red Sox: Dustin Pedroia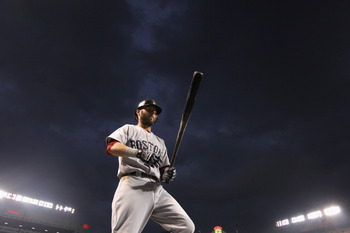 Rob Carr/Getty Images
Well, after what was revealed today by the Boston Herald with regard to GM Theo Epstein's alleged serious consideration of the Chicago Cubs GM opening, they need two positions filled.
Maybe they can fill one of them by asking second baseman Dustin Pedroia to take the dual role of player/manager. Pedroia, with his lunch-pail type of attitude, would certainly be a manager who would lead by example.
Mitch Williams of MLB Network said on air that while Pedroia may be one of the smallest men in baseball, but he has the biggest heart. That may be exactly what is needed in Boston at this point.
Chicago Cubs: Carlos Zambrano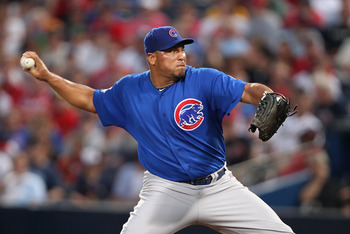 Mike Zarrilli/Getty Images
Okay, I know what you're thinking here, you're saying to yourself right now, "this writer is NUTS!"
But hey, why not? Zambrano would certainly be as fiery as Ozzie Guillen, if not more so, and why not bring that kind of managing style to the North Side? It worked on the South Side for a while.
Chicago White Sox: Paul Konerko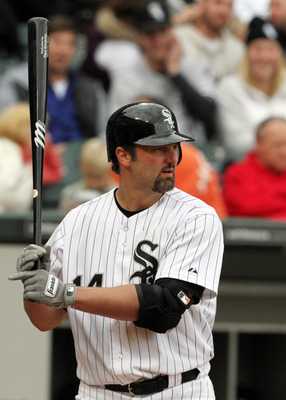 Tasos Katopodis/Getty Images
You have to give Chicago White Sox GM Kenny Williams some credit—he certainly picked the right player to think of when he admitted he thought about asking first baseman Paul Konerko to take the dual role of player/manager.
Konerko may be one of the best prepared ballplayers in all of MLB. His work ethic and workout regimen are beyond compare, and he approaches the game of baseball with the same zest and zeal as when he broke into the majors 14 years ago.
If I'm going into battle, I want a man leading me who is organized, prepared and brings his A-game every night. Konerko is that guy.
Cincinnati Reds: Bronson Arroyo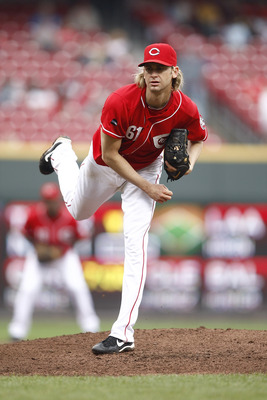 John Grieshop/Getty Images
The Cincinnati Reds suffered through a down season after taking the NL Central title in 2010. They looked like they needed a fire lit under them at times during the season.
Starting pitcher Bronson Arroyo could just be the right candidate to take over as player/manager. Arroyo could light a fire under his team simply by singing the lyrics to the great Doors classic "Light My Fire." After all, Arroyo is an accomplished musician.
Not only that, Arroyo can offer Reds fans free concerts after every home game. I'm sure he can pull together a few of his rowdy friends. Oh, never mind, that was a football song no longer in use. Forgot where I was for a moment.
Cleveland Indians: Jim Thome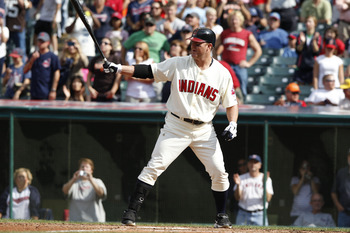 David Maxwell/Getty Images
Cleveland Indians designated hitter Jim Thome is reportedly considering retirement after returning to the team where it all started for him 20 years ago.
Thome could easily serve as a part-time designated hitter/manager next season. One of the most likeable personalities in MLB history, Thome would no doubt get the respect of his players, and based on his career accomplishments, they would have his ear as well.
Colorado Rockies: Todd Helton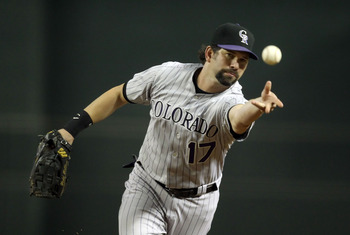 Christian Petersen/Getty Images
Does anyone know more about using the home field advantage to their advantage better than current Colorado Rockies first baseman Todd Helton?
Easily one of the most popular players in franchise history, Helton can mentor his players on how to best use the high-altitude home field to their advantage. Just take a look at Helton's home/away numbers, you'll see what I mean.
Detroit Tigers: Jose Valverde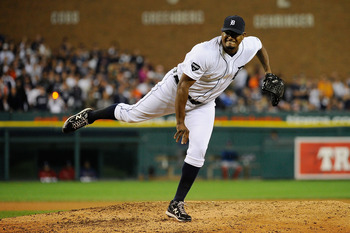 Kevork Djansezian/Getty Images
Detroit Tigers closer Jose Valverde has been the subject of numerous discussions and debates regarding his "exuberance" on the mound after successfully closing out a game. Old school media types and pundits suggest that Valverde's antics don't belong in baseball, while newer fans embrace Valverde's passion for the game.
This is the 21st century, old fogie media types! Get with the program!
Valverde's enthusiasm for winning would certainly play well as the skipper of the team.
Florida Marlins: Logan Morrison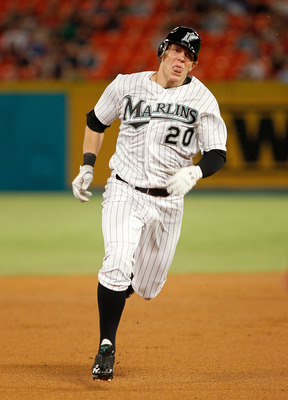 Mike Ehrmann/Getty Images
Yes I know, the Florida Marlins already have a new manager, but this article is all about wishful thinking.
They now have a manager in Ozzie Guillen who may be the most savvy social media guy in baseball, with his hundreds of thousands of followers on Twitter and his website.
Outfielder Logan Morrison would be the perfect follow-up to Ozzie. Lo-Mo is developing a pretty solid Twitter account of his own (71,269 followers), clearly seems to have no problem speaking his mind with the press, and is critical of teammates who don't perform or act as expected.
That would be a pretty seamless transfer for the Marlins.
Houston Astros: Bud Norris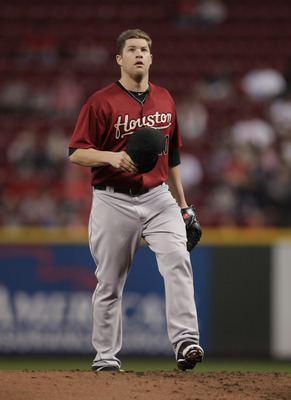 John Sommers II/Getty Images
Apparently, Houston Astros pitcher Bud Norris is tired of losing, and tired of players taking an interest in things outside baseball.
On Norris' Twitter account, he ripped into San Francisco Giants closer Brian Wilson for his Taco Bell commercials being continually aired on FOX and TBS.
Does Brian Wilson play baseball or work in Hollywood? I can't tell but his Taco Bell commercials are a joke.
Considering that the Astros lost 106 games this season, maybe he feels like his teammates didn't have enough interest in baseball either?
Well, he would definitely be the man to get their minds back on the game.
Kansas City Royals: Bruce Chen
Hannah Foslien/Getty Images
In recent years, Kansas City Royals starting pitcher Bruce Chen has been one of the most well-traveled players in MLB, with 10 destinations in 13 seasons.
Considering he has worked in very divergent clubhouses and dugouts, and with a variety of different managers, he can take a piece of what he's learned in every city and apply it to the managerial job in Kansas City.
Why not, nothing else has worked there in the past 20 years or so.
Los Angeles Angels of Anaheim: Jeff Mathis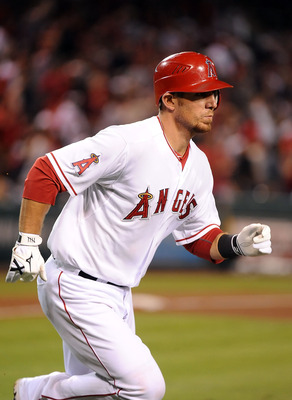 Lisa Blumenfeld/Getty Images
Okay, so the guy can't hit, but boy can he handle a pitching staff.
Los Angeles Angels catcher Jeff Mathis works magic with the pitching staff, who had the best ERA in the American League in 2011 (3.57).
With so many catchers who have turned into excellent managers, Angels manager Mike Scioscia included, Mathis could certainly do no harm as a manager.
He can just insert himself as a defensive replacement and hire a REALLY good hitting coach.
Los Angeles Dodgers: Jamey Carroll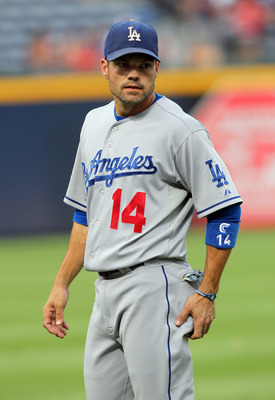 Joe Murphy/Getty Images
The Los Angeles Dodgers managed to finish above .500 in 2011 despite the many issues facing the storied franchise. With the uncertainty of ownership still above their heads, it's really a testament to the players who were able to keep all the drama away from the field.
Shortstop/super-sub Jamey Carroll has been at the forefront of the Dodgers lineup now for the past two seasons, and was arguably the team MVP in 2010. Much like Dustin Pedroia in Boston, Carroll is small in stature but huge in heart.
Who better to keep the team focused on the field and lead by example than Carroll?
Milwaukee Brewers: Nyjer Morgan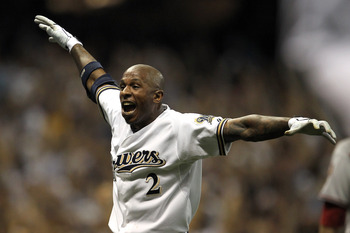 Jonathan Daniel/Getty Images
Milwaukee Brewers center fielder Nyjer Morgan could actually make the player/manager job look pretty easy.
He already has two personalities, with himself, if Morgan is indeed who he is, and Tony Plush, his um…alter ego.
One could continue playing, and the other could manage. Seems like a win-win situation to me.
Minnesota Twins: Michael Cuddyer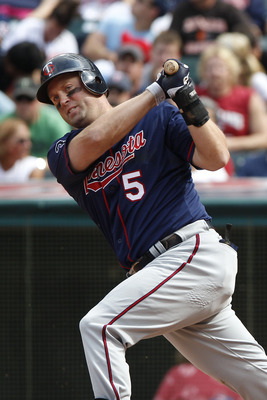 David Maxwell/Getty Images
For the past 11 years, Minnesota Twins right fielder/second baseman/first baseman/utility man Michael Cuddyer has done just about anything and everything ever asked of him by the Twins. He essentially has become the new Mr. Twin.
He would be the perfect candidate to manage and play at the same time. He already knows how to play just about every position, so he certainly wouldn't be lacking in knowledge under any situation.
New York Mets: Jose Reyes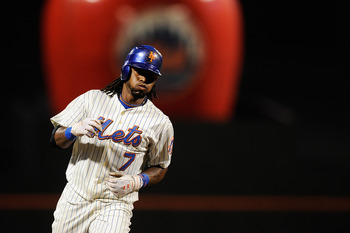 Patrick McDermott/Getty Images
Think about this one for a minute. If the New York Mets have a shot at re-signing Jose Reyes, why not offer another little added perk?
Let Reyes become the manager as well. The fans want him to stay, his teammates no doubt would love to see him stay, and Fred Wilpon could pay him both Carl Crawford money and a little bonus.
New York Yankees: Derek Jeter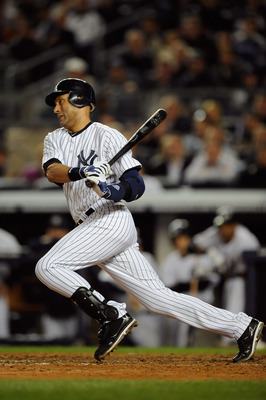 Patrick McDermott/Getty Images
Captain Clutch, Mr. November, the Captain, call him whatever you want, but maybe you can also call him manager.
Shortstop Derek Jeter's career will be coming to a close sometime within the next few years, maybe Joe Girardi can groom him for his job. Yankees fans certainly don't want Jeter going anywhere anytime soon.
Oakland Athletics: Brian Fuentes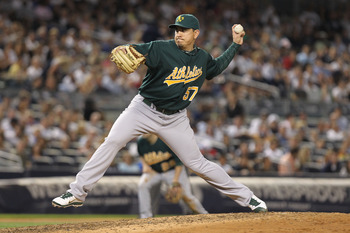 Nick Laham/Getty Images
Back in late May, after suffering his seventh loss of the season in relief, Oakland Athletics reliever Brian Fuentes ripped into his manager at the time, Bob Geren, for what he considered poor handling of the pitching staff and even more poor communication.
Fuentes said at the time:
"I get up in the seventh inning," Fuentes said. "I have no idea. I didn't stretch. If there was some sort of communication beforehand, I'd be ready, which I was. I was heated up. I was ready.

"But there's just a lack of communication. I don't think anybody knows what direction (Geren) is headed."
Well then, maybe Fuentes should become the newest player/manager for the A's. Then, he can communicate to himself and handle himself better than his former manager.
Philadelphia Phillies: Roy Halladay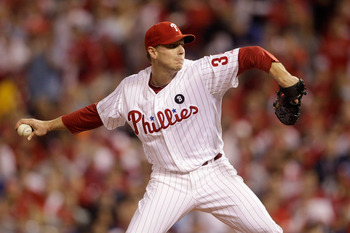 Rob Carr/Getty Images
How many times has there ever been a Cy Young pitcher who also managed his team? Um, I'm thinking never.
Well, maybe now would be the perfect time. Roy Halladay practically owns the town anyway, he would likely be given a bit of leeway when he first takes over.
Pittsburgh Pirates: Neil Walker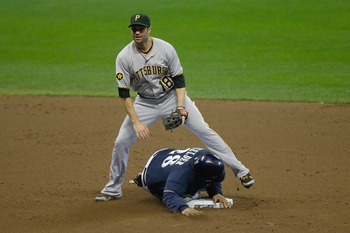 Scott Boehm/Getty Images
Pittsburgh Pirates second baseman Neil Walker just finished his second full season with the Pittsburgh Pirates, and thus far, he has certainly shown that he is not only a fine baseball players, but he has great instincts and a sense of knowing what's going on at all times around him.
The fact that's he a local kid who grew up in Pittsburgh would certainly play well with the faithful as well.
San Diego Padres: Heath Bell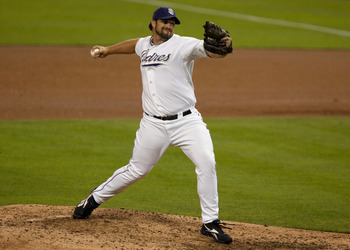 Kent Horner/Getty Images
The San Diego Padres don't appear to be going anywhere anytime soon in terms of become a contender. A payroll that has been slashed to next to nothing, a dwindling fan base and a cavernous ballpark certainly hasn't helped matters any.
However, what they do have is a world-class closer who does NOT want to leave, and has said he will take a hometown discount to stay in San Diego.
Heck, anyone that wants to stay THAT badly deserves a shot to become player/manager.
San Francisco Giants: Brian Wilson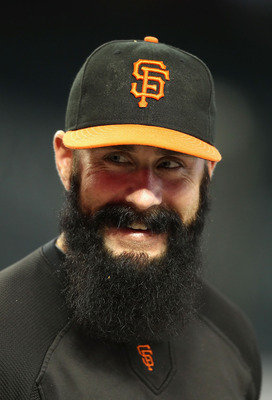 Christian Petersen/Getty Images
Fear the Beard.
With his fast-growing marketing opportunities and his knack for getting guys out, Brian Wilson has become somewhat of a cult figure in San Francisco.
Making Wilson the player/manager would probably give the Giants more revenue than anything else. Wilson can make Taco Bell the official food of the San Francisco Giants, and Taco Tuesdays could become the main theme for AT&T Park during an otherwise slow weekday.
Seattle Mariners: Felix Hernandez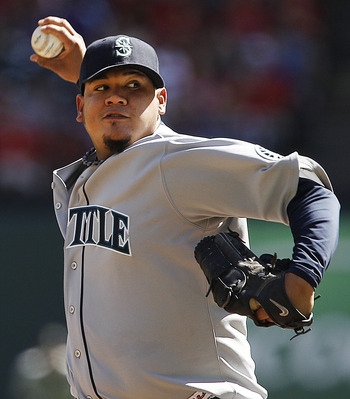 Brandon Wade/Getty Images
He's already been anointed King, why not give him the job that goes with the title?
The problem is, Hernandez would have to hire a MUCH better hitting coach than Jeff Mathis with the Los Angeles Angels.
But hey, he's King Felix. His constituents will bow down before him.
St. Louis Cardinals: Yadier Molina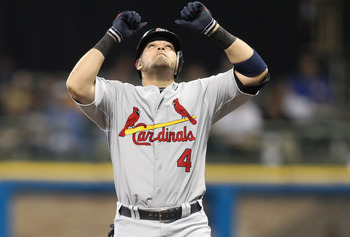 Christian Petersen/Getty Images
When and if Tony LaRussa ever retires, they already have a manager in waiting behind the plate.
Catcher Yadier Molina has been the glue that has held the Cardinals together over the past several years. We can talk all day about the efforts of one Albert Pujols while he's been with St. Louis, and I certainly won't put up much of an argument there.
However, Molina has been the constant force behind the Cardinals now for several seasons, and his handling of the pitching staff and the respect he commands throughout the team would make him the perfect candidate for player/manager.
Tampa Bay Rays: Evan Longoria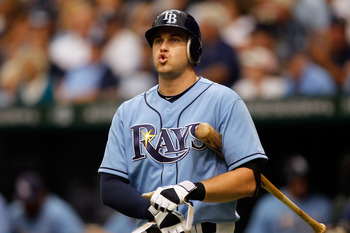 Mike Ehrmann/Getty Images
By the time Tampa Bay Rays third baseman Evan Longoria wraps up his career in Tampa Bay (if he sticks around with the Rays that long), he will no doubt hold every offensive record in franchise history.
Maybe if Tampa Bay makes him player/manager, they can convince Longoria to stick around longer than any other player has been able to thus far.
I know, it's a lousy reason to make him a manager, but I just can't come up with anything more substantial.
Texas Rangers: Michael Young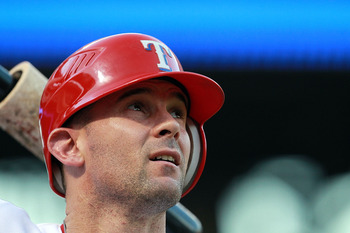 Ronald Martinez/Getty Images
By the time he finishes what could be a Hall of Fame career, Texas Rangers designated hitter Michael Young will have a slew of records for the franchise, and he will always be remembered as the prototypical working man's ballplayer.
As a player/manager, Young's style of play and the way he approaches the game would be a natural example for all of his players to follow.
Toronto Blue Jays: No Current Player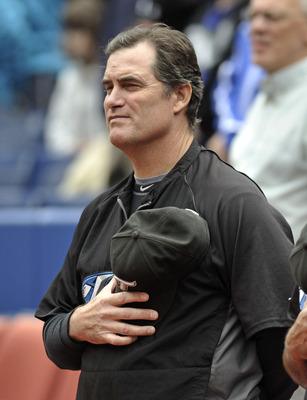 Brad White/Getty Images
The Toronto Blue Jays have put together a cast of characters that are trying to gel into some semblance of a team. With a .500 record and all kinds of new faces, manager John Farrell did a decent job in keep the team competitive.
However, there really isn't anyone currently on the roster who could be identified as one who could handle the responsibilities of player/manager.
Washington Nationals: Ivan Rodriguez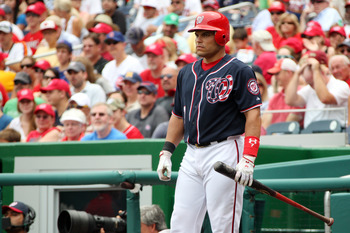 Ned Dishman/Getty Images
Washington Nationals catcher Ivan Rodriguez will be 40 years old in November, and his ticket to the baseball Hall of Fame has already been all but rubber-stamped.
Pudge has indicated that he would like to play for another year or two, so why not as player/manager? Rodriguez has a wealth of knowledge in his experiences with several teams, his experience means he knows just about every tendency with most pitchers and hitters, and he already has the experience in being the field leader behind the plate.
Seems to me that I-Rod could make a pretty good player/manager.
Doug Mead is a featured columnist with Bleacher Report. His work has been featured on the Seattle Post-Intelligencer, SF Gate, CBS Sports, the Los Angeles Times and the Houston Chronicle. Follow Doug on Twitter, @Sports_A_Holic.
Keep Reading