Tom Brady vs. Aaron Rodgers: New England Patriots QB Remains Better Than Rodgers
October 11, 2011
Ezra Shaw/Getty Images
A freshly cast Super Bowl ring and a 5-0 start can change public opinion pretty quickly.
As evidenced by a recent ESPN.com poll, 54 percent of NFL fans now believe Green Bay's Aaron Rodgers to be the best quarterback in the league, compared to just 29 percent in favor
of New England's Tom Brady.
Nonetheless, although Rodgers has taken the league by storm this season and has validated his recent championship with an impressive start, Brady remains the superior quarterback. Rodgers may lead the league in passer rating (122.9) and completion percentage (71.7), but he has almost exclusively faced mediocre teams so far this season.
Through the year's first five games, the Packers' opponents have combined for a record of 10-15, and Green Bay has only played against one squad with a winning record, the New Orleans Saints. In addition, Rodgers has competed against teams which allow an average of 264 passing yards per game, good for 22nd in the league.
Brady, on the other hand, has led the league in passing with 375 yards per game despite contending with teams that are a combined 13-11. He is also on pace to shatter Dan Marino's record of 5,084 yards in a season by almost 1,000 yards, even though the Patriots have faced the NFL's No. 2 and 5 pass defenses in the Chargers and Jets respectively.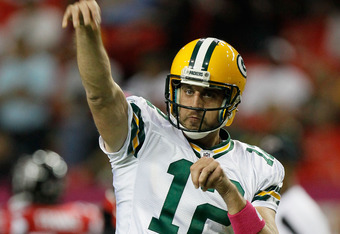 Kevin C. Cox/Getty Images
Rodgers has also been putting up video-game stats with Greg Jennings and Donald Driver, a receiving duo with four Pro Bowl appearances between them, and with tight end Jermichael Finley, who will also likely find himself in Hawaii by season's end.
Brady, however, has had to make due with Wes Welker and a group of aging veterans and relative unknowns. Former All-Pro Chad Ochocinco has performed nowhere near expectations, and if anything, has served as a detriment to the team. Furthermore, shifty tight end Aaron Hernandez has missed almost half the season's games due to injury, and wideout Deion Branch has been showing his age, with only two touchdowns on the year.  
Although Rodgers is a truly spectacular player and deserves a place among the top five quarterbacks in the league, his perceived greatness has been greatly exaggerated by the press. Reporters understand that the 34-year-old Brady has only a few more impressive years left, and with Peyton Manning injured, they are eager to promote Rodgers as the new face of
the league.
Ever since Rodgers lead his 10-6 Packers to a surprise Super Bowl win last February, the media have pegged him as their darling. The International Business Times has declared Rodgers the "Best QB in the NFL," while NBC analyst Chris Collinsworth has even crowned him the league's "Best Player."
As a result, Brady has been relegated to second-best, despite the fact that the reigning MVP threw eight more touchdowns and seven fewer interceptions than Rodgers last year.
Even so, with two minutes to go and my team down by seven, I'm taking Brady.