Eric Dickerson Makes Surprising Statements on Al Davis and St. Louis Rams
October 11, 2011
John Parra/Getty Images
When it comes to football, Hall of Fame running back Eric Dickerson is an authority on pretty much everyone and everything. He's been around the game for a long time, and he knows what he is talking about.
So if you want to ask him about the late, great Al Davis, go right ahead. If you want to ask him about the St. Louis Rams, one of his former teams, you can do that, too.
Just know that his responses to these topics might surprise you.
We know this because TMZ cameramen recently ambushed Dickerson on the streets of Los Angeles, and they got him to talking.
Dickerson was first asked about Davis, the longtime Oakland Raiders owner who passed away over the weekend at the age of 82. Because Dickerson once played for Davis and the Raiders, one would think he'd have nice things to say.
Instead, Dickerson laughed and said, "I have no comment."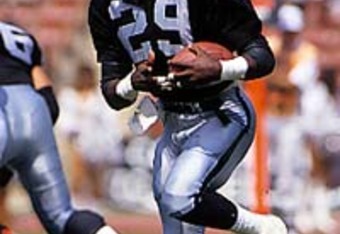 Which is a little interesting. The folks at TMZ insinuate that Dickerson's no comment can be taken to mean he wasn't a huge fan of Mr. Davis. It's kinda hard to argue the point.
Because Dickerson was asked to remark specifically on Davis' contributions to African-American players and coaches throughout the years, I have to say that it is a little surprising that he would brush the question off with a laugh and a no comment.
What isn't surprising, on the other hand, is that Dickerson is apparently not a big Al Davis fan. Davis rubbed a lot of people the wrong way through the years, and it seems Dickerson may have been one of them. It is what it is.
Dickerson was much more enthusiastic when he was asked to talk about the Rams, who are 0-4 at the moment. He rightfully said that they look "horrible," and then he said something else that deserves a little attention:
"The ideal situation would be for the Rams to come back to LA."
The indication there is that St. Louis is to blame for the Rams' struggles. Because, you know, it's not like the Rams have enjoyed any success in St. Louis since moving there in 1995.
Well, except for that Super Bowl victory. And that other Super Bowl appearance.
But one can see why Dickerson would have a soft spot for the idea of having the Rams going back to Los Angeles. That's where they were when he was with the team from 1983 to 1987, and it was a good partnership.
It could happen. There's a lot of buzz about the NFL making a return to LA, and I presume that somebody will do due diligence on the idea of moving the Rams back to the City of Angels.
If so, they'll know that they have Dickerson's approval.