MLB Free Agency: New York Mets a Dark Horse to Land Albert Pujols This Winter?
October 11, 2011
Christian Petersen/Getty Images
While Albert Pujols continues to lead the St. Louis Cardinals in their quest for the NL pennant and a shot at the World Series title, potential suitors for the soon-to-be free agent are balancing their checkbooks in hopes that they can find a way to fit the slugger into their future plans.
Believe it or not, the Mets have as good a chance as anyone at signing baseball's best hitter this winter, so please bear with me while I provide you with my sound reasoning.
Everything we've heard about the Mets this season has involved their financial uncertainty along with their need to shed payroll. While the club's financial security is no doubt a question mark, this is still a New York-based franchise capable of making a substantial monetary profit next season and every season beyond.
The Mets payroll—including various bonuses—sat near $143 million in 2011 while their $900 million ballpark saw an announced crowd of just over 30,000 per game. That mark put them at 14th in Major League Baseball and it was the third straight season the team suffered a drastic decline in attendance.
The good news is that Carlos Beltran and Jose Reyes have slashed $31 million off the Mets payroll, while the $20 million in dead money they paid to Oliver Perez, Luis Castillo and Gary Matthews, Jr. this season is finally a thing of the past. 
When it's all said and done, the team has only $66 million committed to their players entering the offseason. If we shimmy in arbitration raises, a few mid-level re-signings and possible non-tender candidates (see: Pelfrey, Mike and Pagan, Angel), their payroll will sit at around $80 million—and that is probably more toward the high-end of an estimate.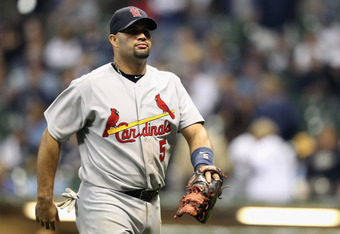 Christian Petersen/Getty Images
A majority of the committed money belongs to Johan Santana ($24M), who would be a huge addition to the rotation if he can even partially regain form after injuries kept him out for the entire 2011 season. The two other large chunks belong to Jason Bay ($18.2M) and David Wright ($15.3M).
The Jason Bay experiment hasn't worked for the Mets. He's hit just .251 with 18 home runs since joining the team before the 2010 season, though his time in New York has been marred by injuries and Citi Field isn't built with dimensions suitable to his hitting capabilities. 
Bay will surely be made available this winter. If the Mets can get a team to pay even $5 million of his salary for the next two seasons it'd be a win for the franchise.
Even if we stick with the aforementioned $80 million team payroll before free agency begins, it is possible for the Mets to re-sign Reyes and bring in Pujols.
Estimates for Reyes' next deal range from $15 to $20 million per season, while Pujols is expected to bring in anywhere from $25 to $30 million, though I would go almost as far as guaranteeing Pujols won't demand $30 million per season on the open market.
By far the worst-case scenario, the two would combine for $50 million in annual salary. There is a good chance of Pujols' deal being back-loaded as well, seeing as he should be chasing some records during the twilight of his career. This would offset some of the $43 million the team is paying to Bay and Santana each season until their contracts expire in two years.
Best-case scenario, the Mets could have Pujols and Reyes in 2012 while lowering their team payroll to $120 million—even lower if they can move Bay. 
For those of you who disagree with my reasoning thus far and believe the Mets' only priority this winter should be to bolster their rotation, let me ask you one question: Which free-agent pitcher would you actually want to take a chance on? CC Sabathia and C.J. Wilson are out of the question, Roy Oswalt isn't the solution and Edwin Jackson is a schizophrenic on the mound.
Why overpay for a mediocre free-agent pitcher when you already have a player on your roster who could bring in a boatload of young pitching in a trade? 
Yes, that player is David Wright.
Wright—who is owed $15 million in 2012 with a $16 million team option for 2013—surprisingly cleared waivers this past August. He's 28 years old, one of the best third basemen in baseball and has a career OPS-plus of 134. He is well worth his contract and could net two major league-ready pitchers in a trade.
Wright has been rumored to be available since the spring and many have wondered whether a Reyes re-signing would mean Wright is long gone. 
If the Mets were able to pull off a deal for Wright, they could get their payroll down to $105 million with room to add a couple more mid-level free agents. Again, ridding themselves of Bay would only lower this number.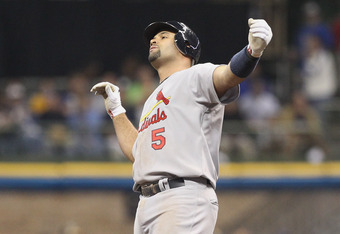 Christian Petersen/Getty Images
Pujols almost belongs in a media market as big as New York, as his potential for extra marketing income would be beyond endless. The Mets would most likely sell out every single home game for the duration of his contract, making the formerly prominent franchise profitable once again.
Most importantly, however, is that Pujols would make the Mets instant contenders in the NL East. He's led much less talented teams to the playoffs in St. Louis, so the sky would be the limit once the franchise gets its finances back in order.
Whether likely or not, to believe it's not possible for Pujols to land in Queens is very inaccurate. I, for one, would enjoy watching him save the struggling franchise.
Jeffrey Beckmann is an MLB featured columnist for Bleacher Report. Follow Jeffrey on his new Twitter account for all of his latest work. You can also hear him each week on B/R Baseball Roundtable.