MLB Realignment: Should Baseball Take a Cue from College Football?
October 11, 2011
Elsa/Getty Images
Change.
It fixes everything, right?
If you're on the bigger side you change your diet, if you have no style you change your wardrobe and when you're Brett Favre, you constantly change your mind.
Change is a daily routine, and it is quickly becoming a mainstay in the sports world.
Ironic? Indeed. 
Take college football for instance. Since 2010, 19 college football programs have changed conferences, the most ever in a two-year span.
They have pioneered the realignment process, and we're not talking about small schools either. 
Huge BCS institutions, such as Texas Christian University, Pittsburgh and Texas A&M are jumping ship and joining big-name schools in the big boy conferences like the ACC, Big 12 and SEC.
There may not be an exact reason which we can pinpoint on why these schools are changing conferences, but increased revenue, big-name school competition and added excitement are all important factors.
Change is exciting and sports is a form of entertainment; change keeps people watching.
So what happens when Major League Baseball, America's pastime, is losing that excitement or entertainment value?
It's become evident hasn't it? Until the recent playoff races (races this close only come around once a decade or so), baseball has taken a backseat in the sports world. 
According to a  recent analysis of baseball's popularity by Gary Gillette, co-chair of SABR's Business of Baseball committee, baseball is not nearly as popular now as it once was. 
In fact, Gillette goes on to say that when surveyed, America claimed football was their favorite sport to watch over baseball, "America's pastime," by 34%. 
There has to be a solution for the sport that our country used to pride itself on. For god's sake, America used to live by baseball, hot dogs, apple pie and Chevrolet.
Should it follow in the footsteps of college football and demand change to hopefully increase popularity?
The short answer is yes. 
All of the changing in college football has brought increased excitement, positive and negative, and any publicity is good publicity. 
The last significant change in Major League Baseball was when the Montreal Expos went to Washington in 2004 and became the Nationals.
To be honest, did that really excite anyone? 
Baseball needs to make changes immediately, and here's what they should do. 
Swap the Washington Nationals and Tampa Bay Rays
Why these two teams? Simple.
The Tampa Bay Rays will excel in the National League, and sending them to the NL East will start a geographic rivalry with the Florida Marlins. 
If the Marlins, who have the lowest attendance in the MLB, generate a new rivalry, then attendance and excitement will increase, especially for the 20 games against new rival, Tampa Bay, and you know that Marlins manager Ozzie Guillen will eat that up. 
On the other side of this two-team swap, Washington will enter the AL East, where they will compete in the most dominant division in recent years. 
Washington will jump at the chance of entering the AL East, as they will be returning to the American League, where the Washington Senators were one of the original AL teams. 
The Nationals will also be able to increase excitement, attendance and competition as they will have the chance to compete against the Yankees and Boston Red Sox all year long.
The competition will be tougher, but Washington is clearly a team on the rise, with young stars like Bryce Harper and Stephen Strasburg who could excel in prime time baseball.
Let's also throw in how Washington is a mere few miles from the AL East member Baltimore Orioles, which could cause a great geographic rivalry to add some excitement.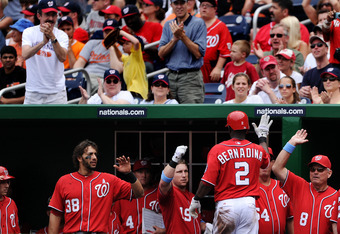 Patrick Smith/Getty Images
Send the Houston Astros to the AL West 
This may be the most obvious, and yet neglected move in sports. 
The American League currently has 14 teams, while the National League has 16. The American League West has four teams, and the National League Central has six teams.
Seems a little unfair when both leagues hold the same number of playoff spots. 
The ideal solution would be to send the Houston Astros of the NL Central to the American League West. 
This would then create two even leagues of 15 teams, and every division in baseball would consist of five teams. A perfectly fair solution. 
Excitement factor? The Houston Astros would finally have an increased chance to win with a smaller amount of competition for a playoff spot, and a Texas rivalry of Astros vs. Rangers would ensue.
Sounds like fun to me.
Will this work? 
Yes, both ideas are extremely plausible, beneficial and could be put into action for the 2012 season. 
Two simple changes like swapping the Rays and Nationals and sending the Astros to the American League would have a lasting effect on the entire league that is beneficial for baseball.
Increased attendance, new era rivalries and change in baseball; college football could save America's pastime.