Why Does Broncos Team Executive John Elway Hate Tim Tebow?
October 11, 2011
Doug Pensinger/Getty Images
There is no more quarterback controversy in Denver. There is no more to gain by starting Kyle Orton unless the Broncos are playing for the first pick of the draft.
The Broncos are not good with Orton. Orton is tied for the league lead for interceptions with seven. He could have been the sole leader but he was benched at halftime.
Tebow mania is on full throttle. If there was still controversy, Orton would have finished the game and Denver fans would have booed restlessly. Tebow gave the Broncos a chance to win.
Contrary to what he claims, John Fox has no decision to make by Tuesday. Fox must only decide if he wants Tebow primarily in the shotgun or under center.
Why does 98 percent of Colorado (pure speculation, no poll taken) want Tebow to start? A better question, why does the executive office for the Broncos not want Tebow to play? Just think, if Uncle Rico would have been put in the game back in 1982, his team would have won state.
Tebow has the largest biceps of any quarterback in the NFL. On Sundays, Tebow must decide if he wears long sleeves to cover the guns, or sleeveless under armor to intimidate linebackers.
The only way to bag a classy lady is to give her two tickets to the gun show… and see if she likes the goods.
The Broncos gave the Denver fans two tickets last Sunday, and they liked it a lot. A buzz happened and the team and city was awakened.
Kyle Orton is in his seventh NFL season. Orton started for the Bears his rookie season despite being drafted in only the fifth round by the Chicago Bears.
Orton is also no stranger to quarterback controversy when he went back and forth with Rex Grossman on being the incumbent starter for the Bears.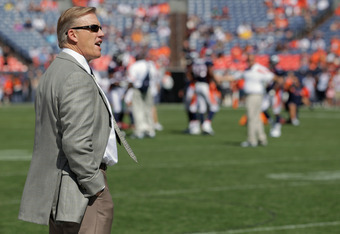 Doug Pensinger/Getty Images
Orton has not been good. What's worse is the Broncos are not good right now. With the Bears, Orton and Grossman were the weak links on very good teams.
For the Broncos, Orton is a weak link on an unstable chain. After going 3-10 last season, Orton is leading the Broncos straight to the No. 1 pick.
That's a good situation for Stanford alum John Elway, which will give him reason to draft Cardinal sensation Andrew Luck. Without a helmet on, Luck looks like a dork. Picture John Francis Daley in pads adding 50 pounds of muscle. With a helmet on, Luck appears as NFL-ready as they come.
When Tebow left college, he was as good as it got in the NCAA. The NFL has a different criterion, though. Cam Newton did not fit that criterion either. Today, Newton has already surpassed all expectations as a rookie, despite a 1-4 start for the Panthers.
Last season, the John Fox coached Carolina Panthers had a season total of 2,289 yards passing and only nine touchdowns. Dead last in the NFL. Through five games this season, Newton has thrown for 1,610 yards and seven touchdowns, also adding five rushing touchdowns.
I'm still fact checking to see if a coach has ever led two different teams to the No. 1 pick in back to back years. I'm pretty sure Fox could be the first.
Kyle Orton is currently 27th in the NFL for passing yards per game with 195.8. If Kyle Orton was passing for huge numbers and the Broncos were still losing, things would be different. Yet Orton is 28th among starting quarterbacks in passer rating.
Tebow's greatest flaw might be that he doesn't sin as often as normal men.
Tebow's other flaw includes being more popular than Broncos legend John Elway. Elway played in five Super Bowls, more than any other quarterback. The Broncos lost three of them badly and won the last two, also Elway's last two seasons in the league.
All those accolades and he's still the second most popular quarterback to play for Denver. No wonder he hates Tebow.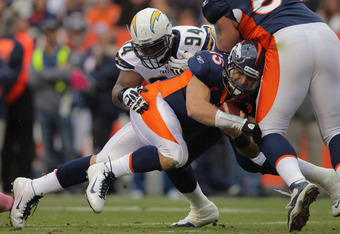 Doug Pensinger/Getty Images
John Elway famously told Peter King of Sports Illustrated last January, "I don't think Tim Tebow is a good NFL quarterback at this time." Afterward, Elway backtracked the statement and clarified, "Tim Tebow is a darn good football player. What we have to make him is a darn good quarterback."
It was another slight dig at Tebow, almost suggesting he should switch positions. In February, coach Fox vowed that Orton was the starter without ever holding one practice.
Prior to the draft, Elway told NFL.com he may choose a quarterback. "Obviously if there's a guy there that's a franchise guy there, we definitely have to look at it because we're not sure we have a franchise guy on our team right now," Elway said. "So, obviously we've got to visit that, look at it, and do our due diligence on it, and then we'll make our decision from there."
The Broncos did not choose a quarterback in the draft. New head coach John Fox claimed in July to open the competition at quarterback in the short camp the team had with the lockout in place for most of the offseason.
By late July, the team was ready to deal Orton to Miami for a high draft pick, despite making claims he was the starter.
The first preseason game against Dallas, Tebow was six for seven for 91 yards. Not too shabby. 
In the second game, Tebow hardly played and finished with only two passes. There was no serious reason for Tebow being demoted to third string other than the coaches make decisions and fans just watch games.
In the third preseason game, Tebow led the Broncos to the game winning field goal against the Seahawks' third stringers.
In the last preseason game, Brady Quinn started the game, played the first half with a stat line of 4 of 12 for 26 yards 0TDs and 1INT. Tebow played the second half and connected with Erron Riley for the Broncos' lone touchdown on the day.
In August, a member of the Broncos organization toldYahoo Sports' Adam Silver, "If everything was totally equal, and this were a competition based only on performance at this camp, Tebow would probably be the fourth-string guy. Kyle [Orton] is far and away the best, and Tebow's way behind [Brady] Quinn too. And I'm telling you, Adam Weber is flat-out better right now."
According to what proof, they don't say. As Allen Iverson would say, "Practice!!? Not a game, you talking about practice." It doesn't matter what Orton looks like in practice, during games he looks awful.
Going into the bye week, the Broncos are 1-4. Silver also quoted John Elway in August as saying, "Obviously, there is an investment, and there will always be an investment in first-round picks… But the bottom line is, our responsibility is to do the best we can to win football games, and we've got to figure out the best thing to do to accomplish that. And I think ultimately that's what fans want."
There you go John, you tried it your way, now you have to try what the fans really wanted all along.