In Need of Speed? Every Team's Hardest Throwing Prospect
Mike Ehrmann/Getty Images
Matt Moore put his 98-mph fastball to good use, cutting down Ranger after Ranger in a surprising Game One ALDS victory.
The majority of the top pitchers in baseball have dominant fastballs.
Soon-to-be American League Cy Young winner Justin Verlander flashes a wicked 95-97 mph fastball, while two-time N.L. winner Tim Lincecum lives in the 92-97 mph range. C.C. Sabathia, owner of 176 career victories, owns a mid-90s fastball, as does arguably the most dominant pitcher in baseball, Roy Halladay, who at age 34 can still hurl with the best of them.
As such, it only makes sense for scouts to put velocity at the top of their list while scouting high-school and college talent. After all, velocity is the one thing you can't teach.
Following that same logic, most of the top pitching prospects in each team's organization just so happen to be some of the hardest throwing players.
So without further ado, I present to you the hardest throwing prospects in baseball, one from each team, and in most cases you'll see that that player just so happens to be the team's top overall prospect, save for the few teams who's top flamethrower just so happens to be a reliever.
Enjoy!
Begin Slideshow

»
Trevor Bauer might have gotten all the love as the team's first first-round pick this past June, but the right-hander that the D-Backs took four picks later, Archie Bradley, has the best sustainable velocity of any member of the organization.
Bradley entered his senior year of high school as a top-five pitcher in his state (Oklahoma) and ended it as one of the top pitchers in the country, and a large reason for that was his velocity.
After showing solid mid 90s velocity during the early parts of the season, he got better as the season wore on, and finished on a high-note, reportedly hitting 100 mph during the state championship game, during which his squad defeated No. 4 overall pick Dylan Bundy's team.
Christian Petersen/Getty Images

The Braves have a sensational group of pitchers, each of whom offer excellent velocity, and while Randall Delgado and Arodys Vizcaino throw consistently in the mid 90s, nobody has better heat than top prospect Julio Teheran.
But it isn't just speed that took the native Colombian to the top, although throwing 94-97 mph doesn't hurt. Teheran also shows great command of his fastball, and while it didn't necessarily translate into Major League success in his first taste of the big-leagues (10-to-8 K:BB in 18.2 IP), it has certainly improved dramatically since he was pitching in Low-A less than two years ago.
Few pitchers, if any, in the minor leagues have a better fastball than Bundy, who is several years younger than the majority of the top pitching prospects in baseball.
He made quite a statement by proclaiming before his senior year at Owasso High that one of his many goals was to hit 100 mph, a rare feat among high-schoolers. He made good on his word, however, hitting triple digits several times throughout the season, while sitting more comfortably in the 95-99 mph range.
Sadly baseball fans were robbed of a chance to see a rare matchup between two prep pitchers who can touch 100 mph when Bundy made an appearance in the state semifinals instead of holding out for a state championship tilt with Archie Bradley.
Ranaudo was sensational for two seasons at LSU, helping the Tigers to an NCAA championship, while quietly building his draft resume. That resume took a hit during his junior season, during which the right-hander got out of whack mechanically and suffered more than his fair share of poor outings.
He rebounded with an epic showing in the Cape Cod League and justified his $2.55 million bonus with a strong debut season splitting time between the Low-A Sally League and High-A Carolina League. Ranaudo has a perfect pitcher's frame (6'7'', 230 pounds), and it's no doubt that he can touch the mid-to-high 90s with his fastball.
He touched 97 mph consistently during this past season and his fastball showed more life than it did during his final season at LSU.
Like Ranaudo, Zych opened some eyes during a stellar campaign in the 2010 Cape Cod League, during which he was a strikeout machine, racking up saves by the boat-load.
He didn't fare so well during his final season at Cincinnati, but he still showed enough potential to warrant a selection in the fourth-round by the Cubs. Zych showed the ability to hit 99 mph with regularity during one-inning stints for the Bearcats, and will likely continue on in the closer's role with Chicago.
He made four appearances after signing, and should start off the 2012 campaign at the High-A level, at least. He could reach Chicago at some point during the season and could pitch either as a shutdown closer or make his mark as a dominating set-up guy.
Petricka flew under the radar this season, especially for someone who ranked among the top 10 prospects in Chicago's system according to Baseball America.
In addition to having a very fine season (7-8, 3.65 ERA, 99 K in 113 IP), Petricka continued to impress with his awesome velocity. He touched 100 mph a few times during instructional league in 2010 and showed consistently in the mid-to-high 90s.
Petricka would likely be a triple-digit threat as a reliever, but with the White Sox farm system being in the shape that it is (lacking quality starting pitching), they're likely to keep Petricka and his sensational fastball in a starting role.
Prior to the 2011 MLB Draft the Reds were very well stocked with position players, and lacking in elite pitching talent. They made a concerted effort to go after some high-ceiling arms in the draft and wound up with an underrated guy who could have a very bright future ahead of him.
Stephenson opened his senior year with back-to-back no-hitters, so you know he has an excellent fastball. It sits comfortably in the 93-96 mph range and occasionally touches 98. In addition, he throws many different variations, including a two- and four-seamer, and a cutter.
Stephenson has a very projectable frame that leads many to think he could have a few more mph in that special right arm.
This pick doesn't have as much luster considering Knapp is currently out until...well, nobody really knows. The former top prospect in the Phillies organization has had his fair share of tough luck since turning pro.
The 21-year old has missed chunks of every season he's appeared to numerous injuries and was sidelined with his second shoulder injury this summer. The injury required surgery and forced him to miss the rest of the 2011 campaign.
When healthy, Knapp's velocity is amazing. He touches 98 with relative ease and sits comfortably in the mid 90s.
Thearon W. Henderson/Getty Images

While Drew Pomeranz, who arrived in Colorado as a part of the same package that sent Ubaldo Jimenez to Cleveland, may be the better all-around pitching prospect, there's no denying that White has the better velocity.
He sits comfortably in the low-to-mid 90s and can touch 95-96 mph when he needs to. White rocketed through the minors with the ease that has come to be expected from a former UNC Tar Heel, but struggled greatly upon his promotion to the big-leagues, posting an ERA over 7.00, proving true the age-old adage that you need more than just velocity to succeed in the Majors.
Regardless, White will probably join the Rockies rotation at some point during the 2012 season and could potentially open the season in the starting five along with Pomeranz.
Leon Halip/Getty Images

It wasn't velocity that got Turner to the Majors just months after his 20th birthday, but being able to throw in the mid 90s with great control has certainly aided him during his ascension through the minor leagues.
Turner took turns dominating Double-A and Triple-A batters for the majority of the 2011 campaign, and eventually earned the opportunity to make his debut. He looked great for five-innings, but struggled greatly when he was recalled later in the season.
Turner has touched 96 and even 97 mph on occasion, but will likely stick to the 92-95 mph range to maintain his excellent control.
Jeff Gross/Getty Images

For the first time since 2009, the Marlins let Marinez pitch at one level, and the right-hander thrived, utilizing his 93-98 mph fastball to convert 74 strikeouts in just 58 innings.
Granted, his fastball wasn't always sharp, and more often than not wasn't even in the zone (42 BB in 59 IP), but he still has the top velocity in the organization, fighting off a strong competitor in 2011 draft newcomer Jose Fernandez.
Unlike Fernandez, Marinez's future is in the bullpen, where he can better utilize his above-average fastball.
Despite his struggles, no Houston pitcher has as much potential as 2010 draftee Mike Foltynewicz.
One of the least known names drafted in the first-round that year, the 20-year old has shown great velocity since signing, touching 96 and 97 mph on occasion. He sits regularly in the 93-95 mph range, but that's still a great jump from the majority of the Astros other top pitching prospects.
It might come as a shock to some that, in a system that includes top pitching prospects like Mike Montgomery, Chris Dwyer, John Lamb and Jake Odorizzi, the top fastball actually belongs to little-known right-hander Yordano Ventura.
The Royals discovered Ventura in the Dominican Republic, back in 2008, and have watched him blossom into one of the top performing international pitchers in baseball. This season, in his first extended taste of ball in the States, Ventura struck out 88 batters in 84.1 innings.
It helps that he has a fastball that approached triple digits. And while the 20-year old has had his problems with control, issuing too many wild pitches and serving up too many long-balls, he's done a much better job of reigning in his walks, issuing just 24 this season and 18 the year before.
The word, according to Baseball America's 2011 Prospect Handbook, is that Martinez-Mesa obsesses over radar-gun readings.
In their eyes that signals a weakness, but in terms of this slideshow it all but certifies that he's got the top velocity among Angels pitchers. If Mike Trout were eligible of course, he'd win this award going away, but since he didn't spend any time on the mound this year, he's ineligible.
But back to Martinez-Mesa, who throws in the mid 90s and can touch 98 mph. He hasn't had much opportunity this season, as he missed all but two innings of the 2011 season due to shoulder tendinitis.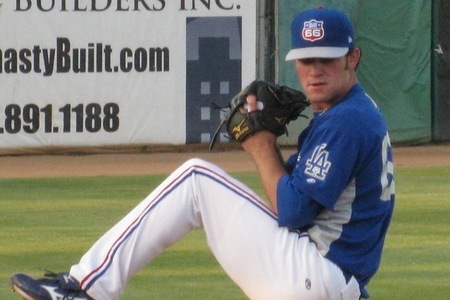 Command has never been Withrow's strong suit, as evidenced by his 144 walks the past two seasons, but one thing he's never been lacking in has been velocity.
He was born and raised in Texas, so it's no shocker that this fire-baller can churn out fastballs in the mid-to-high 90s. He's touched 98 mph in the past, but has had to dial back a few mph the past few seasons in order to try to get a hold of his pitches.
It's sort of worked, as the 22-year old struck out 130 batters this season, two short of a career-high. Unfortunately, he also walked a career-high 75 Double-A batters.
Fellow draftee Jed Bradley might have the better all-around stuff, but there's no denying that Jungmann has the best velocity in the Brewers system, trumping Wily Peralta by a few consistent miles-per-hour.
The former Longhorns ace was named the Dick Howser Player of the Year for his performance during his junior season (13-3, 1.60 ERA), and the combination of his success and his filthy repertoire of pitches helped him earn a first-round selection in the June draft by Milwaukee.
The Brewers coveted Jungmann not only for his ideal size (6'6'', 220 pounds) and track record of being a winner (32 victories in three seasons), but also for his consistent velocity on the mound. Jungmann has been clocked as high as 97 mph, but sits comfortably in the 93-96 mph range. He's excellent at maintaining his velocity deep into games, and as a result, he tossed five complete games for Texas this season.
After putting together an astounding year in 2010, Watts seemed on the verge of a big-league breakout in 2011.
Unfortunately, the chips didn't fall right for him and he regressed a bit, stumbling in both High-A (4.60 ERA) and Double-A (7.86). For what it's worth, though, Watts remains the hardest thrower in the Twins system. He usually throws in the 93-96 mph range, but can reach back for 99 mph during one-inning stints.
Marc Serota/Getty Images

Another injury casualty from the 2011 season, Mejia underwent Tommy John surgery in May and won't likely return to the mound until mid-2012.
And even when he returns the team is likely to monitor his work-load. The team rushed him to the Majors a few seasons ago and forced him into a bullpen role. The new head honchos, led by Sandy Alderson, intended to let him go back to starting and planned to use the 2011 season to stretch him back out, but saw that scrapped.
Now they'll go back to the drawing board to find a place for the hard-throwing right-hander who throws consistently in the 94-96 mph range.
J. Meric/Getty Images

The Yankees have a stable of hard-throwing pitchers, including Andrew Brackman and Manny Banuelos, but the honor for hardest thrower has to go to Dellin Betances.
At 6'8'' and 245 pounds, he's still smaller than Brackman, but roughly twice the size of the diminutive Banuelos. That weight helps him generate heat in the mid-to-high 90s. He sits comfortably in the 92-96 mph range, but has been seen a few times in the 97's.
Betances had his first truly complete season for the Yankees in 2011 and looked great, striking out 142 batters in just 126.2 innings between Double- and Triple-A and even earning a late-season call-up to New York.
Gray exploded onto the scene a few years ago, possessing Lincecum-like size and a fastball that would have made the Giants Cy Young winner proud.
Gray dominated competition during a run with Team USA last summer and carried over his success into the 2011 season, in which he went 12-4 with a 2.43 ERA and 132 strikeouts in 126 innings. He ended up going to the A's with the 18th overall pick in the first-round.
Gray immediately went to work for Oakland, utilizing his 92-96 mph fastball to carve up minor league hitters in Double-A, getting 18 strikeouts in 20 innings and finishing his debut campaign with a 0.82 ERA.
Colvin didn't get a lot of headlines this year. He wasn't traded like his teammate Jarred Cosart, and didn't finish in the top-five of the Minor League strikeout race like his other teammate Trevor May.
He had a rough campaign, losing eight games while posting a 4.71 ERA and witnessing a drop in his strikeout rate for the second season in a row. Through it all, however, he maintained his solid velocity that is, with Cosart's departure, the best in the system.
He can reach back and touch 97 mph, although he pitches best in the 92-95 mph range. With the departure of Cosart, who was considered the most polished of the three, the pressure's on Colvin to pick up the slack.
The Pirates have such a wealth of talent in their farm system that you could probably throw Stetson Allie's name in the ring too and make this duo a threesome.
Cole and Taillon, however, have the best sustained velocity in the organization and maybe all of the minors.
The main reason Cole was drafted first overall this past season was due to his outstanding velocity. He sits in the mid-to-high 90s and was frequently clocked during his college career at 100 mph.
Taillon has yet to hit that number as a pro, but he has been clocked at 99 mph more than a few times. He sits in the 93-97 mph range and makes that type of speed look easy.
Jeff Gross/Getty Images

Like the Pirates, the Cardinals have two talented fire-ballers in the system, but in the end Miller gets the nod over Carlos Martinez due to his consistency.
Both pitchers are capable of reaching the upper 90s, with Martinez clocked as high as 99 mph. There are even those who believe that he's capable of hitting triple digits with time and experience. Miller, however, has been dealing 94-98 for two seasons now and has got the command to go along with the velocity.
A dark-horse to win a rotation spot out of spring-training next season, he could spend the majority of his season with the big-league club.
Ross has the bloodlines to be successful in the big-leagues—his brother Tyson pitches for the A's—but if he's truly going to make an impact, it's going to be as a result of his excellent velocity, which is easily the best in San Diego's system.
He was clocked before the draft, where San Diego plucked him with their second first-round selection, in the mid 90s, topping out at 96 mph.
The Giants fifth-round pick in the 2010 draft, Hembree quickly rose up the team's prospect rankings with a strong debut, in which he posted a 22-to-0 K:BB ratio in 11 rookie ball innings.
During his debut in the Arizona League he also showed excellent velocity, touching 99 mph on more than one occasion. He opened the 2011 campaign as High-A San Jose's closer, and looked brilliant pitching in a hitter's league, posting a 0.73 ERA, while striking out 44 batters in 24.2 innings and racking up 21 saves.
He looked just as strong with a promotion to Double-A, racking up another 17 saves and 34 strikeouts.
Don't be surprised if he joins the big-league bullpen sometime in 2012.
He didn't show too much of it during his ultra-successful debut campaign, but Walker has the capability to hit 98 mph on the radar gun.
He did it as a raw prospect before the 2010 draft, and has consistently sat in the mid-90s since signing with the Mariners. His advanced fastball, not to mention his uncanny command, for his age, allowed Walker to dominate Low-A ball (2.89 ERA, 113 K in 96.2 IP) in his first season as a pro.
J. Meric/Getty Images

There's a reason Matt Moore won back-to-back strikeout titles in the minors and challenged for a third in 2011.
He had not only some of the best velocity in the Minor Leagues this past season, but he also had excellent command of his fastball, blowing it by hitters when he needed to and working it away from them when that suited him.
At his best, he throws in the 96-98 mph range, although he sits more comfortably in the 93-96 mph range when starting. He touched 97 very often during his sensational playoff debut in the American League Divisional Series against Texas and offered just a brief glimpse of what he's capable of.
Stephen Dunn/Getty Images

Scheppers had a decent season, but in no way performed at the level most expected him to.
He didn't even crack the big-league roster at any point during the 2011 campaign, something that seemed like a forgone conclusion during Spring Training when he was fighting for the closer's job. He still put up strong numbers, but failed to dominate hitters like he had shown capable of doing.
Still, even in a system that contains many of the games top pitching prospects it's Scheppers who has the top fastball. His pitch sits in the mid-to-high 90s and has been clocked as high as 98 mph in the pros.
The Blue Jays might be too tempted to see what Stilson can do as a starter to ever witness him at his peak velocity, but all you have to do is go back to his sophomore season at Texas A&M to find him throwing darts in the 96-98 mph range.
When he moved from the bullpen, where he put together one of the finest seasons ever by a collegiate reliever, he saw a dip in his velocity, to 93-95 mph, but that was still more than enough to dominate college hitters.
Stilson is close to being 100 percent after having his season ended by a torn labrum and has looked sharp pitching in instructional league.
Somewhere along the 2011 season, Meyer dropped his loving nickname "Bubba," trading it in for a more professional moniker, Alex.
The name change seemed to suit him, as he put together a career-year for Kentucky, besting some of the SEC's top pitchers in one-on-one battles along the way. His climb climaxed when he was drafted 23rd overall in the June draft.
He'll be taking his mid-to-high 90s velocity with him to Washington.