Minnesota Vikings: Defense Says It Knew Arizona Cardinals' Kevin Kolb's Plays
October 10, 2011
Hannah Foslien/Getty Images
The Minnesota Vikings beat the Arizona Cardinals 34-10 in a game that was decided by half time.
After 12-and-a-half minutes, the Vikings scored 28 points to Arizona's zero.
The winning formula for the Cardinals coming into the contest against the Vikings was clear; attack through the air.  Pro Bowl cornerback Antoine Winfield was unable to suit up against Arizona, which left a tantalizing matchup for the Cardinals wide receivers.
Arizona quarterback Kevin Kolb did little to exploit the Vikings' depleted defense. Kolb completed 21 of 42 passes for 232 yards and no touchdowns. He also chipped in 2 interceptions and a lost fumble.
Kolb's 46.9 quarterback rating against the Vikings fits nicely at the bottom of a sharply declining slope of his ratings over the past five weeks—130.0, 92.5, 69.6, 67.9 and 46.9, respectively.  
The Vikings also held Larry Fitzgerald, one of the most talented wide receivers in the NFL, to four catches for 66 yards this past Sunday. Fitzgerald saw a total of eight targets.
This week, however, Arizona's anemic passing "attack" may have been offensive coordinator Mike Miller's fault.   
Vikings corner back Chris Cook said that the secondary knew the plays the Cardinals were going to run as soon as the offense lined up, as reported by 1500espn.com. 
"We knew what they was doing. A lot of their stuff, we were calling it out before they did it," Cook said.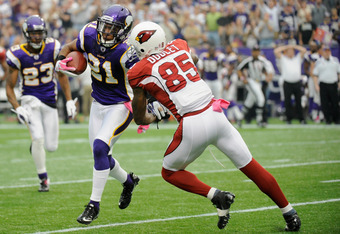 Hannah Foslien/Getty Images
Cook's statement is a direct indictment of Miller and the lack of creativity the Arizona offense displays. 
Coming into Sunday's game, the Vikings had tallied only three takeaways in the previous four weeks.  They more than doubled that number after demolishing Arizona in one Sunday afternoon and creating four turnovers.
In the first quarter, cornerback Asher Allen snagged a tipped pass intended for Andre Roberts. On the Cardinals' next possession, Vikings defensive end Brian Robison forced a fumble from Kolb, which Jared Allen pounced on.
Both of these takeaways resulted in touchdowns, one by a punishing Adrian Peterson and the other by a lumbering Donovan McNabb.
In a feeble comeback attempt, Kolb thew his second interception on a pass that was either dangerously overthrown, intended for Early Doucet or severely underthrown, intended for Larry Fitzgerald.
In any event, Kolb's third turnover matched the Vikings' previous total turnovers for the year.  
The fourth Vikings takeaway was an interception thrown by backup quarterback Richard Bartel in garbage time.
The Cardinals have a bye next week, coming at an opportune time. It allows Miller to outline an innovative gameplan against the Pittsburgh Steelers in Week 7.
At least one that disguises the Cardinals' plays enough so the defense can't call the play out before Kolb does.   
CedricHopkins on Twitter"/>