Saints vs. Panthers: The NFC South Faceoff Leaves Rookie Cam Newton Frustrated
October 9, 2011
Streeter Lecka/Getty Images
Drew Brees and the New Orleans Saints went stomping into Carolina Panthers territory with a 3-1 record, validating their position within the league.
Cam Newton and the Carolina Panthers walked into the game with a chip on their shoulder.
There have been plenty of times the Panthers have come close but no cigar in terms of winning a few of their matchups because they simply could not get the job done.
Today, the Panthers played with a ferocity that has pushed them to the forefront as one of the scrappiest teams in the league.
Still, it was not enough to keep the Saints from ultimately ending the game with Brees' 18th winning drive and a score of 30-27 over the struggling-to-get-the-ball-rolling Panthers.
So what will the fourth loss of the season do for Cam Newton's confidence?
The rookie had not lost a game during his time at Blinn College and Auburn University. His journey to the BCS Championship win against the Oregon Ducks did nothing to prepare him for being drafted to a team with so much to work on that things would get worse before they got better.
Even as his accuracy seemingly improves and his numbers remain solid, Newton understands wholeheartedly that his personal statistics mean nothing if, at the end of the season, his team has nothing to celebrate.
DeAngelo Williams had a monster game and was responsible for Carolina's first two first downs on their second drive (their first drive was cut short by an early pick from their star rookie QB). After weeks of being deemed overpaid and a slow starter, I believe Williams showed us all why he was rewarded the last-minute contract.
But, if everyone—such as the RBs, the TEs, the WRs and most definitely Carolina's defense—was playing to the height of their potential, why were the Panthers forced to walk away from this game cringing at the thought of the one that got away?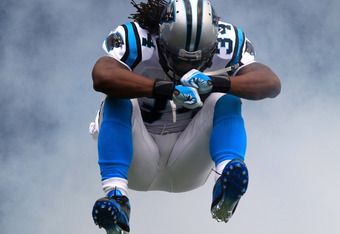 Streeter Lecka/Getty Images
Olindo Mare, kicker for the Carolina Panthers, attempted an extra point early on in the game, which was blocked. Mistakes like those shift momentum and inject a feeling of what could have been.
Newton's early pick did nothing to boost morale on the first drive, either.
As the rookie moves through and past his growing pains throughout his first season in the league, the Panthers as a whole are struggling with the emergence of a totally new identity.
Williams is coming off a 2010 season where his efforts had been mediocre when he did play, and his playing time was halted by injury. This season's slow start frustrated a lot of Carolina fans who felt his contract gave off the aura that things would be different this time around.
Although Williams is now coming into the greatness that the Panthers expected he would, Carolina's offense seems to still be trying to adequately get their footing with the arrival of a totally different look on the offensive end.
Carolina played a great game against New Orleans, but they were simply faced with a better opponent. Not only do the Saints have multiple running threats, including former Heisman Trophy winner Mark Ingram and Reggie Bush replacement Darren Sproles, but they have Marques Colston and an overachieving QB to out-think in Drew Brees.
This NFC South battle was a nail-biter, but as everything came down to the wire it was strictly about he who was more experienced in tight-knit situations such as these; Newton's inexperience showed, and Brees' prevailed.
Telling the rookie, "Things are looking up," simply will not suffice.
Cam Newton wants to win—and he wants to win now.