NFL Predictions Week 5: Ryan Mathews and 3 RBs Set for Huge Games
October 9, 2011
Donald Miralle/Getty Images
In a season dominated by quarterback play, Week 5 could be the week that running backs reassert their dominance in the NFL.
Favorable match-ups along with stellar performances in previous weeks point to these four ball carriers having great days.
Ryan Mathews
The San Diego Chargers would love to see Mathews break off a few big runs this weekend and not force Vincent Jackson to risk further injury by stretching the field. Mathews is facing a porous Denver Broncos defense that is likely missing run-stopping safety Brian Dawkins, who helps clean things up when backs break through the front line.
Prediction: 115 rushing yards, 1 TD
LeSean McCoy
The Buffalo Bills provide a nice matchup for McCoy and the Eagles in the running game. Cedric Benson was able to find some room to run against the Bills last week and with the varied offensive weapons that the Eagles have to offer, Buffalo will have trouble deciding who to bottle up.
Prediction: 120 rushing yards, 2 TDs ( 1 rushing, 1 receiving)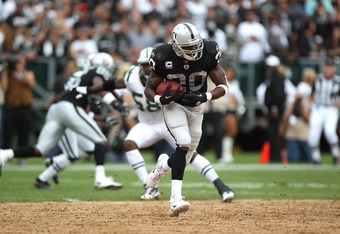 Jed Jacobsohn/Getty Images
In the wake of the passing of Al Davis, it will be "Run DMC" that authors the tribute performance much like Tiki Barber after Wellington Mara passed away. This is not a case where the matchup has anything to do with the outcome, as the Houston Texans are just the unlucky team that has to face the Raiders after their leader's passing.
Prediction: 160 rushing yards, 2 TDs
Chris Johnson
It seems odd that a prediction for a good rushing game would come against the Pittsburgh Steelers, but based on Arian Foster's performance last week, it is a safe bet that Chris Johnson will find a way to do the same. Fantasy owners have been waiting for Johnson to truly "break out" in the 2011 season and Week 5 could be that time.
Prediction: 120 rushing yards, 1 TD