San Diego Chargers: Loss of Quentin Jammer Buffered by Rookie Marcus Gilchrist
October 8, 2011
Stephen Dunn/Getty Images
Quentin Jammer's presence has been one of the few constants on the left side of the Chargers defense over the last decade.
A shut-down corner by all accounts, only his inability to rack up big numbers in terms of interceptions have prevented him from Pro Bowl consideration over the course of his career.
However, since taking over as a starter in 2003, he's missed only two games in 132 starts, and, now in his 10th season, he's shown no signs of slowing down.
So, needless to say, there was legitimate reason for concern in San Diego when the veteran corner went down with a hamstring injury early in the third quarter of a Week 3 matchup against the Kansas City Chiefs.
Enter rookie second-round pick Marcus Gilchrist, who got the start in place of Jammer the following week against Miami. While perfectly understandable, any reservations as to whether or not the rookie was up to the task were alleviated by what turned out to be an outstanding debut performance.
Predictably, the Dolphins had hoped to take advantage of the rookie, picking on him early and often. A sound strategy in most situations, but one that, ultimately, blew up in Miami's face. Gilchrist made more big plays than he did mistakes against Miami, proving that the NFL game was not too big for him, even at this early stage in his career.
Although he did allow himself to be baited into one pass interference penalty by savvy veteran Brandon Marshall, the error was overshadowed by the fact that he effectively shut down that side of the field all afternoon.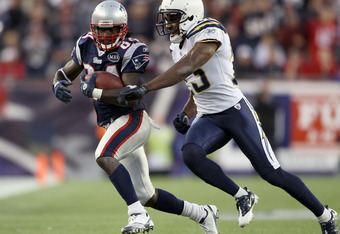 Elsa/Getty Images
The rookie out of Clemson opened a brilliant performance with an early interception of a Chad Henne bomb and capped it by batting down what looked to be a sure touchdown pass from Matt Moore later in the third quarter.
Perhaps, most remarkable was the high level of confidence with which the youngster carried himself on the field. If Gilchrist was at all intimidated, his body language showed no signs of it whatsoever, as he handled himself every bit like a seasoned pro.
When asked, during a post-game interview, about the source of his confidence, the well-spoken son of a former US Marine explained, "That's one thing that my parents instilled in me, to be confident in everything I do."
Despite the fact that much of his perceived value coming out of college was based in his versatility, having played both corner and safety, as well as kick returner and on coverage units, it was his skills in the secondary that Chargers had in mind from the onset.
Asked multiple times about the possibility of Gilchrist contributing on special teams for the Chargers after the 2011 draft, head coach Norv Turner made it abundantly clear during a press conference that, above all else, it was Gilchrist's coverage skills the Chargers coveted, not necessarily his potential as a return man.
"I see him as a guy that's going to be outstanding at corner," said Turner, "we play a schedule that's got a lot of good receivers and a lot of teams that play three and four wide receivers. That's something we're going to have to be prepared to handle."
Despite only having one interception in his collegiate career, the Chargers recognized Gilchrist's potential to contribute right away, planning all along to start him at nickelback. He now has one interception in just one start for the Chargers this season.
Although Quentin Jammer did not practice on Thursday, Dan McLellan of CBS Sports reported Thursday evening that his absence was due to an illness and not related to the hamstring injury.
And while Jammer remains listed as "probable" for Sunday's divisional matchup against the Broncos, if Jammer can't go, there no longer remains any question as to whether or not Gilchrist is up to the challenge.