Cardinals vs. Phillies: Howard Stumbles, Carpenter Shines as Cards Move On
October 8, 2011
Rob Carr/Getty Images
On Friday night, the St. Louis Cardinals continued what has been an improbable run into and through the MLB postseason.
The Cardinals were 10.5 games out of the wild card race in late August. Now, after Friday night's 1-0 victory over the Philadelphia Phillies, they are headed to the National League Championship Series.
On the other side of the field were Roy Halladay and the Phillies, a team that failed to live up to the astronomical expectations that were placed upon it before the season even began.
The final out of the deciding Game 5 between these two teams was really quite fitting.
Ryan Howard, whose struggles had been a huge problem for the Phillies all series long, grounded out weakly to Nick Punto at second base.
Just a step or two out of the batter's box on that grounder, Howard fell down in a heap and could do no more than gingerly limp toward first base.
There aren't a lot of details on the injury yet, but Nate Mink, who covers the Phillies for MLB.com, tweeted what manager Charlie Manuel had to say about the injury after the game:
Howard twisted his ankle or tore up his ankle, Manuel said
John Clark of NBC 10 tweeted another update shortly thereafter:
Ryan Howard injured his achilles. Will know severity after MRI
Howard eventually spoke about the injury, hinting at what fans have feared the most, saying he believes he tore his Achillies on the final play.
Left celebrating after that final out was Chris Carpenter, the leader of the Cardinals in more ways than one. Carpenter sets the tone out on the field and provides the veteran voice in the clubhouse.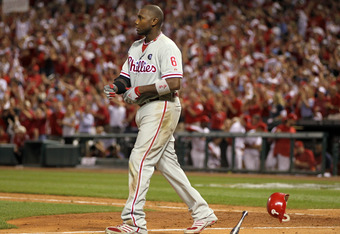 Jamie Squire/Getty Images
You can't overstate how important he has been to his team. They lost co-ace Adam Wainwright before the season even started it, but Carpenter wasn't going to let that slow the Cardinals down.
In Game 5, Carpenter couldn't have been much better. He tossed a three-hit shutout without walking a single batter. He controlled the game from the first pitch on.
The Cardinals have a stiff test in front of them in the Milwaukee Brewers. Milwaukee is a confident bunch and they have just as much momentum as St. Louis does.
But given all that the Cardinals have overcome this season, who is going to bet against them?