MLB Playoffs 2011: Nyjer Morgan Is a Breath of Fresh Air for Baseball
October 8, 2011
Jared Wickerham/Getty Images
Nyjer Morgan, the enigmatic half of Milwaukee Brewers manager Ron Roenicke's center field platoon, will probably celebrate his walk-off single in Game 5 of tonight's NLDS against the Diamondbacks with a bevy of fines levied by Commissioner Bud Selig's office. 
Whether you know him as Morgan, the speedy, slap-hitting outfielder who sometimes bats leadoff for his Brewers, or as Tony Plush, the semi-fictional, bow-hunting spark to Milwaukee's spirit, there's no denying that the man has transformed himself into a fiercely polarizing figure this season.
Tonight was no exception.
Puritans and purists both will rage at Plush's postgame interview with TBS following his club's 10th inning win at home, which gave the raucous Milwaukee crowd its first win in a postseason series since 1982.
Holding nothing back when he was ripped away from his free-spirited jumps and jolts along the Brewer dugout, Morgan stared into Sam Ryan's microphone and delivered viewers all across the land a double "f*** yeah" before admitting he had no idea how to put his series-clinching single into words. 
If you're of the belief that athletes owe it to the public to remain calm and show restraint, but always have an answer, when addressing audiences, then without a doubt, Nyjer Morgan is not your cup of tea. 
If you're more like me, however, and you've grown tired of the same carefully considered replies time and again from our sports stars, then this man is a spectacle that you don't want to miss before he's gone.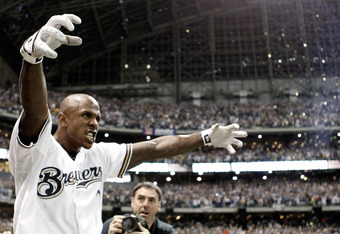 Jared Wickerham/Getty Images
I know these players are public figures who, to some degree, need to worry about their images, and I understand that often times there are children watching these games, but I'm sure I'm not the only person who has grown exhausted of hearing the same, if only slightly tweaked here and there, answers over and over, such as, "Well, I was just looking for a pitch to drive," or, "We're a good ballclub and we're just glad to get this win."
Sports are not played by robots and games are not decided by computers. They're played by real human beings with real thoughts and real emotions.
Do you really believe those Milwaukee hitters were simply "looking for a pitch to drive" when they stepped to bat in the ninth and 10th innings tonight after their closer, John Axford, had blown the save that would have sent them into a bottle-popping frenzy?
No, there was certainly a lot more going on inside their heads. Those players were probably worried. They were probably scared. They were probably anxious beyond our wildest imagination. 
After D'Backs shortstop Willie Bloomquist drove in the tying run from third base with a squeeze bunt along the first base line, those men in the blue and gold had to sober their anticipation up in a heartbeat or, as left fielder Ryan Braun put it, risk seeing everything they had worked for all year go to waste.
Sometimes it's nice to be reminded that no matter how distant our idols on the diamond may seem, at heart they are just the same as the rest of us. 
Athletes can feel relieved, energized and exhilarated, just as any of us common folk can after experiencing a moment that seems surreal; but without someone like Tony Plush, it's sometimes easy to forget.
If you so desire someone who must stress and sweat over every word when asked a question, who has to give off the vibe that all his problems are solved with ease and who constantly has to risk his health worrying about what everyone's perception of him is, then I suggest you turn over to politics and get yourself better acquainted with President Barack Obama. 
Nyjer Morgan, on the flip side, is just a kid who came from absolute obscurity, who probably never imagined himself carrying a major league ballclub to within four wins of a World Series berth with one flick of his wrists.
He owes himself to nobody. He's just loving every breath he gets to take as a professional baseball player.
To think he wouldn't be excited beyond words, or even common decency, after that 10th inning is pretty absurd and unrealistic. 
He really did have no idea how to explain that moment. Who would?
I'd bet that becoming a playoff hero is an overwhelming feeling that stretches far beyond the reach of any publicist's perfectly scripted explanation. I applaud Morgan for being honest enough to tell us that in his own signature way.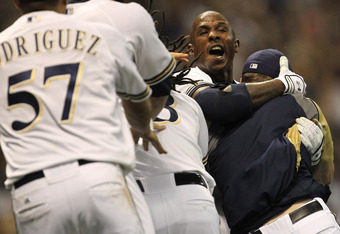 Jonathan Daniel/Getty Images
One second his entire world was stone silent as a rock-hard baseball came hurling towards him at 90-plus miles per hour, and before another one could even tick on the clock the stands in his home stadium were rocking like a jailhouse riot. 
All Nyjer did was swing a bat.
How can that truly make perfect sense to anyone? It doesn't.
I'm sure it felt supremely unreal, though, and the hero of the hour simply wanted to bask in and enjoy the greatness of the moment without holding anything back. After all, who's to say if he'll ever get another one like it again in his lifetime?
Tony Plush, for better or worse, is not the only person to ever express his feelings with profanity.
That four letter word he showed his fondness for tonight is, to be honest, one of the English language's most versatile ones. Covering our ears and pretending it doesn't exist in public isn't going to make it go away.
Despite the best efforts of our nation's overbearing FCC regulations, swearing isn't about to disappear, and neither will Nyjer Morgan's uncensored enthusiasm for the game he plays. 
As fans of baseball we should be appreciative that, instead of hiding his true self inside the secure confines of his ballclub's locker room, Plush is willing to—or at the very least unable to not—give us all a glimpse into his mind and let us experience the Brewers' dream run to the NLCS vicariously through his antics.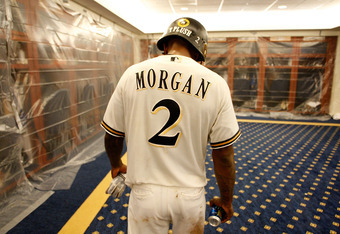 Jared Wickerham/Getty Images
Look, you don't have to agree with Nyjer Morgan's antics. You can be shocked and appalled by his behavior. You can even hide your children from him if it helps you sleep at night.
What you can't deny, however, is that this man is providing an uncensored breath of fresh air for a sport that, in the wake of its tarnished super-steroids-man era, was in dangerously short supply of his approachable human element that most of us who've played a game or two on the diamond can relate to. 
Just ask his teammates in Milwaukee if they'd like to see Morgan be subdued.
Ask the Brewers how far they would have gotten this season without a jolt of Morgan's energy, his invaluable contributions to their clubhouse camaraderie, or that signature "Beast Mode" they channeled his fiercely free spirit into.
Ask them if they think they'd be a World Series organization without him in their outfield.
If you're not a fan of Tony Plush, then you likely won't be fond of their replies, either.
Nyjer Morgan is too real, too human, to simply be discarded.