Detroit Tigers: 5 Reasons They Will Reach the 2011 World Series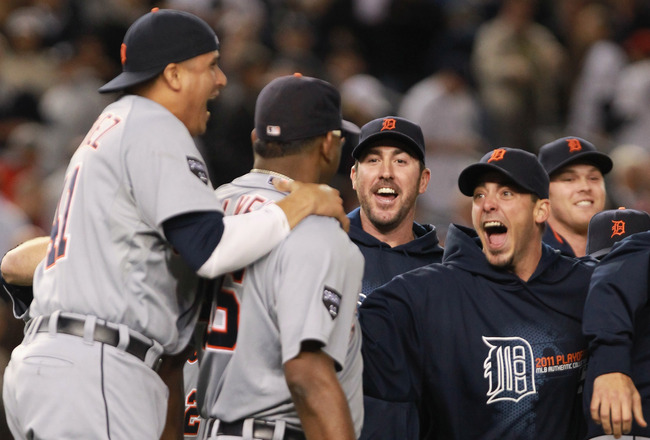 Nick Laham/Getty Images
At the outset of the 2011 season, few favored the Detroit Tigers to be serious contenders for the World Series. Most sports books expected the Tigers to finish third in the American League Central, and the team's betting odds were in the middle of the pack for all Major League Teams.
But now, less than two weeks until Game 1 of the World Series, the Tigers stand on the brink of winning the pennant for the first time since 2006 and for the tenth time in team history.
Standing in the way of the Tigers' surprising run are the returning American League champions, the Texas Rangers. The Rangers are coming off three consecutive wins against a blazing hot Tampa Bay Rays team, have the home field advantage, and hope to dispatch the Tigers and avenge last season's World Series defeat.
In addition to having some very important obvious advantages, the Tigers have some less noticeable advantages that will help them defeat the Rangers and return to the World Series.
Here, we take a look at five reasons the Tigers can defeat the Rangers and advance to play the National League champions.
Justin Verlander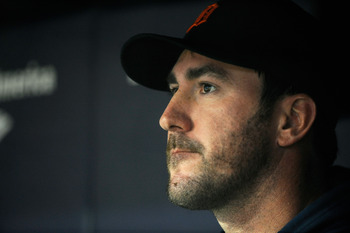 Patrick McDermott/Getty Images
Aside from the obvious fact that winning the game sent them to the ALCS, one of the best things about Game 5 for the Tigers was they didn't have to use Justin Verlander, who was ready to pitch if needed.
This frees Verlander to start Game 1 for the Tigers in Texas and ensures he will be able to start at least twice, and perhaps even three times. No team looks forward to facing Verlander once, let alone three times, and defeating the Cy Young Award lock and MVP candidate will be one of the greatest obstacles for the Rangers.
According to Baseball Reference, the Rangers bat much higher against finesse pitchers than power pitchers. The team hit .257 with an OPS of .738 against power pitchers, while batting .294 with a .837 OPS against finesse throwers.
Verlander, capable of hitting 100 miles per hour with his fastball and the definition of a power pitcher, should be able to limit the Rangers' offensive output.
The Rangers are unlikely to benefit from their home field advantage against Verlander. In his career, Verlander has started three games at the Ballpark in Arlington, and has gone 3-0 with a 1.29 ERA and 26 strikeouts with only four walks.
In fact, Verlander has pitched better in Arlington than he has at any other stadium in which he has played at least two games.
Verlander is 0-1 in his 2011 starts against the Rangers, but in his sole loss he gave up only two earned runs in nine innings. The Tigers scored an average of 4.86 runs per game in 2011, so the Rangers shouldn't count on beating Verlander too often if they're only able to put up two runs against him.
Re-Emergence Of Magglio Ordonez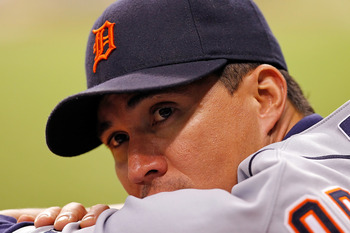 J. Meric/Getty Images
After what was a very up-and-down season for Magglio Ordonez in which he had a career-low batting average of .255 and only five home runs, Ordonez seems to have found his groove lately.
In the ALDS, Ordonez batted .455 and got on base in half his plate appearances.
While it's possible Ordonez's streak is a statistical anomaly due to a small sample size, he is a lifetime .309 hitter with 294 career home runs and is only one year removed from a season in which he batted .303.
This drop-off is quite steep, even for a 37-year-old getting close to the end of his career, but Ordonez is still an outstanding contact hitter and it's quite likely he has found his swing once again. If so, he provides protection to Victor Martinez—who he follows in the lineup—and is another potent bat in a strong Tigers lineup.
The Texas Rangers' Rotation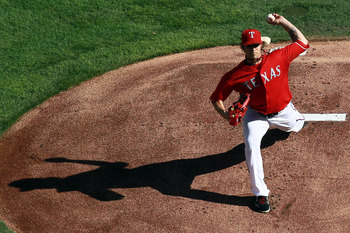 Ronald Martinez/Getty Images
The Texas Rangers' rotation has been outstanding this season and a critical component of the team's recent success. The four starters manager Ron Washington announced would pitch in the ALCS—C.J. Wilson, Derek Holland, Colby Lewis, and Matt Harrison—have a combined 2011 record of 60-31.
Yet despite this outstanding output, the Tigers seem to have their number.
C.J. Wilson—In Wilson's only appearance against the Tigers in 2011, he gave up four runs in 6.2 innings pitched, striking out four and walking three while allowing seven hits. His career performance against Detroit hasn't been much better. In 11.1 career innings, Wilson has allowed seven earned runs.
Colby Lewis—Lewis pitched worse against the Tigers than any other team in 2011. In 7.1 innings in two games, he gave up 13 runs, including five home runs and faced a remarkable 47 batters.
Derek Holland—Holland did not face the Tigers this season and has only pitched four innings against Detroit in his three-season career. Holland has been on fire lately, and the Tigers will definitely have their hands full facing this young pitcher in his breakout season.
Matt Harrison—Harrison only lost twice to the same team once in 2011—the Detroit Tigers. In his two starts, Harrison went 0-2 with a 6.30 ERA and a 2.200 WHIP. In his career against the Tigers, he is 1-4 with a 6.89 ERA and a 2.106 WHIP. The only American League team to give him as much trouble is the Toronto Blue Jays.
Jose Valverde vs. Neftali Feliz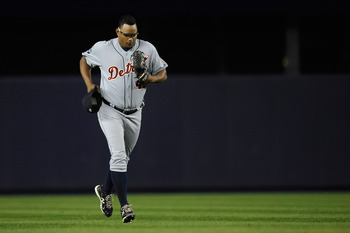 Patrick McDermott/Getty Images
In both Detroit and Texas' ALDS series, each team's three victories were won by a combined total of four runs. In close games like these, the bullpen is often the deciding factor.
The Tigers' closer, Jose Valverde, has been lights-out this season. He racked up 49 saves, zero blown saves, and 69 strikeouts in 72.1 innings.
The Rangers' closer, Neftali Feliz, has not been nearly as spectacular. While he earned 32 saves during the regular season, he blew six saves, a disappointing 84.2 percent rate.
If the games are anywhere as close as they were in the ALCS for both teams, the difference in closers could be critical.
Miguel Cabrera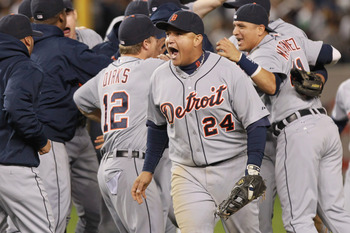 Nick Laham/Getty Images
The Rangers' lineup is potent and deep, but it lacks a true superstar at the level of Miguel Cabrera. Cabrera is a six-time All-Star and has finished in the top five for MVP voting four times in his nine-season career.
Cabrera is coming off of one of the best seasons in his career in which he won the American League batting title with a .344 average while hitting 30 home runs. Cabrera was an on-base machine with a league-leading percentage of .448, and he had an OPS of 1.033.
Cabrera's off to a slow start this postseason, but he was at the top of his game at the end of the season, batting .390 in August and .429 in September.
The Tigers have won thus far in the postseason without Cabrera at his best, and if he improves to his normal level, the Tigers' offense will be tough to stop.
Keep Reading

Detroit Tigers: Like this team?