MLB Playoffs: Arizona Diamondbacks Look Like 2011's Team of Destiny
October 7, 2011
Christian Petersen/Getty Images
If the Diamondbacks didn't have the look of an overmatched team coming into this postseason, I'm not sure what an overmatched team looks like.
They had all of one starter, Ian Kennedy, who seemed to be trustworthy in a big game and they seemed to have one hitter, Justin Upton, who opposing pitchers should fear.
Making matters worse, they were set to face off against the Milwaukee Brewers, a well-rounded team that had the best home record in the league in the regular season.
The Diamondbacks came into the playoffs with the mentality that they were going to scratch and claw for every out and every run, and they have done just that.
They've actually done much more than that. After all but rolling over in the first two games of the series, they have come back and evened the series at two games apiece in fantastic fashion.
At this point, it's clear that they believe that they are going to win not only this series, but the World Series, and I'm not sure that I disagree with them. The Diamondbacks sure look like a team of destiny this year. 
The first thing I look for in a team of destiny is contributions up and down the roster. The Diamondbacks have certainly passed that test.
The clutch performances began in Game 3 when the Diamondbacks got a huge start from Josh Collmenter. It was also during that game that the D-Backs got a grand slam from Paul Goldschmidt, a player who started the season in Double-A.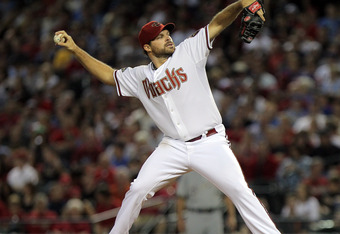 Doug Pensinger/Getty Images
In Game 4, after getting only three innings from starter Joe Saunders, five relievers patched the rest of the game together to get the win. During the course of that game, they got a clutch two-run pinch single from Collin Cowgill.
The Diamondbacks also have the scrappy, workmanlike attitude that all teams of destiny need. These guys know they are more or less playing with house money and have little to lose. They are going to earn everything they get in this postseason and they are determined to leave it all out on the field.
The D-Backs still have a huge test ahead of them. They now have to go back to Milwaukee to play a deciding Game 5.
The deck seems to be stacked against the Diamondbacks yet again, but that's the way they like it.