NFL Picks Week 5: New York Jets and 3 Teams That Will Suffer Tough Losses
October 7, 2011
Larry French/Getty Images
In no other professional sports league does any one game mean so much. A win or a loss in any given week in the NFL can be the beginning of a trend for a team.
We're only in Week 5, but it's not too early for the results of games to be key for the rest of a team's season.
The following are three teams that will have to keep losing from becoming a trend, as they will suffer tough losses this week.
It's certainly not too early to think that the Patriots-Jets game this week is a pivotal one in the AFC East race. The Patriots have the look of a team that could run away with the division and the Jets need to respond.
I just don't know that they can do it. Their defense, a unit they assumed would carry the team, hasn't been quite as good as they had hoped, and the offense hasn't been able to pick them up.
The Patriots' defense has been among the worst in the league, but the Jets don't have the offensive firepower to take advantage.
At some point, the Eagles immense talent has to take over and get their season turned around. At least that's what you would think. That might very well happen at one point or another, but it won't happen this week.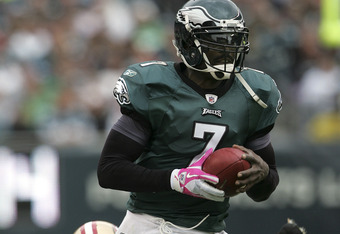 Rich Schultz/Getty Images
The Bills, their Week 5 opponent, will be ready to prove their loss to the Bengals was just a fluke and not part of their slide back to the pack.
The secret is out on how to beat the Eagles and that's to run the ball right at them. With Fred Jackson running as well as he has so far this season, Philadelphia will have to prove it can stop him.
Coming off a 34-29 win over the Carolina Panthers that featured Matt Forte having his best game of the season, there is hope that the Bears have turned things around.
However, it's important to put that one win in perspective. The Panthers are not a playoff contender by any definition and they only beat them by five. Beating the Lions will be a much tougher task.
The Bears will get the ball to Forte early and often, but I think the Lions will have the defensive front to slow Forte down. If the Bears go back to their old ways of leaning on Jay Cutler, they stand little chance of winning.